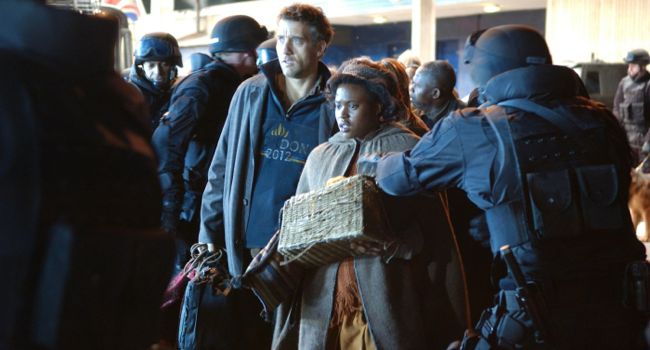 By Ray Bennett
VENICE – In his gripping new thriller "Children of Men," director Alfonso Cuaron takes the classic movie formula of a cynical tough guy required to see an innocent party to safe harbour and shoots it to pieces.
Set in 2027, with the world gone to hell in a hand basket, the film paints a bleak portrait of a future in which complete global human infertility has meant that no babies have been born anywhere in 18 years. Disease is rampant and military governments everywhere are out of control, even in the U.K. despite plucky TV captions that declare: "The world has collapsed — only Britain soldiers on."
Former activist Theo (Clive Owen, in top form), now a bored civil servant, finds himself in the thick of the resistance when his former lover, rebel leader Julian (Julianne Moore), persuades him to obtain transit papers for a young woman, Kee (Clare-Hope Ashitey) who must flee the country.
With vivid imagination, Cuaron plunges the reluctant hero and the girl into a terrifying chase that takes them from the fearful squalor of a terrorized London to a nightmarish refugee camp with both soldiers and rebels trying to kill them.
Based on a novel by British mystery writer P.D. James, the film works both as a thriller and as a satisfying political and social drama. The Venice competition entry should prove a winner at the box office in all territories.
According to Cuaron, and his exemplary cinematographer Emmanuel Lubezki and production designers, Geoffrey Kirkland and Jim Clay, the London of 2027 will be a far cry from the city seen in recent films by Richard Curtis and Woody Allen. Dressing real locations to look as awful as possible, the English capital has never appeared so grim.
When a Fleet Street cafeteria is blown up just after he's walked out the door, Theo is reminded of just how bad things are. A fan who only wanted an autograph has just assassinated the world's youngest person, an 18-year-old, and the dead boy is mourned just like Princess Diana.
Julian's request that Theo use his connections to obtain a travel pass for the young woman comes with a chunk of cash but it's clear he has other motives, and so does she. When things go wrong, Theo takes the girl to the country hideaway of his only real friend, a retired newspaper cartoonist named Jasper (Michael Caine, having a great time), who looks after his invalid wife and smokes a lot of dope. Trouble soon arrives, however, and after that there's barely a pause for breath.
Cuaron and co-scripter Timothy J. Sexton do the important little things that help make characters believable and take sufficient time to register the deeper impact of things that are troubling the world. They make a place without children's laughter truly a place of horror.
The sign over the refugee camp saying Homeland Security is a sly touch and there's a splendid sequence in which Theo goes to visit a wealthy contact at the revamped Battersea Power Station to the sound of King Crimson. It's a savvy cue among several others provided by John Taverner.
Owen carries the film more in the tradition of a Jimmy Stewart or Henry Fonda than a Clint Eastwood or Harrison Ford. He has to wear flip-flops for part of the time without losing his dignity, and he never reaches for a weapon or guns anyone down.
Cuaron and Owen might have created the first believable 21st century movie hero.
Venue: International Venice Film Festival; Released: UK: Sept. 22 / US: Dec. 25 (Universal Pictures); Cast: Clive Owen, Julianne Moore, Michael Caine, Clare-Hope Ashitey, Chiwetel Ejiofor, Charlie Hunnam, Danny Huston; Oana Peter Mullan; Director: Alfonso Cuaron; Screenwriters: Alfonso Cuaron, Timothy J. Sexton, from the novel by P.D. James; Director of photography: Emmanuel Lubezki; Production designers: Geoffrey Kirkland, Jim Clay; Music: John Taverner; Editors: Alex Rodriguez, Alfonso Cuaron; Costume designer: Jany Temime; Producers: Marc Abraham, Eric Newman, Hilary Shor, Tony Smith, Iain Smith; Executive producers: Thomas A. Bliss, Armyan Bernstein; Production: Strike Entertainment, Hit and Run Productions; Rated: UK: 15 / US: R; running time 114 mins.
This review appeared in The Hollywood Reporter.