By Ray Bennett
VENICE – The title of Santiago Amigorena's atmospheric post-Cold War thriller "A Few Days in September" sounds almost casual until it becomes clear that the year is 2001 and the few days are those leading up to Sept. 11.
The story, however, is not about the terrible events of that day nor anyone directly involved in them. Set in Paris and Venice, it is about a small group of people who know in advance that something cataclysmic is about to happen and seek to profit from it.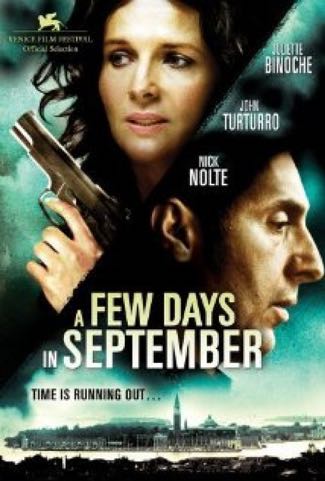 Deeply cynical about world financial and political affairs, the film suggests that curious activity on the stock market in the period prior to the attack on the World Trade Center meant that a few investors were able to exploit it ruthlessly.
The film, due for U.K. release on Sept. 14,  boasts sharp performances by Juliette Binoche, as a government agent, and John Turturro, as a neurotic assassin, and there's an off-centre love story that involves Sara Forestier and Tom Riley.
It combines intrigue, suspense and black humour and with dialogue as much in English as in French, it should find boxoffice rewards in the substantial market for thrillers tinged with conspiracy theories.
Binoche is charmingly convincing as a sophisticated French female James Bond named Irene, who speaks several languages, is handy with an automatic, and has kept a pet turtle longer than she keeps her men. When she gets word that an American spy named Elliot (Nick Nolte), with whom she used to work but hasn't seen in 10 years, wants to see his two grown children urgently, she sets up the meeting. The reason for his sudden reappearance and wish to see his kids is shrouded in mystery and dangerous for all concerned.
Orlando (Forestier) is Elliot's daughter by his first wife, a Frenchwoman who was murdered in Baghdad a decade earlier, while David (Riley) is the son of his second wife, an American who subsequently died of cancer. Not only are the two strangers to each other, but also Orlando hates her father for abandoning her after her mother's death, while David adores him.
The sparks of their growing relationship from non-blood siblings to something rather more intimate, as the seen-it-all Irene looks on, provide the warmth of the film, which is otherwise about spies still very much out in the cold. Forestier and Riley develop real chemistry with the bland American boy proving sharper than he looks and the tough French cookie a little more vulnerable than she sounds.
Elliot remains unseen for most of the picture, using a sinister pair of bankers to pass messages to Irene as she deals with watchers and go-betweens in order to protect her charges from a relentless CIA assassin named William Pound (Turturro). Traveling from Paris to Venice for the meeting with Elliot, Irene stays one step ahead of Pound who leaves a trail of dead bodies behind him. Turturro is darkly humorous as a killer who loves poetry and who telephones his analyst for reassurance while on assignments.
Helped considerably by cinematographer Christophe Beaucarne, Buenos Aires-born screenwriter Amigorena makes a fine impression directing his first feature. They have managed to come up with sparklingly fresh images of the two cities, and contrast them vividly with nighttime sequences that are pure noir, with rainy streets, blinking neon and dripping blood.
Venue: Venice International Film Festival, Out of Competition; Cast: Irene: Juliette Binoche; William Pound: John Turturro; Orlando: Sara Forestier; David: Tom Riley; Elliot: Nick Nolte; Younger banker: Mathieu Demy; Older banker: Said Adamis.Writer, director: Santiago Amigorena; Producer: Paulo Branco; Director of photography: Christophe Beaucarne; Art director: Emmanuelle Duplay; Editor: Sarah Turoche; Music: Laurent Martin; Gemini Films, Les Films du Rat, France 2 Cinema, Production Group; Running time: 110 minutes.