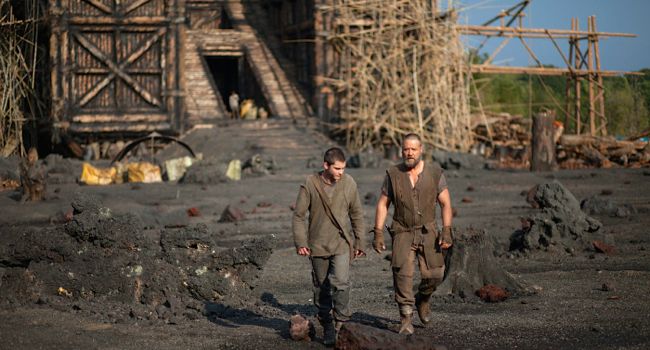 By Ray Bennett
Darren Aronofsky's epic "Noah" is uproarious fun because it's hard to tell if it's an impressionist but serious take on the biblical tale or a giant piss-take. (Note: This review contains many spoilers.)
It has splashy special effects, outlandish dialogue, sumptuous music by Clint Mansell, and a pair of grandly entertaining performances by Ray Winstone and Anthony Hopkins.
Aronofsky fills the screen with dynamic images and great vistas with first-class work from cinematographer Matthew Libatique, production designer Michael Wilkinson and the F/X team. Clint Mansell's atmospheric music is filled with splendid orchestral majesty and sweet melodies with sly wit here and there. One cue gives a wink to the close of the Beatles' "A Day In the Life" to great effect.
They use animation to sketch events from Adam and Eve to Cain and Abel; from innocence to wickedness and later to recap events of creation in a manner designed clearly to placate the devout without making fools of themselves.
Russell Crowe brings his usual gravitas to the title role; you'd never believe Noah is 600 years-old. Aronofsky and co-writer Ari Handel don't do God, so when Noah hears voices in his head he puts them down to "the creator".
As the Book of Genesis relates, he is given advance warning of the great flood with precise instructions on how to build an ark and what to take with him. The scripture does not record that much more help was provided so the film offers some suggestions as to how it all happened.
These include rocks that take the rough shape of human beings in the same way that cars do in the "Transformers" movies. Genesis does say that giants walked the earth at the time, so why not? With fiery eyes and deep voices provided by Nick Nolte and Frank Langella among others, these lumbering boulders turn out to be nimble carpenters able to craft together an ark of birch wood and pitch, just as Noah was told.
They also come in handy when the inevitable horde of wicked sinners – led by the Viking-like King Tubal-cain played with pleasing exuberance by Ray Winstone – arrive with designs on the ark as they simply bat away attackers with one sweep of their cobble-stoned fists.
To get around Eddie Izzard's great joke about why lions are the only animals on the ark, Noah comes up with some magic burning rocks with smoke that puts all creatures great and small into a long sleep, including mammals but not, of course, human beings. Thus, while in the scripture Noah is told what food and supplies to take, in the film there's none of that mess of feeding and mucking out the beasts.
The film also takes liberties with which of the humans will have tickets for survival. The bible is clear that it's Noah and his wife, and their three sons and their wives. In the film, Noah has his missus, Naameh (Jennifer Connolly) and eldest son Shem (Douglas Booth) has a young woman they find along the way, Ila (Emma Watson).
Second son  Ham (Logan Lerman) takes a look around, does the math and comes to one inescapable conclusion: no pussy for Ham. This creates a rift between son and father not helped when the boy's attempt to bring back a date to the ark is foiled by villainy that his dad does nothing to prevent.
There's no company either for his younger brother Japheth (Leo McHugh Carroll), or for Tubal-cain, who manages to steal his way onto the ark as the tide rises. He, of course, intends to dispatch Noah and claim Naameh, another slight deviation from the scripture that leads to the inevitable fight.
Some of the incongruous dialogue is delightful, especially when Noah is at his most serious. There's a worrying moment when the very young Ila tells him that her father used to sing her to sleep and Crowe does the same but it's very brief. Connolly has a "Les Mis" woe is me moment with tears and all but she does not burst into song and will not collect an Oscar.
There's great fun whenever Anthony Hopkins is on screen for his few scenes. He plays Methuselah as a smiling idiot with a craving for berries, and he's hilarious. Winstone gets the best line, however. Having slain a beast on the ark, he gnaws on a limb. Horrified, Ham exclaims: "But there's only two of them." Winstone snarls: "Yeah, but there's only one of me!"
Things get serious again when Noah experiences more of man's wickedness and, unlike the man in the book, decides that the creator's wish is that mankind should be destroyed along with everything else that breathes. Since the grownup Ila expects twins, that creates some suspense as he intends to kill her offspring if they are females, which they turn out to be. Not evident in the Book of Genesis is the suspense generated over this development nor the complications that will ensue when Ham and Japheth realise that the only girls around are their nieces. And Noah in the bible thought he had problems.
NOAH
Released: UK: April 4 (Paramount) / US: March 24 (Paramount);
Cast: Russell Crowe, Jennifer Connelly, Ray Winstone, Anthony Hopkins, Emma Watson, Logan Lerman, Douglas Booth, Mark Margolis, Kevin Durand; Director: Darren Aronofsky; Screenwriters: Darren Aronofsky, Ari Handel; Director of photography: Matthew Libatique; Production designer: Mark Friedberg; Music: Clint Mansell; Costume designer: Michael Wilkinson; Editor: Andrew Weisblum; Producers: Scott Franklin, Darren Aronofsky, Mary Parent, Arnon Milchan; Executive producers: Ari Handel, Chris Brigham; Production: New Regency, Protozoa Pictures; Rating: UK: 12A / US: PG-13; running time: 127 minutes.