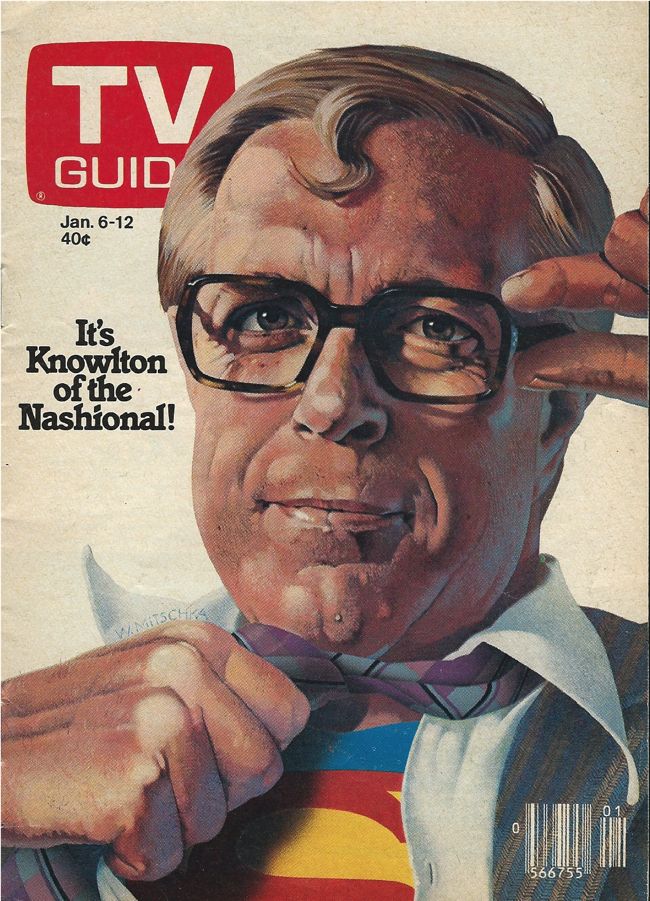 Very sad to see that Knowlton Nash, who had a long career with the CBC and was the face of CBC News for more than a decade, died on May 24. He was 86.
As the TV writer for the Windsor Star in the early 1970s, I often ran into Nash and others in Canada's TV news community but when I became managing editor of TV Guide in 1979, it was a surprise that any of them noticed let alone sent congratulations on my promotion.
Nash was one of them and he wrote a typically self-deprecating note. After a decade as Director of News and Current Affairs, he controversially had become CBC News chief correspondent and reader of "The National" flagship news program.
When my promotion was announced, he sent a letter in which he noted that he'd seen by the newspapers that I had been elevated to the upper echelons of executive management of Canada's largest circulation magazine: "Congratulations … I think!"
He went on: "I know a little bit about the headaches that go along with the satisfactions of jobs like the one you're about to launch upon and I can only say that as long as the satisfactions keep running at least marginally ahead of the frustrations, you're doing well."
He closed: "Seriously, though, congratulations, and I do wish you the best of luck in your new adventure."
It was typical of Nash that he would write so graciously even though I had written a detailed account of the controversy that accompanied his appointment as chief correspondent. At his Christmas parties, he'd often laugh at the Superman image we used with the story. The media took itself very seriously in those days and the coverage of his move tended to be portentous when it wasn't snide.
As the top magazine in the country, TV Guide was able to add a sense of humour to an even-handed report. To read the story below took me back to fun times with great characters in an era when a reporter was given time to report and space to write. I already knew most of the people I interviewed for the story but it now strikes me how open and candid they all were.
Faster than a speeding bullet …
For years, he's been a mild-mannered Clark Kent of CBC News but is Knowlton Nash really Superman?
By Ray Bennett
It wasn't a bird and it wasn't a plane and it sure didn't look like Superman, but you could hear the media clamor from here to Krypton when CBC-TV announced who they wanted to read "The National" news for the next five years.
Knowlton Nash doesn't look as if he could leap tall buildings. For the 10 years that he's been head of the CBC's news and current affairs programs, with his glasses and his buttoned-down hair and his mild manner, he's appeared more like, well, exactly like … Clark Kent. But in a single bound he's moved from the relative anonymity of the CBC's corridors of power to the highest profile news job in the country.
Is there a man of steel beneath that calm and collected demeanor? Yes, cry his supporters, shouting "Cronkie!" – a word as awesome in network news circles as "Shazam!" is in the supernatural. No, boo his detractors. "Under that bland exterior," says an erstwhile colleague, "there's rice pudding."
No other Canadian newsreader, not even Peter Kent, who recently departed "The National" complaining all the way to the CRTC about political interference in the news and domination of the network by CBC Sports, has aroused such passions in and out of the Corporation. Much of it had to do with his title – chief correspondent, which has not existed before – and the allegation that, as news chief, he had appointed himself to the plum, highly paid position.
Rival network news chiefs, asserting that anchormen are real newsmen because they write as well as read the news, scoffed at the new title. "Reading 'The National' is an actor's job and Nash will be just another actor," said Bill Cunningham, news vice-president at Global TV. "I'm afraid he's just another pretty face," agreed CTV's news vice-president, Don Cameron.
CBC staff announcers, eyes glazed at the thought of Nash's fat $90,000-a-year, five-year contract, demanded arbitration hearings, claiming that no auditions were posted and that by contractual agreement, "The National" was an announcer's job and that by definition chief correspondent excluded them.
And, of course, newspapers hardly ignored the story. Val Sears, an old pal of Nash's, wrote a sometimes sleazy profile of him for The Toronto Sunday Star, prompting Denis Harvey, new editor-in-chief of the Star and Nash's former boss at the CBC, to telephone Nash with an apology.
"I had somehow thought," grumbles Nash, "that I would quietly go on the air and maybe after a couple of months people would begin to notice."
That's typical of the man, who admits to being a born optimist, but hardly in line with his claims before the CRTC and elsewhere that television is the single most powerful instrument of journalism the world has ever known, and that the CBC is the most important and influential source of journalism in Canada.
"I just didn't anticipate all the fuss," he says, but he agrees that whoever reads "The National" becomes, like it or not, the most obvious symbol of CBC News. "That is why you cannot have an actor reading the news. It's a question of projecting a sense of competence and awareness and knowledge that is born of having awareness and knowledge without being intrusive, because what's really important is the news and not the face that's sitting there."
And that question is at the root of the long-standing division between newsmen and announcers at the CBC. Warren Davis, whose tenure at "The National" from 1969 lasted less than a year, regarded the time spend broadcasting the news to the regions across the country as "a two-hour and 10-minute station break".
"The triviality of that job is indescribable," he says. "Before me, the Corporation decided they wanted a (CBS News star Walter) Cronkite, a hot-shot, so they found Stanley Burke, who was a hell of a reported. He lasted a couple of years before he got bored and left. When I came along, it was open warfare between newsmen and announcers. The news has never been read at the CBC by anyone who had anything to do with preparing it.
"The idea of a chief correspondent is simply window dressing. It doesn't exist. I think 'The National' is the best 'front page' in Canada but it's never been read better than by Earl Cameron, who was an announcer. With Knowlton Nash, they're just building the sizzle. Nash must think the money and the fame are worth it, but the fame and a dime will buy you a phone call."
Nash argues that the nature of the job has changed. "I won't be writing but what I'll be doing as chief correspondent is having some input into what we're doing on 'The National'. It's a team effort. I'll be doing the specials, which are largely an ad-lib kind of situation – elections, conventions and so on – and 'Newsmagazine'. You have to know what you're talking about," he says.
He's not the first to be expected to handle specials. Lloyd Robertson and Peter Kent did too. They also took part in the daily news meetings. Chief news editor Cliff Lonsdale comments: "Some people sit and watch a meeting, some get involved. Nash gets involved." Adds Nash: "You don't need authority to have influence. Your effectiveness depends upon who listens to you."
Global's Bill Cunningham, a former CBC newsman and news executive, says the title is misleading: "Webster defines 'correspondent' as 'one who contributes news or comment to a publication or a radio or television network'. The CBC should pick a title that's accurate for starters. It's my conviction that to be honest to our medium, the individual who reads the news should be knowledgable, have expertise and be involved in a substantive way, not just as a performer. What I've objected to is the news 'actor' role. It's a contradiction that borders on the unethical."
Cunningham says that Global's three anchorman – Peter Trueman, Peter Desbarats and Rae Corelli – are all active newsmen and he says that "he tried desperately" when he was with the CBC in the mid-'60s to create a category of "broadcast journalists".
"I tried to negotiate it with both unions – news and announcers – because there is no way to train a broadcast journalist when the two elements are at arm's length," says Cunningham. "There's no mythology about journalism – it's training, experience and orientation. Peter Jennings, now with ABC, was a CBC announcer. Robert MacNeil, now with PBS, was a CBC announcer. The CBC had the chance to build something but they blew it.
"Nash, as news director, along with Denis Harvey, when he was there, defended the status quo on the basis that the public doesn't know the difference. Now, Nash is saying that you need a newsman to read the news. Why didn't he do something about it when he was in charge?"
If you take point back and forth between Nash, CTV's Cameron and Global's Cunningham, the discussion degenerates into a squabble. Nash cites Stanley Burke and Peter Kent as proof that newsmen have been reading CBC news. Cameron insists that Lloyd Robertson – who quit the CBC after lengthy fights over not being allowed to write as well as read the news – and his CTV partner Harvey Kirck have both functions to perform. And Cunningham smiles at the mention of Robertson and Kirck, saying, "Well, we could soon find out if they can actually write. Let's have them in to write a story."
CBC producer (amongst other things) Larry Zolf sees it very simply: "Do we really want an announcer covering a political convention? They wouldn't know what party it was. The model has to be Cronkite. Peter Kent couldn't do it. David Halton (CBC's top Ottawa correspondent) is good. But Knowlton is the only one we got."
Peter Herrndorf, CBC vice-president of planning, agrees: "I've been hoping for a long time that we'd find someone with the skills to do all the things that needed. Knowlton is a very good choice. He's similar to Cronkite. Burke aside, none of the other 'National' newsreaders has the combination of skills Nash has. He might have to polish his straight reading but he's a journalist."
Certainly, Nash has firm journalistic credentials, in newspapers in his youth and later as Washington correspondent for the CBC. Of his decision to return to the front line, he says, "I regard myself as a front-line reporter. This is going home for me."
Allegations that he appointed himself to "The National" have hurt him deeply, he says, protesting that, "I withdrew completely from the decision-making when my name was first suggested."
Denis Harvey, who was hired as chief news editor and was later promoted over Nash, is angry at suggestions Nash gave himself the job. Says Harvey: "It definitely did not spark from Nash. It was not his suggestion and not his decision. Nash's name was suggested two years ago when Peter Kent went on. I see him becoming very quickly a great anchorman. And I don't see his term limited to five years. I can see him for 10 or 15 years being the kind of very mature journalist spokesman that the CBC has never had. The CBC has never had a Walter Cronkite or an Eric Severeid. The CBC news service is very good but they need trust and assurance in their top man. I believe this will only be good for Nash and for the CBC."
Creation of a Cronkite role is on the issues the announcers' union, a local of the Canadian Union of Public Employees, has claimed was in violation of their contract. Arbitration hearings were held in camera in November and December but the ramifications of arbitration for mediator George Adams's ruling remains to be seen.
Outside of the announcers' allegations, few question Nash's motives. "He's a man of great integrity," says Larry Zolf. "He never had a chance at the CBC presidency although some people think that's what he wanted. He's not that good an administrator. And I don't believe he has his eyes on politics – he's like me, I think. He couldn't stand the rejection."
Nash laughs aloud at the suggestion that he coveted the CBC presidency: "Jesus, no. It was never in question. I've never had hierarchical ambitions. I don't think it matters a hell of a lot. I'm very ambitious journalistically and I guess you could say I'm something of a political junkie. But I don't plan to enter politics," he says.
"Without being egocentric about it, I think I've achieved most of what I wanted to achieve – the expansion in the hours of programming, the introduction of ENG (electronic news gathering), the satellites, the strengthening of specialist reporting, investigative reportage in programs like 'the fifth estate', 'Marketplace', and 'Ombudsman'. You weigh all of those things and, well, what didn't we achieve? Well, we don't have a half-hour 'National', that's one thing I regret. But I think we have the right balance of journalistic programming in prime time now. Much more would probably tilt us to too much. Taking all of those things, on balance I felt that, if they wanted me, I'd think about it pretty seriously."
Peter Herrndorf believes there's another aspect that Nash seldom talks about. "I think personal considerations weight heavily. He did his job in a very intense way – 80-hour weeks were common. He's extremely happy with Lorraine (broadcaster Lorraine Thompson) and I think he wanted more time for himself. I think he opted for quality of life."
Nash, who has been married three times and now lives in Toronto with Lorraine Thompson, quietly agrees: "Sometimes, if you're professionally dedicated, the demands are too much and other things break down. Already, in changing jobs, I've noticed the change in life style it allows. I can't tell when I've had a weekend off in the past 10 years."
That and the daily intensity of handling the news – "the instant gratification and instant mortification" – have already made their mark on Nash's image. He leaves his tie at home when he goes to the office now. He might not be Superman, but he's a little less like Clark Kent now, too.
— TV Guide Canada, Jan. 6, 1979