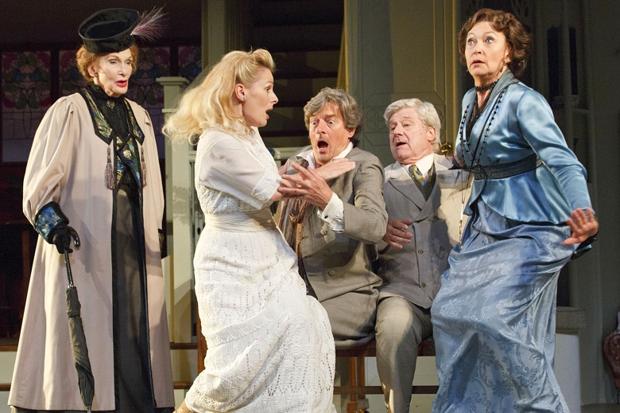 By Ray Bennett
Simon Brett's adaptation of "The Importance of Being Earnest" at the Harold Pinter Theatre is not a straightforward production of the classic Oscar Wilde comedy as all the performers are far too old for their characters but that is part of the fun.
Martin Jarvis and Nigel Havers first played Jack and Algernon together at the National Theatre 32 years ago while the true Gwendolyn and Cecily days are far behind Cherie Lunghi and Christine Kavanagh.
That is the point, however, as the setting of the play is a country house where a troupe of irredeemable hams have come together for a full dress rehearsal of the Wilde play ahead of its opening at a local theatre.
The first scene is of the actors as themselves with a bit of back story about their assorted relationships and then they go into stage character. It allows some accomplished players to deliver the best of Wilde's lines with suitable aplomb and give some that have dated a bit a bit of a wink and a nudge.
It says something about ageism and the egos of thespians who would love to cling to their youthful selves but it's done with good humour. It works to advantage especially in Lady Bracknell's killer exclamation: "A handbag?" Edith Evans put her indelible stamp on the question on stage and in Anthony Asquith's 1952 film version.
In this new version directed by Lucy Bailey, Siân Phillips, who is the equal of any actress, plays with the line in the opening sequence in order to defuse expectation and duly gets a laugh so that when she delivers it briskly in the play it makes no ruffle.
The set-up also benefits Christine Kavanagh as Cecily so that the young heiress's immature gushing takes on an added air of wistfulness and becomes much funnier.
Havers is a suave and simple-minded Algernon while Jarvis captures the manner of a dominating man unused to the notion that people see through his deceptions. Their comic timing is top-notch and is matched by the rest of the cast to make an entertaining evening.
Venue: Harold Pinter Theatre, Panton Street, London
Running time: 140 minutes including interval.
Runs to Sept. 20 and then is on tour in the UK.
Photo by Donald Cooper/Photostage