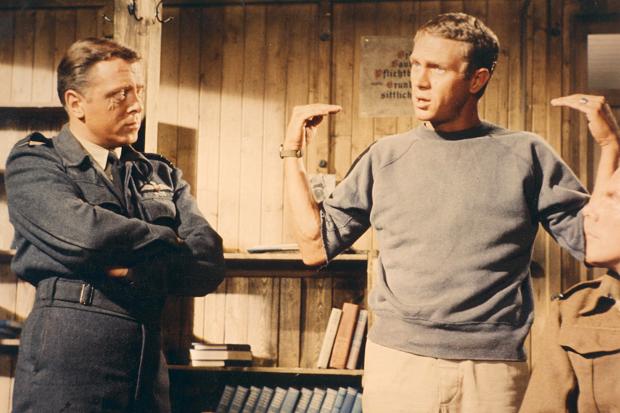 By Ray Bennett
I met Lord Richard Attenborough, who has died aged 90, at the Ghent Film Festival in 2004 and it was a memorable encounter that included Sir George and Lady Martin.
At a Ghent restaurant, Lady Martin sat across from her husband with Attenborough on her left. I sat opposite the filmmaker with the record producer on my left. Lady Martin was speaking but Sir George and Attenborough appeared determined not to listen. They responded to my remarks but whenever Lady Martin opened her mouth, they spoke over her.
Then I recalled what Colm Meaney had told me just before we sat down. The Irish actor had been a fellow drinker with me many moons earlier at the Robin Hood Pub in Los Angeles and he was on the Ghent festival jury. He apologised for not joining me and said that Jonathan Pryce, also on the jury, had urged them to sit at the other end of the table. "It's the deafness," Meaney whispered.
It transpired that Martin, who was there to present an award at the annual World Soundtrack Awards, is deaf mainly in his left ear and Attenborough was deaf in his right. I was positioned perfectly for an entertaining conversation but poor Lady Martin was almost ignored. I would indicate that she'd spoken with a gesture or speak over the two men so they would pay attention.
No one appeared distressed by this, thankfully, as Attenborough's anecdotes flowed. I told him that his first film as director, "Oh What a Lovely War" (1969), is one of my favourites but he protested: "Oh, but it's so slow!"
Attenborough had been familiar to me as an actor when I was a kid, of course, and his first movies as a producer in the 1960s were formative in my film and general education. His first production was "The Angry Silence", in which he plays a man who is given the silent treatment and abused by fellow workers when he refuses to go on strike.
Blinkered critics at the time saw it as an attack on trade unions but it is much more even-handed as it speaks for most people caught between two opposing forces as they strive to keep hearth and home together. The original story for the film was written by Michael Craig, who was a handsome leading man in British movies at the time.
I was a fan and so it was disappointing to read later that Craig felt that Attenborough and co-producer and screenwriter Bryan Forbes had betrayed him. Forbes won the 1961 Bafta screenwriting award for the film and was nominated for an Academy Award. Craig also garnered an Oscar nomination along with Richard Gregson for the story but he felt that the two producers had won all the glory.
At dinner in Ghent more than 40 years later, Attenborough was quite clear as to his view of it: "It was very sad, really. Michael had come up with the story and he was keen to write a screenplay but there was a big problem: I had a screenwriter who couldn't write."
Craig had been a popular actor in British films such as "Campbell's Kingdom" (1957), "The Silent Enemy" (1958) and "Sapphire" (1959) but by the mid-1960s his movie career was pretty washed up and later he emigrated to Australia where he continued to act and also created and wrote the 1970s TV series "The Outsiders" and wrote two episodes of "G.P".
Attenborough and Forbes went on to make some of the most important British films of the 1960s such as "Whistle Down the Wind" (1961), "The L-Shaped Room" (1962) and "Seance On a Wet Afternoon" (1964). He produced 13 films and directed 12 including his 1983 Academy Award winner "Gandhi", for which he earned two Oscars.
Other films he directed that are worth watching are the Churchill yarn "Young Winston" (1972), which is better than many considered at the time; "A Bridge Too Far" (1977), which is star-studded with many good episodes but overall bloated; "Magic" (1978) with a great performance by Anthony Hopkins as an unhinged ventriloquist; "Chaplin" (1992), which doesn't work as a biography of the great film comic but is a splendid showcase for the brilliance of Robert Downey Jr.; and "Shadowlands" (1993) with Hopkins as writer C.S. Lewis and Debra Winger as his American lover. William Nicholson's screenplay for that film, based on his own play, remains the finest film script I've ever read.
Attenborough's breakout performance as the teenaged hoodlum in "Brighton Rock" (1947) remains riveting and he was equally sinister as serial killer John Christie in "10 Rillington Place" (1971). He had jovial roles in likeable war pictures including "Dunkirk" (1958) and "Desert Patrol" (1958) and comedies such as "Private's Progress" (1956), "The Baby and the Battleship" (1956), "I'm All Right, Jack" (1959) and "Only Two Can Play" (1962).
While he has 78 acting credits over a long career he is probably known best to younger filmgoers as Prof. John Hammond in the "Jurassic Park" films and Kris Kringle in "Miracle on 34th Street".  For many, though, he'll always be "Big X" Bartlett in "The Great Escape" (1963) along with Steve McQueen (top picture)and James Garner. His appearance in McQueen's "The Sand Pebbles" (1966) also is memorable and he acted with some other Hollywood greats including James Stewart in "The Flight of the Phoenix" (1965), Rex Harrison in "Doctor Dolittle" (1967) and as a London copper with John Wayne in "Brannigan".
Garrulous, open and usually candid, Attenborough was, although he denied it, the original British "luvvy" – everyone was always "love" or "darling". His influence on the British film industry was immense. The film section of the London Critics' Circle, of which I am a proud member, renamed its annual prize for Best British Film in Attenborough's name in 2004 to mark his 80th birthday.
My old pal David Gritten interviewed him at the time, when he said, "I'm not a great director or auteur. I'm an ensemble director. I left school at 16. I work by instinct in large measure. I'm not fascinated by technical advances in film and cineaste pyrotechnics are not for me. What I worry about is content. I can't write, paint or compose music. If I were able to write, I probably would. But movies have given me a part of my life where I can express feelings and bring convictions to an audience as if I could write."