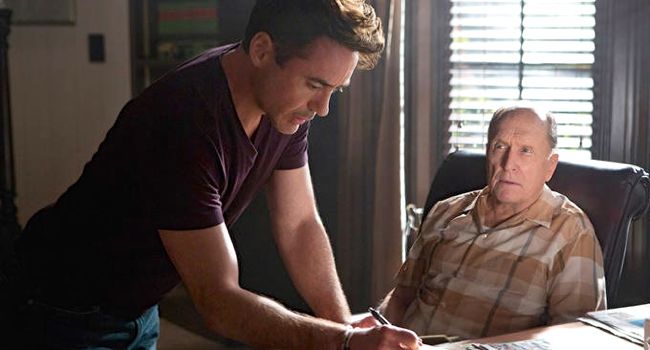 By Ray Bennett
With its extraordinary track record of screening hit movies and eventual award-winners on their way out of the gate, the Toronto International Film Festival kicks off for the 39th time.
The 39th Toronto International Film Festival commences on Sept. 4 with a massive array of movies that UK distributors, exhibitors and home entertainment specialists say is one of the best.
From the opening film – David Dobkin's courtroom drama "The Judge" starring Robert Downey Jr., Robert Duvall and Vera Farmiga – to the closing gala – Alan Rickman's period drama "A Little Chaos" starring Kate Winslet – on Sept. 14, TIFF will screen 285 feature films.
Film Distributors' Association Chief Executive Mark Batey notes that TIFF is always the launch pad of a new cycle of releases: "We're heading into an exciting period when the new film line-up — for 2015 and beyond — looks particularly attractive. The Toronto festival has an amazingly varied programme of premieres again this year with at least some of the titles starting a six-month voyage through the international awards season."
Cinema Exhibitors' Association Chief Executive Phil Clapp agrees that the TIFF lineup suggests a range of titles that will be of interest to UK exhibitors and audiences: "Whether as a result of casting – for example Denzil Washington in 'The Equalizer' — excellent word of mouth, such as with 'Foxcatcher', or a mixture of those factors plus the pedigree of the director as is the case with Mike Leigh's 'Mr. Turner', the slate appears unusually interesting and varied."
HMV DVD Product Manager Andy Anderson says he prefers to wait at least for the trailer of a film before he cares to comment: "Most films sound great when you give them a one line, that's a good PR job, so they always sound intriguing. They aren't going to get a bad one-line."
Still, he agrees that he looks forward to "The Equalizer" with star Denzel Washington and director Antoine Fuqua ("Training Day") back together. Other titles that caught Anderson's eye in a quick scan of the TIFF announcements include "Foxcatcher" with Channing Tatum as Olympic wrestler Mark Shultz: "I've heard good things about this one"; "Pawn Sacrifice" with Tobey Maguire as US chess champion Bobby Fischer and Liev Schreiber as the Russian Boris Spassky: "Interesting; chess is a lot more exciting than people give it credit for"; and "The Riot Club" based on Laura Wade's play about a posh students club at Oxford: "This seems to have been trailed for ages; good to see it finally hitting screens".
The HMV man also sees promise in TIFF's opening and closing films: "'The Judge' sounds like a good drama with a very strong cast and with 'A Little Chaos', Rickman's second film has been a long time coming so it will be well supported."
Paul Traynor, who runs the Prime Time video rental store in Southampton, took a peak at the lineup and he says, "The Equalizer" looks like it will be a tense action thriller – "You can never go wrong with a Denzel film – it will be a fantastic renter" – while "The Judge" appears to be "a very powerful moving film" with two classy actors and a storyline to match: "It will be a good film to have on our shelves."
Traynor has seen a couple of trailers for TIFF films and he says "Foxcatcher" looks good – "It will have a bigger than normal appeal with Channing Tatum in the film" – while "This Is Where I Leave You", with Jason Bateman and Tina Fey in a comedy about four grown siblings forced to spent time together, "Looks great and will have a big audience appeal. Bateman at his best."
Dave Wain, who runs the Snips Movies video rental store in the Wirral, also rates "The Equalizer" highly: "Whether or not the iconic Edward Woodward TV series is still in the public consciousness, I don't know but under Fuqua's guidance, this should prove one to watch."
He says he looks forward to "Mr. Turner": "Mike Leigh is a British institution and for his latest he's chosen a biopic of the painter J.M.W Turner, featuring an eclectic British cast. It will be awaited eagerly."
Other standout titles for Wain include "Black and White" with Kevin Costner as a man in a custody fight for his granddaughter: "Hotly anticipated film from Mike Binder … it's been seven years since his last one, 'Reign Over Me', which gave Adam Sandler one of the roles of his career."
A David Cronenberg film is "really an event", Wain says, and "Maps to the Stars", a Hollywood tale starring Robert Pattinson, Julianne Moore, John Cusack and Mia Wasikowska, is a social satire that "should prove no exception".
Of Morten Tyldum's "The Imitation Game", he says: "Alan Turing might not be one of Britain's best known heroes but as this film highlights his contribution to cracking the Enigma code, that should soon change. Benedict Cumberbatch plays the man himself."
He also mentions Sung Bo Shim's "Sea Fog" (Haemoo), about smuggling illegal immigrants; Ramin Bahrani's "99 Homes", with Andrew Garfield as a desperate man whose family are evicted from their home; "Love & Mercy", with Paul Dano and John Cusack as Beach Boy Brian Wilson young and old; Dan Gilroy's "Nightcrawler", a crime thriller with Jake Gyllenhaal; and "Before We Go", a comedy drama directed by and starring Chris Evans.
TIFF also is a great event for retailer HMV, which will sponsor some festival events at its stores in Canada. CEO Paul McGowan says HMV will take top-performing staff and competition winners from its Pure membership scheme to the festival and will stage meet-and-greets with directors and similar event. McGowan says: "It is an excellent festival, the guys who run it are brilliant."
This story appeared in Cue Entertainment.