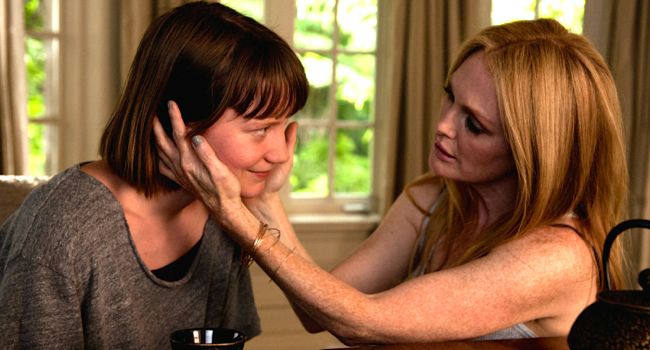 By Ray Bennett
David Cronenberg has made some terrific pictures but his latest, "Maps to the Stars", is not one of them. Filled with bile, it spins a risible yarn about two generations of a family who find that lust is a bust but incest is best.
Cronenberg clearly means the film to be a satire but it's too one-dimensional to be funny, the violence is predictable and ugly, and the death-wish mood very unpleasant. His direction is oddly uninspired in a tawdry tale about a Hollywood that seems as phoney as the characters.
As Brad Dourif and Steve Buscemi used to, Mia Wasikowska has an air of sweet innocence that will lead inevitably to something really freaky so when, as Agatha, she gets off the bus in Hollywood and goes in search of stars, it does not augur well.
She fetches up in the home of a faded star named Havana Segrand played by Julianne Moore (pictured with Wasikowska) in full "Where's the damned Oscar?" mode. Havana is desperate to be in a remake of the film in which her late mother became a star and to play the same role. She takes on Agatha as her personal assistant, or "chore whore" as she says, which turns out to be an unwise decision.
Agatha has a T-shirt with the name on it of a hit movie, "Bad Babysitter", and wouldn't you know the star of that film, a precocious kid named Benjie (Evan Bird), has the same agent as Havana. Benjie is spoiled rotten and the reason why becomes obvious in the form of his father, a money-obsessed self-help guru (John Cusack), and his brow-beaten mother (Olivia Williams). It also soon becomes obvious that Agatha and Benjie are siblings with a burdensome past.
Carrie Fisher shows up as herself, the better to rub in the whole "Postcards from the Edge" theme of lousy Hollywood parents and embittered offspring. There are ghosts and much ado about burning.
All the performers are as good as you would expect although Robert Pattinson plays an unprepossessing limo driver and would-be actor who shows Agatha around with the air of a man who once starred in blockbuster movies but can see his future all too clearly.
Screenwriter Bruce Wagner provides dialogue that conveys the bitterness that might come from someone whose career has not exactly soared since he wrote "A Nightmare on Elm Street 3: Dream Warriors" in 1987.
Oscar-winning composer Howard Shore is credited with the score but it's hard to recall a scene in which there is music, which sometimes is a good thing but this time is strangely not.
Venue: Toronto International Film Festival; Released in the UK on Sept. 26 by Entertainment One. Cast: Julianne Moore, Mia Wasikowska, John Cusack, Olivia Williams, Evan Bird, Robert Pattinson. Director: David Cronenberg; Writer: Bruce Wagner; Director of photography: Peter Suschitzky; Production designer: Carol Spier; Music: Howard Shore; Editor: Ronald Sanders; Producers: Saïd Ben Said, Martin Katz, Michel Merkt; Production: Prospero Pictures, Sentient Entertainment, SBS Productions, Integral. UK rating: 18; running time 111 minutes.