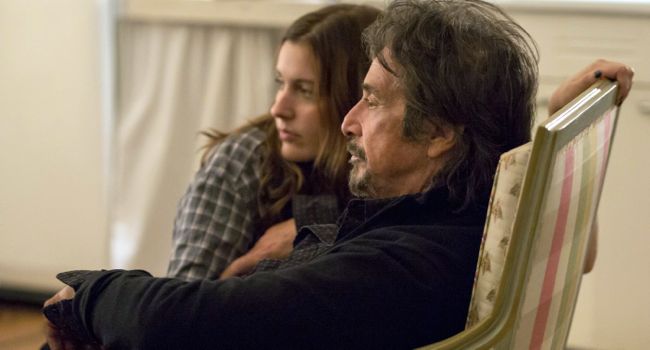 By Ray Bennett
Barry Levinson's "The Humbling", starring Al Pacino as an actor past his prime, is an example of how a lousy novel can sometimes make a good movie.
Philip Roth's pretentious and sexist 2009 novel tells of an ageing thespian's fight against the dying of the light as he discovers renewed vigour with a much younger woman. The film presents that idea seriously but braces it with much needed humour.
Pacino obtained the rights to the book and he is producer and star with Barry Levinson (Oscar-winner for "Rain Man") as director and a script by Buck Henry (Oscar-nominated for "The Graduate" and "Heaven Can Wait") and Michael Zebede.
Pacino plays Simon Axler, an acclaimed classical actor who has lost his passion for acting and started to confuse real life with fiction. The opening sequence illustrates part of his dilemma as he rehearses lines from "As You Like It" just before his curtain call and then loses his way to the stage.
Outside, in costume, he must persuade bovine young theatre staff to let him in since he's the star of the show. At the end of the production he takes a swan dive into the orchestra pit and ends up at a clinic for 28 days before he retires permanently to his country home.
A cast of characters proceed to invade his life, which he describes in detail to his doctor (Dylan Baker) in daily chats via Skype, and the accumulation becomes increasingly bizarre and amusing but rendered with dry and subtle wit.
Pegeen (Greta Gerwig, pictured above with Pacino), daughter of actor friends, who has had a crush on him since she was little, leaves her lesbian lover Louise (Kyra Sedgwick) to take up life with Axler. Louise pesters him with aggressive phone calls while a woman named Sybil (Nina Arlanda), whom he met in the clinic, is beguiled by his movie roles and asks him to murder her husband. Pegeen's ex-girlfriend Priscilla who is now a man called Prince (Billy Porter) also comes to visit while her parents, played by Dianne Wiest and Dan Hedaya, demand that she return home.
As his affection for Pegeen grows, Axler's spending gets heavier and his agent Jerry (Charles Grodin) urges him to either do a hair product commercial or return to the Broadway stage in "King Lear". There is a buzz about his return among those keen to see if he'll do another nose-dive, Jerry explains.
Scenes constantly turn sideways as the comedy emerges organically from situations including a wonderful sequence that starts off with an injured cat and ends up with Axler given a shot meant for horses that renders speech impossible when Pegeen's mother berates him.
Pacino is in confident and relaxed form and his comedy timing has seldom been better. The supporting players follow his lead with Gerwig pitch perfect while pros such as Grodin, Wiest and Hedaya hit exactly the right tone.
Levinson keeps things moving as he gives Pacino time to register the man's mixture of confusion and clarity aided by cinematographer Adam Jandrup's busy hand-held camera and a score by Marcello Zarvos that knows when to be jaunty and serene.
Venue: Toronto International Film Festival; Millennium Films, no release date; Cast: Al Pacino, Greta Gerwig, Kyra Sedgwick, Dianne Wiest, Charles Grodin, Dan Hedaya; Director: Barry Levinson; Writers: Buck Henry, Michal Zebede based on the novel by Philip Roth; Director of photography: Adam Jandrup; Production designer: Sam Lisenco; Music: The Affair, Marcello Zarvos; Editor: Aaron Yanes; Producers: Al Pacino, Jason Sosnoff; Production: Ambi Pictures, Hammerton Productions. Not rated; running time 113 minutes.