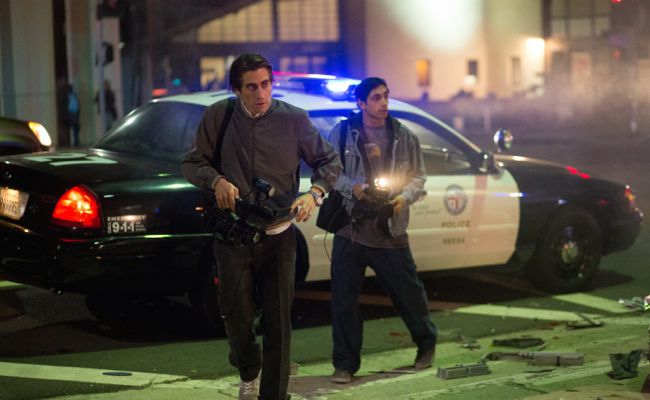 By Ray Bennett
TORONTO – From his first appearance – cadaverous, unblinking and unctuous – Jake Gyllenhaal holds your attention in Dan Gilroy's disturbing thriller "Nightcrawler" as a nocturnal creature that has emerged from under a rock fully formed as a nightmare.
In his first film as director, Gilroy, whose writing credits include "Freejack" (1992), "Two for the Money" (2005) and "The Bourne Legacy" (2012), has fashioned a scary tale set in the underbelly of Los Angeles as viewed through the eyes of the ambulance chasing video reporters who service local TV news.
Cinematographer Robert Elswit and production designer Kevin Kavanaugh make vivid contributions in a film that captures the shiny and shadowy streets of L.A. at their most sinister. Composer James Newton Howard's score adds subtly to the sense of dread.
Gyllenhaal plays Louis Bloom, a scavenger of iron and copper who is not fussy if he has to beat up a security guard in order to make off with some scrap and take the man's watch in the process. Bloom stumbles upon his true métier when he talks to a video reporter (Bill Paxman) at a crime scene and grasps immediately that with a camcorder and a police scanner he could do that too.
Devoid of compunction, Bloom gets up close and nasty shots of the victims of crashes and crimes and peddles them to the easiest market – the news director at the lowest rated TV channel in town. Played with equal gusto by Rene Russo (pictured below), Nina has not the slightest qualm about airing blood and guts on her station's early-morning news show.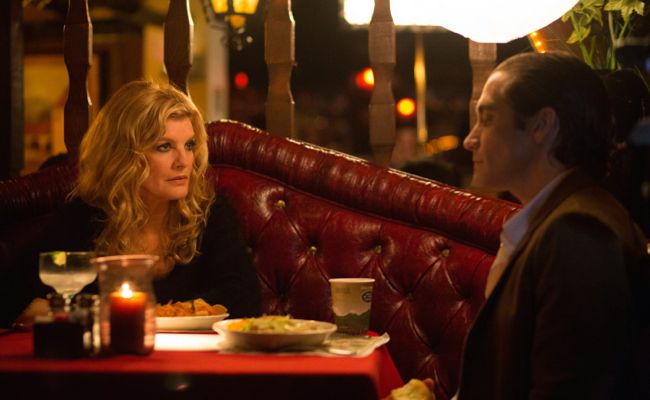 The film doesn't bother with police barriers or press credentials and it doesn't really account for Bloom's sudden wealth when he buys better equipment and a fancy car, and hires an assistant, an innocently eager Latino named Rick, played effectively by British actor Riz Admed.
It's enough that Bloom's shots of broken bodies have kick-started a ratings rise at the channel and he exploits his position blatantly as his relationship with Nina becomes professionally and personally co-dependent. It's a dance of death in a way as the man pursues an unblinking devotion to his chosen craft in terms expressed in the formulaic jargon of a workplace team builder.
Gyllenhaal's weight loss and relentless stare combine to create a memorable monster whose callous determination is bound to cause someone great harm before long. Russo hasn't had a role this good in a long time and she delivers beautifully for her director husband, who has kickstarted his directing career with an assured sense of how a good thriller gets under our skin.
Venue: Toronto International Film Festival; Opens: Oct. 31 (UK: eOne / US: Open Road Films / Canada: Elevation Pictures; Cast: Jake Gyllenhaal, Rene Russo, Riz Ahmed, Bill Paxton; Director, writer: Dan Gilroy; Director of photography: Robert Elswit; Production designer: Kevin Kavanaugh; Music: James Newton Howard; Costume designer: Amy Westcott; Editor: John Gilroy; Producers: Michael Litvak, Jake Gyllenhaal, David Lancaster, Jennifer Fox, Tony Gilroy; Executive producers: Gary Michael Walters, Betsy Danbury; Production company: Bold Films; Rating: UK: 15 / US: R; running time 117 minutes.