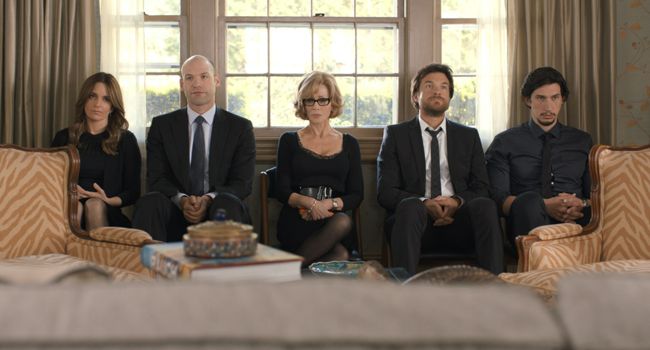 By Ray Bennett
TORONTO – Shawn Levy's empty comedy "This Is Where I Leave You" has the same premise as last year's "August: Osage County" as a family gathers reluctantly upon the death of a father but it replaces hateful characters with dull and uninteresting ones. Sort of, "June: Osage County".
A fine cast is wasted on the usual contrivances in which four siblings have secrets in regard to their marriages, relationships or jobs but they cannot compare with the secrets of their parents.
The interplay between the four, played by Tina Fey, Jason Bateman, Corey Stoll and Adam Driver, is contrived with clichéd back-stories. The clunky device used to keep them together in their suburban family home is that their atheist Jewish father's dying wish is that they sit shiva for seven days.
Jane Fonda appears strangely over-eager as their WASP mother and her secret when it is revealed is a surprise only because it is completely implausible.
Rose Byrne makes an attractive appearance as the inevitable beauty who never left town and Connie Britton impresses as the only real grownup in the picture.
The dearth of anything amusing, however, means the film relies for feeble laughs on a young rabbi who grew up with the males of the family, who call him Boner, and an infant boy who lugs around his potty and empties its contents every so often. It pretty much sums up the movie but it's not enough.
Venue: Toronto International Film Festival. Opens: US: Sept. 19; UK: Oct. 24, Warner Bros.; Cast: Jason Bateman, Tina Fey, Jane Fonda, Adam Driver, Rose Byrne, Corey Stoll, Kathryn Hahn, Connie Britton, Timothy Olyphant, Dax Shepard, Debra Monk, Abigail Spencer, Ben Schwartz; Director: Shawn Levy; Writer: Jonathan Tropper, based on his novel; Director of photography: Terry Stacey; Production designer: Ford Wheeler; Music: Michael Giacchino; Costume designer: Susan Lyall; Editor: Dean Zimmerman; Producers: Paula Weinstein, Shawn Levy, Jeffrey Levine; Production: Spring Creek, 21 Laps. Rated: US-R, UK-15, running time 104 minutes.