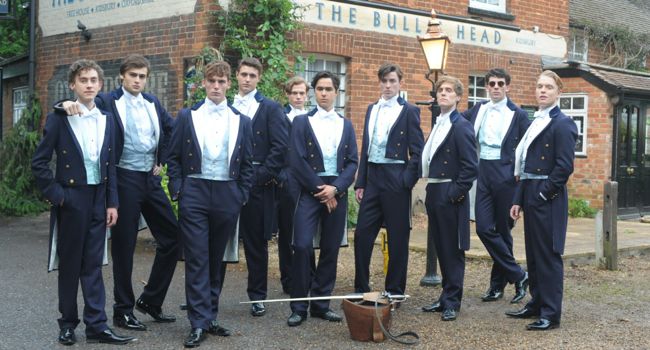 By Ray Bennett
TORONTO – Lone Scherfig's pedestrian film "The Riot Club" follows 10 rich hooligans as they act out the delusion that they have class, style and taste as they gorge on excessive food and drink at a gastropub, deride the staff and trash the place.
Adapted by Laura Wade from her West End play "Posh", but lacking that production's reported comic insights, the film takes its inspiration from a club at Oxford called Bullingdon from which privileged posh boys graduate on their way to positions of power in UK government and business.
Scherfig, the Danish filmmaker who directed the equally lame "An Education" (2009), simply observes the young men as they preen and posture and proceed to do exactly what you expect, which is to utter nonsense, treat people badly, over-eat, get drunk, vomit, break things, commit craven violence and expect to be able to buy their way out of everything.
Like buttocks from the same bum, the boys are indistinguishable while Holliday Grainger, as a northern girl who mistakes one of them for a decent sort; Natalie Dormer, as a hooker too wise to be intimated by a group of callow toffs; and Jessica Brown Findlay, as the publican's savvy daughter, all appear brighter than the boys by a mile.
The film notes that these ineffectual and repellant louts know they are bound for well-rewarded sinecures as adults but it does not attempt to account for why that should be or what might be done about it.
Venue: Toronto International Film Festival. Released in the UK on Sept. 19, Universal Pictures. Cast: Sam Claflin, Max Irons, Douglas Booth, Sam Reid, Ben Schnetzer, Jack Farthing, Matthew Beard, Freddie Fox, Josh O'Connor, Olly Alexander, Jessica Brown Findlay, Holliday Grainger, Natalie Dormer, Gordon Brown, Tom Hollander; Director: Lone Scherfig; Writer: Laura Wade, based on her play, "Posh"; Director of photography: Sebastian Blenkov; Production designer: Alice Normingtom; Music: Kasper Winding; Costume designer: Steven Noble; Editor: Jake Roberts; Producers: Graham Broadbent, Pete Czernin; Production: Blueprint Pictures, Film4; Sales: HanWay Films;
UK rating: 15, running time 106 minutes