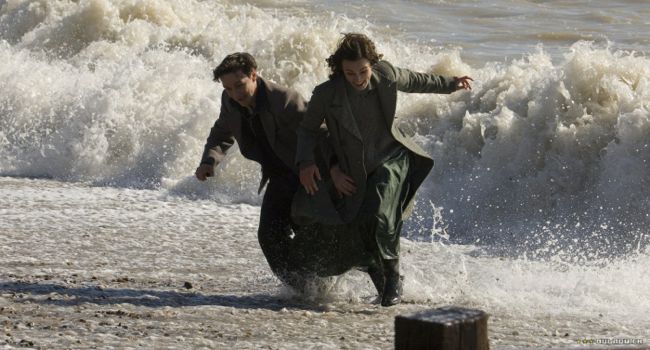 By Ray Bennett
LONDON — Writing plays a major role in Joe Wright's Oscar- and BAFTA-nominated feature "Atonement", so composer Dario Marianelli decided that the sound of a typewriter went perfectly with what he had in mind for the score. He needed just the right typewriter and he knew exactly who would find him one.
Maggie Rodford has been solving film composers' problems for nearly 20 years, working on such productions as "Gosford Park", "Bridget Jones's Diary". "Gladiator", "Hannibal", "Beyond the Sea", "Great Expectations", "Pride & Prejudice" and "Harry Potter and the Goblet of Fire".
As managing director of the Air-Edel Group in London, Rodford is involved in all aspects of music production and publishing plus artist representation. Her job title changes from film to film and on "Atonement", as the music coordinator, she worked with Marianelli and Wright and liaised with the film's producer Paul Webster and Working Title's music supervisor Nick Angel.
She says, "Before they started shooting, Dario called me and said he needed to sample an old typewriter. I had a portable Corona that my grandfather owned. He was a doctor in Cumberland and he used it so pharmacists could understand his prescriptions."
Marianelli was delighted: "It was a beauty of a machine right from the 1930s. It worked perfectly, and that's the one you hear on the soundtrack."
The British composer, whose score for "Atonement" won a Golden Globe and also is up for an Oscar and a BAFTA, first encountered Rodford on "I Capture the Castle" in 2002, he says: "She kept coming up with brilliant suggestions about ways of doing things."
Later, when he felt overwhelmed by all the musical demands of Terry Gilliam's "The Brothers Grimm", he turned to her again: "It was just too big an enterprise for me alone, and I realised that I was beginning to panic even before I had written a note. In the space of half an hour, she managed to lift a huge weight off my shoulders with her unfailing and contagious optimism."
Rodford comes by her musical understanding naturally. Her father, Malcolm Garrard, who died when she was 8, was a music engineer who pioneered stereo broadcasting at BBC radio. Rodford joined the BBC, too, and also trained as a musical engineer before she joined EMI and then Air-Edel.
She says the key to successful film composing is individuality: "Composers need a deep understanding of what's going on onscreen in the drama, but they need to have an individual sound. It can take some many years to develop but in others it's inherent early on. It's a very competitive area and the ones who succeed all have that individual voice."
This story appeared in The Hollywood Reporter on Feb. 8 2008. Marianelli went on to win the Academy Award.