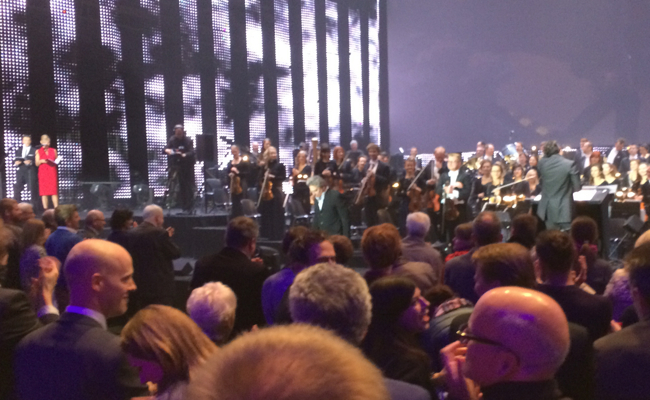 By Ray Bennett
Robin Williams once told me that there are movie stars, "and then there's Jack", as in Nicholson. The Krakow Film Music Festival Sunday night showed that there are film composers, and then there's Elliot, as in Goldenthal.
The Oscar-winning composer created for the festival a stupendous 20-minute piece titled "Grand Gothic Suite" with cues from "Batman Forever" and "Batman and Robin" to be performed during the ASCAP 100th Anniversary closing gala.
Played with evident joy by the Beethoven Academy Orchestra and Polish Radio Choir conducted by Diego Navarro, the suite soared and danced and rampaged and almost blew the roof off the Tinning Plant venue not because it was loud but because it was so enthralling. It stopped the show. Audience and orchestra leapt to their feet and demanded that Goldenthal (in the centre of the photo above) go to the stage for a prolonged standing ovation.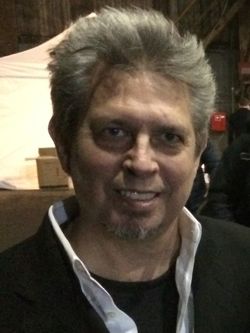 As Goldenthal's life partner, director Julie Taymor, told me afterwards, the suite showed that dumb action movies can have scores that are created with classical orchestral foundations. The composer has an extraordinarily rich musical vocabulary and he employed it fully in the "Grand Gothic Suite". It is so vividly descriptive and evocative that you don't actually need to see the movies.
The performance, which featured Goldenthal's longtime music producer Teese Gohl on keyboard, was the highlight of an evening of great music that featured cues by Patrick Doyle from "Frankenstein", "Thor" and "Harry Potter and the Goblet of Fire", Dario Marianelli's gorgeous waltz from "Anna Karenina" with a sumptuous clip from that very good movie, Gustavo Santaolalla's simple but lovely theme from "Brokeback Mountain  (he sent a video greeting as he could not attend), Philip Glass's "The Hours Suite, Movement III" with Leszek Możdżer at the piano, and Garry Schyman from the videogame "BioShock",  plus an "Inception" suite by Hans Zimmer, who performed with the orchestra along with vocalist Czarina Russell, German cellist Tristan Schukze and Polish guitarist Aleksander Milwiw-Baron.
Flautist Sara Andon also stole the show with colour-co-ordinated gowns and staggering musicianship as she performed arrangements of a romantic cue by Alex North from "Spartacus", a theme by Elmer Bernstein from "To Kill a Mockingbird" and "Moon River" by Henry Mancini (his own arrangement) from "Breakfast at Tiffany's".