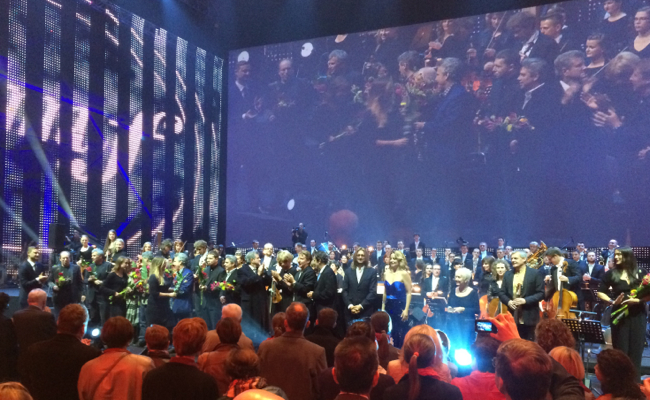 By Ray Bennett
The Krakow Film Music Festival celebrated ASCAP's 100th anniversary Sunday night with an enthralling concert of movie scores by composers including Patrick Doyle, Elliot Goldenthal, Dario Marianelli and Hans Zimmer, who were all on hand for the party.
Festival Artistic Director Robert Piaskowski lauded the performing rights organisation for its support of film music in general and the Krakow event in particular. During the evening he presented the first FMF Ambassador Award to Nancy Knutsen (pictured), who for years was ASCAP Film and Television Repertoire VP and remains a consultant.
Piaskowski called Knutsen "a longtime friend" of the FMF and he noted that she had effected introductions to composers such as Goldenthal, Zimmer, Craig Armstrong and Angelo Badalamenti, cemented the festival's collaboration with the Fimucité Festival and the Gent International Film Festival, and brought growing renown to the FMF at various international film and music conferences including Sundance, SXSW, Seattle, Vancouver,  Toronto, Santa Barbara and Palm Springs.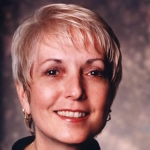 He said, "We are naming Nancy FMF Ambassador because she has for years shown great commitment to assisting in the development of contacts with many of our foreign industry partners. With this symbolic award, we thank Nancy for her years of dedication and friendship, wishing her many more musical adventures, as well as more frequent visits to the FMF in Kraków."
The Minimalist bronze statuette, created by Stanisław Juszczak, features two mobile wheels arranged in such a manner that one always sets the other in motion.
ASCAP Film & TV VP Shawn LeMone, Film & TV Senior Director Michael Todd and Film & TV UK/Europe Director Simon Greenaway were all on stage during the event, which began with a short film that highlighted with brief clips the organisation's involvement with film music since 1916.
During the 5-day Krakow Film Music Festival,  ASCAP Board member Richard Bellis led two composer workshops: Skill Sets for Composers and Creativity on a Deadline; Greenaway led Q&A sessions with Hans Zimmer and Dario Marianelli; LeMone and Todd co-led a class with Air-Edel Group Managing Director Maggie Rodford on Copyright, Performance Royalties and Entrepreneurial Realities; ASCAP composer Garry Schyman led a seminar on composing for videogames and, with ASCAP composer  and professor of practice at USC Thornton Daniel Carlin, co-led a sequence of recording/scoring workshops for the finalists in the FMF Young Talent Award competition with veteran recording engineer Brad Haehnel at Alvernia Studios; Knutsen and BUMA/ASCAP composer Matthijs Kieboom participated in a panel on how young composers can break into film/TV music; and 20th Century Fox Film Music Production Senior VP Rebecca Morellato led an FMF Master Class on Film Music from the Studio Executive's Perspective.