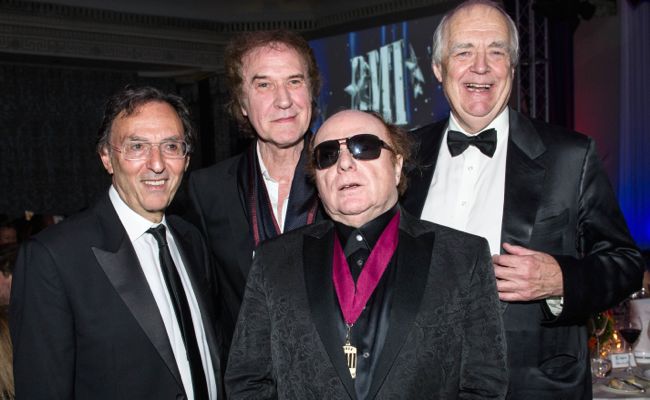 By Ray Bennett
Oscar-, Tony- and Grammy-winning lyricist Tim Rice was named a BMI Icon at the BMI London Awards on Oct. 13 with Don Black, Ray Davies, and Van Morrison (pictured above) among the guests.
The awards honour UK, Caribbean and other European songwriters, producers and publishers for songs that had the most air-play on US radio and TV last year.
Nile Rodgers picked up the Robert S. Musel Award for song of the year for Daft Punk's "Get Happy", which he wrote with Thomas Bangalter, Guy-Manuel de Homem-Christo and Pharrell Williams.
Avicii won the Dance Award for his hit "Wake Me Up," performed with Aloe Blacc. Ellie Goulding was a triple winner for "Anything Could Happen," "Burn," and "I Need Your Love."
Van Morrison, an earlier BMI Icon honouree, received the BMI Million-Air Award to mark 11-million combined radio plays of "Brown Eyed Girl", which is now one of the Top 10 Songs of All Time on US radio and TV, as well as "Have I Told You Lately," which has had 7-million.
Sting's "Every Breath You Take" clocked up 12-million US airplays as his "Every Little Thing She Does is Magic" topped 7-million.
Film music awards went to Clint Mansell for "Noah", Alexandre Desplat for "The Monuments Men", and Harald Kloser and Thomas Wander for "White House Down".
TV music awards were won by Jos Jorgenson and Andy Love for "America's Got Talent", Pete Townshend for "CSI: Crime Scene Investigation", Carim Clasmann and Galia Durant for "Grey's Anatomy", Christopher Franke, Vaughn Johnson and Lee Sanders for "The Amazing Race", David Buckley for "The Good Wife", while Atli Orvarsson won two for "Chicago Fire" and "Chicago P.D."
The event was held at London's Dorchester Hotel and a BMI representative said the question of the Dorchester Collection's ownership by the Brunei Investment Agency (BIA) was discussed. The Sultan of Brunei has imposed brutal Sharia laws in that country and there have been protests at properties it owns around the world.
The BMI gala has taken place at the Dorchester for many years and the venue was booked more than 18 months earlier. The representative acknowledged that had the event been due to take place at BIA's Beverly Hills Hotel, it might have been moved due to greater sensitivity to the issue in Los Angeles.
In the end, BMI decided that it would not be a major issue in London where protests against BIA have been criticised for what has been termed its "tenuous" link to the laws of Brunei. HR Magazine editor Arvind Hickman made that case earlier this year. See his comments here.