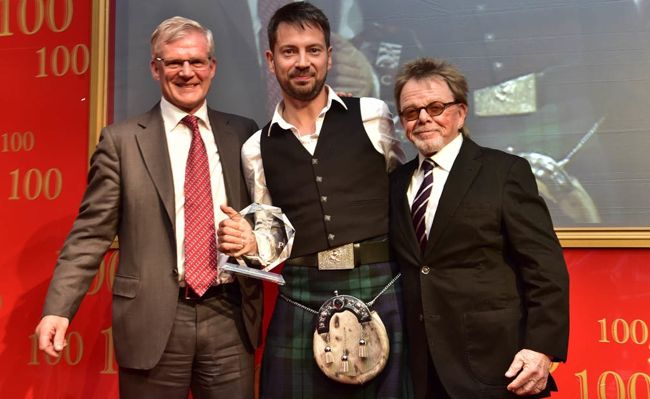 By Ray Bennett
Songwriter Jim Duguid, who was named songwriter of the year along with Alex Clare for Clare's double platinum hit "Too Close", brought down the house at the 34th Annual ASCAP Awards London gala at Grosvenor House on Oct. 8.
Duguid in his kilt, pictured above with PRS for Music Chief Executive Robert Ashcroft and ASCAP President and Chairman Paul Williams, told a funny yarn about his Scottish accent when he was in New York with Paulo Nutini at Armet Ertegun's studio and he met Stevie Nicks.
He said "I told her she sounded lovely and she was one of my heroes but she just said, 'Sorry, I don't speak French'."
The awards presentations, given for the most airplay in the United States, was both a celebration and a sentimental occasion with surprises and special guests.
The US performing rights organisation joined with the UK's PRS for Music to celebrate their respective 100-year anniversaries and to laud veteran songwriter and longtime ASCAP executive Roger Greenaway, who will retire at the end of the year.
To mark the PRS centennial, Paul Williams presented PRS for Music Chairman Guy Fletcher and Chief Executive Robert Ashcroft with a framed copy of a commemorative statement about the society that has been placed in the U.S. Congressional Record.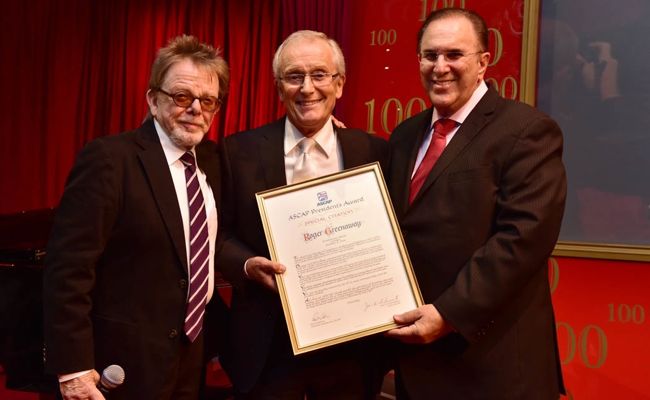 Williams and ASCAP CEO John LoFrumento presented Greenaway (above) with a special President's Award in recognition of his service over more than 21 years. They said: "Your accomplishments as a songwriter are legendary and preceded your entry into the business side of music. That you toiled tirelessly as an ASCAP executive and made such important contributions on behalf of your fellow music creators in this capacity is a further tribute to you."
Greenaway shook off tears as he promised to be around to help ASCAP on its way to another 100 years. Marc Almond then took to the stage to perform "Something's Gotten Hold of my Heart", written by Greenaway and Roger Cook, which was No. 1 in the UK charts in January 1989 when Almond recorded it with Gene Pitney.
Other highlights of the evening included performances by Dan Wilson, who sang "Someone Like You", which he wrote with Adele, plus "Secret Smile" and "Closing Time", which he wrote for his band Semisonic. Songwriter Desmond Child played piano and sang Bon Jovi's "Livin' on a Prayer" and "Make a Memory", which he wrote with Jon Bon Jovi and Richie Sambora, and "Angel", which he wrote with Steve Tyler for Aerosmith.
Writer/producer Richard "Biff" Stannard picked up the prize for Song of the Year honor for hit single "Lights" recorded by Ellie Goulding;  and Universal Music Publishing was named Publisher of the Year.
The ASCAP Vanguard Award, which aims to support emerging music creators, went to Dan Smith from the band Bastille whose song "Pompeii" was the fourth single from the band's debut album and reached No. 5 in the Billboard Top 100. Previous Vanguard Award honourees include Taio Cruz, Calvin Harris, Kate Nash, Frank Turner, Bat for Lashes and Plan B.
Honourees in the Film and Television Theme categories were: Lorne Balfe for "The Bible", Oscar-winner Steven Price for "Gravity" (pictured below with ASCAP Film & TV UK/Europe Director Simon Greenaway), Craig Armstrong for "The Great Gatsby", Cathy Dennis, Julian Gingell, and Barry Stone for "American Idol"; Josh Phillips, Dan McGrath for "Dancing With the Stars", John Lunn for "Downton Abbey" and Charlie Mole for "Mr. Selfridge".