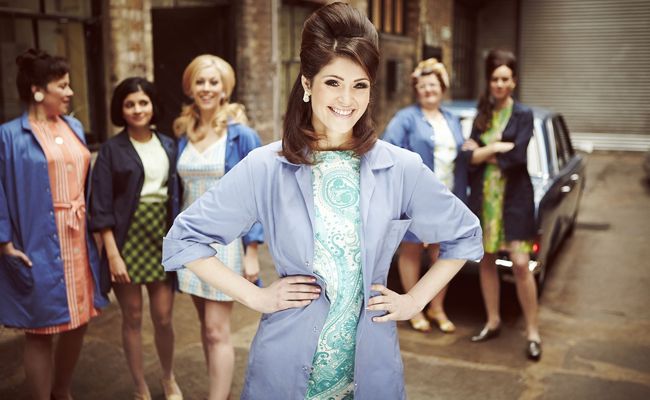 By Ray Bennett
David Arnold has seldom appeared happier. You can only imagine what it's like to walk along the Strand in London and see the splash of colour at the Adelphi Theatre that proclaims your very first West End musical and know that everyone says "Made in Dagenham: The Musical" will be a giant hit.
Everyone being me and those I know who've seen it. The London critics will see it tomorrow and Arnold, who is a pragmatic man, says that no matter what they say, this has been one of the most satisfying things he's ever done: "Even if it closes in a week, to have worked on this with all these people, and to see it actually get on the stage, has been wonderful."
I've known David Arnold since I interviewed him in Los Angeles in the mid-1990s. An acclaimed record producer and songwriter, he has won success with his scores for many movies including James Bond pictures, "Stargate", "Independence Day" and "2 Fast 2 Furious" and TV shows such as "Little Britain" and "Sherlock". He produces an annual concert for the CARE charity and he was Danny Boyle's musical director for the universally acclaimed opening and closing shows at the 2012 London Olympiad.
He's also great fun to be around, as I know from the early Saturday morning when he brought director Alan Parker along to join me, a Spurs fan, at the Fox pub on Vineland in Studio City to watch an Arsenal premiership game to several splendidly entertaining evenings at the World Soundtrack Awards in Gent.
All the elements are there for another major new development in his sterling career. Arnold, who wrote the score for the 2010 Nigel Cole movie about female machinists who went on strike against the Ford Motor Co. in East London in 1968, has written a mix of melodic tunes and soaring anthems with lyrics by Richard Thomas ("Jerry Springer: The Musical").
Richard Bean ("One Man, Two Guvnors") wrote the book and the director is Rupert Goold, who won the Olivier Award as best director for "Macbeth" starring Patrick Stewart in 2008 and "Enron" in 2010.
The show stars Gemma Arterton as the fictional leader of the women strikers, played in the movie by Sally Hawkins. Two of the finest British actresses, they have somewhat different skills. Hawkins can play meek so her character in the film becomes the mouse that roared whereas Arterton cannot play meek but she can play vulnerable, and as the show begins Goold sensibly places her off to the side where she is just one of the girls. Her obvious good looks and strength come to the fore only during the course of the story, which serves the production very well.
There are several ensemble numbers and each of the strong cast has a chance to shine as the strike protest makes its way to Ford management and ultimately to parliament. Industrial unrest has served as the backdrop for many British dramas with musical content such as "Billy Elliot" and "Brassed Off". "Made in Dagenham" is a natural for stage musical treatment and the creative crew and cast carry it off with crowd-pleasing aplomb.
Already a big star in Hollywood movies, indie films and serious theatrical drama, Arterton shows that she will have a formidable career in stage musicals. Arnold tells me that she has proved to be the absolute sweetheart she's appeared to be when I've met her and she has worked without airs as the show has gone through inevitable changes and tweaks.
Adrian der Gregorian makes a likeable and worthy leading man and the other women are a clever mix of serious, sweary and saucy while Mark Hadfield's Harold Wilson is amusingly addled and Sophie-Louise Dann has a great time as employment secretary Barbara Castle. The songs are hummable and witty and there's a show-stopper titled "America" that builds to a tremendous climax as it lampoons everything we love and hate about that nation's image. Long may it run.
For more information, see "Made in Dagenham"