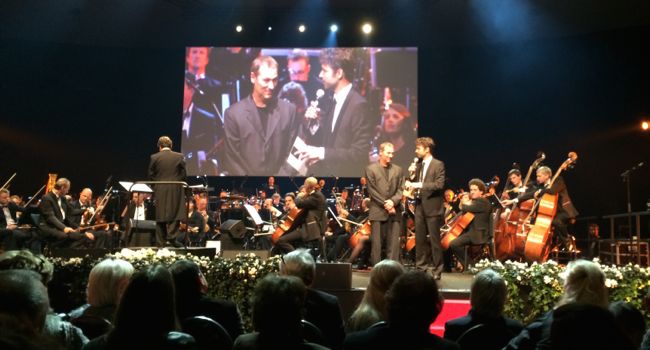 By Ray Bennett
GHENT, BELGIUM – One of the great things about the World Soundtrack Awards is the Ghent Film Festival's commitment to orchestral music and this year was no different as the annual event showcased the work of Cliff Martinez.
The former Red Hot Chili Peppers drummer (pictured) is well established as filmmaker Steven Soderberg's frequent musical collaborator since "Sex, Lies and Videotape" in 1989. Since then, he has scored the director's "Kafka" (1991), "King of the Hill" (1993), "The Underneath" (1995), "The Limey" (1999), "Traffic" (2000), "Solaris" (2002), "Contagion" (2011) and the TV series "The Knick" for Cinemax, currently on Sky Atlantic in the UK.
In Ghent, Dirk Brossé conducted the Brussels Philharmonic in orchestral arrangements of some of those scores plus cues from Nicolas Winding Refn's "Drive" and "Only God Forgives" plus Harmony Korine's "Spring Breakers".
It was not an easy task as Martinez remarked that his electronic approach had been "swept under the rug". Brossé said at a press conference that the project had not started out well: "Cliff's music was a nightmare for me as to how to put it in the concert hall. But the nightmare is over." He thanked the orchestra and Milan records for making it work. Milan produced a special album of the orchestral versions that is available here.
At the press conference, Martinez said, "My approach is to take ideas from great composers and then try to make something original." He grew up with the notion that "less is more", he said: "Soderbergh never wanted the music to be too emotional and that rubbed off on me. He never wanted the music to be redundant; to say things that are already up on the screen."
Nicolas Winding Refn always likes "other-worldly" music, he noted: "It seems that I've been typecast with these dark movies. Even if I try to write like someone else, I will fail in an interesting way."
During the awards concert, US composer Dan Romer, who was last year's WSA Discovery of the Year, played accordion along with the orchestra on themes he wrote for "Beasts of the Southern Wild" and jazz musician Jeff Neve was on hand for music from the Belgian TV series "In Flanders Fields".
Brossé noted at the press conference that film music has become ever more popular in the concert hall: "Interest in film music is growing every day. As a musical director in the US, you want people in your audience and it has become more difficult with classical. The key word now is film music."
Currently music director of the Chamber Orchestra of Philadelphia as well as Film Fest Ghent, Brossé said that film music in the concert hall "needs a specific attitude". He said: "You must believe in what you do. Not all film music can be played out of context. Some composers make great music for picture but also that can be played in concert."
John Williams is the most in-demand composer but Brossé observed: "His music is published by Hal Leonard. Not all composers are so well organised."