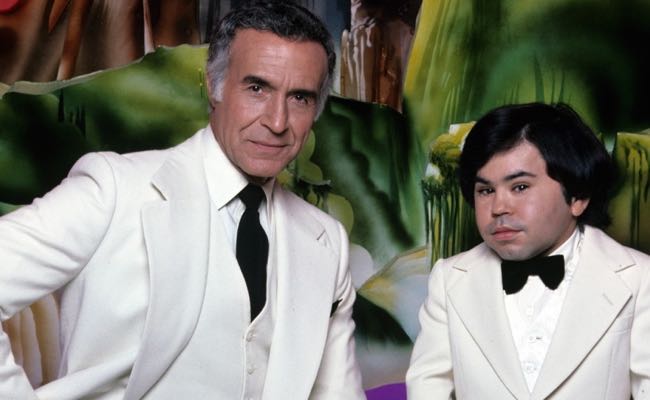 By Ray Bennett
Chris Rock's question "Is Hollywood Mexican enough?" in his essay about race in the current edition of The Hollywood Reporter reminded me of what the late Ricardo Montalbán told me a long time ago about the image of Mexicans on screen.
The "Fantasy Island" star, who would have turned 95 last week, in 1970 founded Nosotros, now the oldest US non-profit arts advocacy group. In an interview in Los Angeles for TV Guide Canada on Jan. 21, 1983, Montalbán said he had been motivated to form the organisation because of the way Mexicans were depicted in film and television.
He said, "There are two extremes. One is the indolent, lazy peon with a big hat, taking a siesta, leaning against a cactus. Now, I don't know how you can do that because, have you ever tried to lean against a cactus? I never have and I never will, but nevertheless that's the image.'
The other extreme was the bandit: "It was always a Mexican bandit with a phoney, phoney accent, a comedic bandit who says, 'Eh, señor? Gi' me your gon'. And then there's the gigolo. In between: nothing, a vacuum, never a decent man."
The star persuaded the Frito Lay company to drop its Frito Bandito character in TV commercials: "He was a funny little fat guy with a moustache and bandoleers across his chest and he would steal chips because they were so delicious. I called the president of Frito Lay and I said, 'I hope you will listen to me because otherwise you will have to listen to the more militant organisations who are really fed up with this."
Montalbán said the man objected: "He said, 'But why? He's a very cute little guy. We spent $12 million on it and it's the most successful campaign that Frito has ever had.' I said, 'Well, I'm sure that's true but it's precisely because he is so cute that he is so dangerous. It's one more insult added, one more injury to the Mexican people. I said, 'Why not make him Frito Amigo, who finds the chips so delicious he has to share them?' He said, 'Mr. Montalbano, you make very good sense' and Frito Bandito was off the air."
Nosotros, which means "we", set out to correct the Mexican image on screen and urge directors to ignore people's names when casting and go by appearance and performance alone, and establish workshops where Mexican – and later people from all Spanish-speaking nations – could hone their talent.
The organisation will celebrate it's 45th anniversary in 2015, and Montalbán said back in 1983: "We've made some inroads, some very positive inroads but they are slow in coming. There have been some gains and we see some very good signs. I think the Spanish actor is in better shape because of Nosotros – a small contribution but I think an important one."
According to Chris Rock, it appears there's still a long way to go.
Montalbán was a victim of stereotyping early in his career. He is recalled best for "Fantasy Island" (1977-1984) plus Chrysler commercials in the US and Maxwell House commercials in Canada. He also played Khan in the "Star Trek" TV series in 1967 and the 1982 film "Star Trek II: The Wrath of Khan", but when he first went to Hollywood in 1943, he was stereotyped immediately.
He told me that the dozen or so films he'd made in Mexico had been intensely dramatic: "They kept giving me those roles. I never played comedy. I was very dramatic and intense young man."
Hollywood, where he was under contract at MGM, had a different idea: "They always categorised me as a Latin, whatever that was, and I had to play those roles. Because in my first picture I danced, and it was successful, people thought I was a dancer. I had to dance from then on in many films. I began to play, 'How do you do?' and I'm kissing ladies' hands and clicking my heels, doing a rumba or a tango. It was very peculiar."
His last MGM credit was "Latin Lovers" opposite Lana Turner in 1953. He said he had been happy at the studio and had great respect for Louis B. Mayer despite what many others have said about the studio boss: "To me, he will never be Louis B. Mayer. He will always be Mr. Mayer. He always treated me with affection. I have nothing but pleasant memories of the man. I've heard all these other things but, you know, in Spanish we say that each one speaks about the party in his own way. We can both attend the party and you could say it was a lousy party and I could say it was the best party of my life. I suppose it's the same with human beings. I hear people talk not in very kind terms of Mr. Mayer and in my case he was a man who was absolutely wonderful to me."
Montalbán's career suffered when he left the studio and he had to fend for himself but he survived and IMDb lists 172 acting credits until his death on Jan. 14, 2009. He became a household name as the mysterious host Mr. Roarke on "Fantasy Island" with Hervé Villechaize (pictured top) as his diminutive sidekick Tattoo, who always called out "de plane!" as the week's characters arrived for their adventures.
He said he was very lucky that the show and the TV commercials came along when they did: "It was the luckiest break of my life. This is a career of diminishing returns and as you get older you are less desirable but in my case it's been just the opposite. It's all timing; a throw of the dice, and I consider myself extremely fortunate."