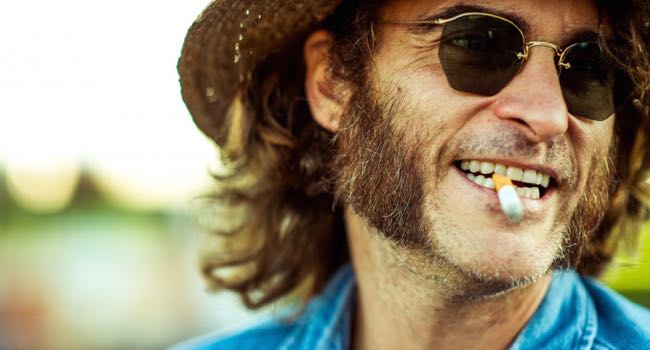 By Ray Bennett
A snapshot preview of some of the movies to be released over the holiday period and into the New Year. These are the ones that don't work.
Incoherent Vice
Just add two letters to "Inherent Vice" and you get the picture. Lovely burnished images of 1970s L.A., a great soundtrack and a lived-in performance by Joaquin Phoenix (pictured) cannot save Paul Thomas Anderson's pastiche. It's faithful to the Thomas Pynchon novel, which is to say vacuous, meandering and pointless. (US, Jan. 9 / UK, Jan. 30)
Slayers of the Last Orc
Peter Jackson's bloated Tolkien saga comes to a violent end in "The Hobbit: The Battle of the Five Armies" so that Martin Freeman can return to anonymity and Richard Armitage can be ready to take over as James Bond after "Spectre". (out now)
Mr. Turnip
Timothy Spall grunts, gropes, snorts, burps, spits and probably farts in the title role of Mike Leigh's "Mr. Turner", which boasts Dick Pope's lovely cinematography but has no story and, unlike, say, "Amadeus", fails to enquire how beautiful art can emerge from a self-described gargoyle. (UK, out now / US, Dec. 19)
Holy crap!
Ridley Scott piles on the CGI plagues and pestilence in "Exodus: Gods & Kings" , which has an epic score by Alberto Iglesias to match Clint Mansell's for Darren Aronofsky's "Noah", although the tale of the man with the ark was sillier and more fun. (US, out now / UK, Dec. 26)
Most odd
After the splendid "Margin Call" and "All is Lost", J.C. Chandor sets his drama "A Most Violent Year" at a time when New York was at its most crime-ridden but he elects instead to focus on the struggles of a shady but boring heating-oil salesman. (US, Dec. 31 / UK, Jan. 23)
Nosecatcher
Bennett Miller's "Foxcatcher" tells of a rich man's obsession with a male wrestler but Steve Carell's egregious false proboscis and Channing Tatum's simian impression of a gullible dope are constant distractions. (UK, Jan. 9 / US, open now)
Missing a bet
Mark Wahlberg is miscast badly as a university lecturer with a gambling problem in Rupert Wyatt's "The Gambler", a predictable, slow and redundant remake of James Toback's much more interesting 1974 version starring James Caan. (US, Dec. 25 / UK, Jan. 23)