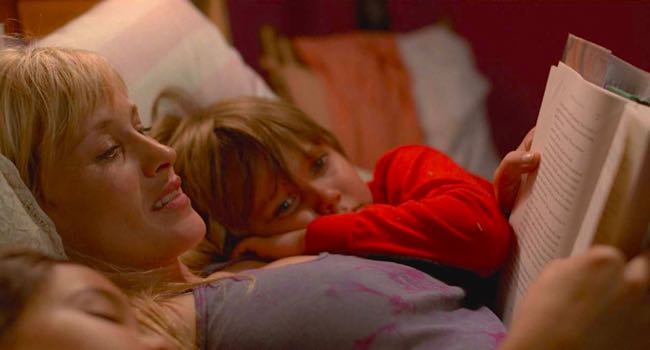 By Ray Bennett
Richard Linklater's latest film is about a mother and her son and daughter but he has titled it "Boyhood" and it becomes clear that he sees it as an exercise in nostalgia. It will strike a chord with audiences who respond to that.
The writer and director made the picture over 12 years so that we see the boy, Mason, played by Ellar Coltrane, and the girl, Samantha, played by Lorelei Linklater, grow up as the senior actors also age by a decade.
Michael Apted used a similar technique in his series of documentaries, starting with "7 Up", which followed the lives of a group of people every seven years. In that case, however, Apted documented the way his subjects had been shaped by real life.
The Linklater film is fiction and so he could have shaped his subjects' lives any way he pleased but, sadly, he has chosen nothing interesting for them to do. He should have paid attention to one of his own lines in the film, "Any dip-shit can take pictures. It's hard to make art." Exactly.
The film, which runs for 165 minutes, could be called "Ordinary People" but Robert Redford already claimed that. "Dull People" is more apt. The working-class kitchen-sink stories of the 1950s and '60s were striking because they showed that people did not need to be posh, rich or wear a crown in order to experience Shakespearean drama and sufffer personal tragedy. "Boyhood" does not.
Perhaps Linklater realised as the children grew that they had not turned into actors and so he could not give them dramatic nuances to portray. The girl is especially engaging when she is young but she becomes self-conscious and uncomfortable as she grows up. The boy has an all-American boyish freshness as a kid but little spark and while he retains a lanky charm as a teenager, he just sort of stands there.
The most interesting character in the film is the mother and Patricia Arquette will deserve all the awards she will collect for bringing her natural warmth and strength to an underwritten role. The woman raises her kids in Texas with little support and still manages to get an education and become a lecturer in psychology.
"Motherhood", with her at the centre, would be a much better tale although Arquette does all the heavy lifting as Linklater elects not to explore fully what drives a loving, strong and intelligent woman to marry a series of unpleasant drunks.
Ethan Hawke floats in and out of the film as the wayward father,  a breezy blowhard with a glib line in clichés. As the film progresses, Linklater prefers to focus on the father-and-son aspect with nostalgic scenes of camping and fishing. Grandparents give the boy his first bible and his first shotgun but quite what the teenager thinks of this is hard to tell.
He says he wants to be a photographer and when he covers a sporting event, he focuses on what's on the sidelines rather than where the action is, or could be, much the same as the film itself.
Opens: UK, July 11 (Universal), US July 11, limited (IFC); Cast: Patricia Arquette, Ethan Hawke, Ellar Coltrane, Lorelei Linklater; Director, writer: Richard Linklater; Directors of photography: Lee Daniel, Shane Kelly; Production designer: Rodney Becker; Costume designer: Kari Perkins; Editor: Sandra Adair; Producers: Richard Linklater, Cathleen Sutherland; Executive producers: Jonathan Sehring, John Sloss Production: Detour FilmProduction; Rating: UK, 15 / US, R; running time 165 mins