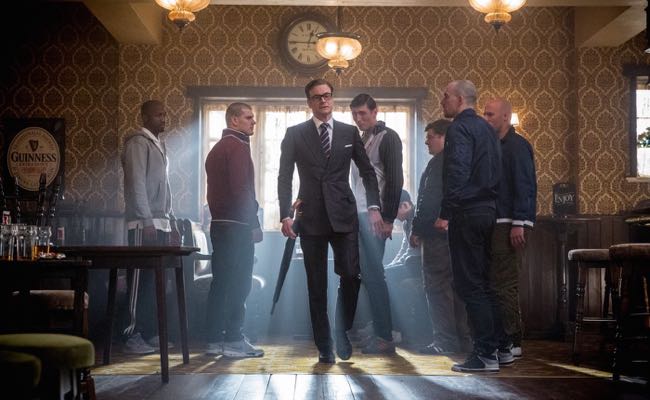 By Ray Bennett
"Kingsman: The Secret Service" could put the nail in the coffin of secret agent movies just as "Blazing Saddles" put the kibosh on westerns in the 1970s.
It takes the increasingly absurd violent action of recent James Bond, Jason Bourne and "Expendables" films and cranks it up to 11 on the mayhem scale. It might be hard to take the next 007 film seriously.
Polished and straight-faced, it makes a nonsense of the super-human antics of non-super-heroes. Director Matthew Vaughan and co-writer Jane Goldman increase their "Kick-Ass" propulsion to higher levels in a colourfully lunatic adventure based on the comic book by Mark Millar and Dave Gibbons, who also are executive producers.
Colin Firth is a priceless John Steed: impeccable, poised and capable of extreme prejudice on behalf of an ultra-secret and righteous cabal run on the lines of King Arthur's round table behind the door of a bespoke tailor in London.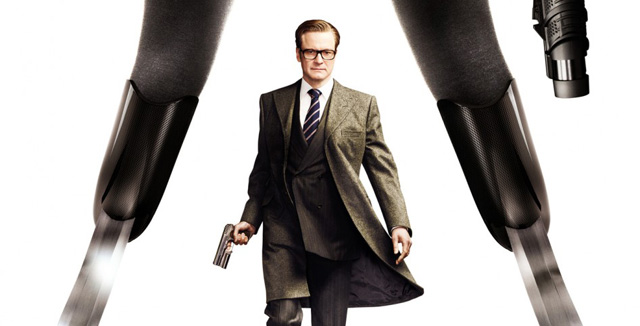 Michael Caine plays Arthur with Harry Hart (Firth), code-named Galahad, as his senior agent as they do battle with evil-doers, the latest of which is a demented billionaire named Valentine, played as a lisping blood-shy despot by Samuel L. Jackson, having great fun with the role.
The film opens in traditional James Bond fashion with a tense encounter that goes wrong and soon Galahad becomes mentor to a replacement Lancelot with young recruits Eggsy (Taron Egerton, who steps up brightly) and Roxy (Sophie Cookson, who also makes a strong impression) the likely candidates. Also on his side is a Scottish Merlin (the always reliable Mark Strong) who, like Q, has to hand an amazing array of deadly devices, gadgets and weaponry.
Valentine has the usual supply of disposable acolytes plus a devilishly inventive ramrod named Gazelle (Sofia Butella) whose prostethic feet become blades that make her a balletic spinning wheel of razor-sharp hazard. Valentine goes beyond Dr. Evil in his plan to save planet Earth from extinction by a massive reduction in the number of human beings who do it harm in their ignorance of climate change.
• WATCH THE TRAILER
The men and women of Kingsman embark on hilariously entertaining assaults on Valentine's dauntingly expansive schemes and there is one knockout sequence in which Galahad squares off alone against a church full of rednecked adversaries.
Vaughan and Goodman bring the threat to everyday folk home with scenes that show Eggsy's working class roots, the disbelief of his mates and the dire circumstances of his toddler sibling and their mother, who has a brutal live-in boyfriend.
Paul Kirby's production design and Arianne Phillips's costumes are spot-on and there's expert work by cinematographer George Richmond and editors Conrad Buff IV, Eddie Hamilton and Jon Harris. Veteran British music supervisor Ian Neil makes inspired choices to complement a vivid score by Henry Jackman and Matthew Margeson. Contributions by 10 special effects houses are first class.
The film's dry wit and appealingly droll tone are let down just once toward the end when a backasswards joke involving a Swedish princess (Hanna Alstrom) betrays the studio's intense desire to appeal to teenaged boys. Aside from that, even with all the gunplay and exploding heads, it's smart and outrageously enjoyable.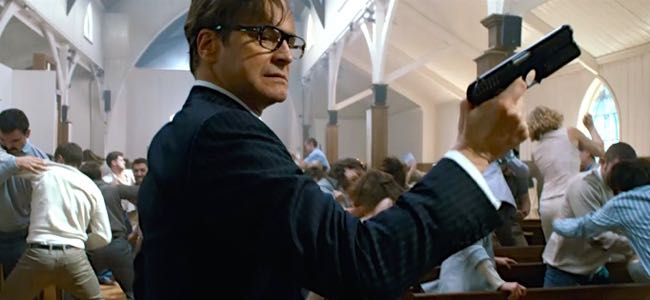 Opens: UK Jan. 29 (20th Century Fox) / US Feb. 13 (Fox); Cast: Colin Firth, Samuel L. Jackson, Mark Strong, Michael Caine, Mark Hamill, Taron Egerton, Sophie Cookson, Jack Davenport, Sofia Boutella, Geoff Bell, Samantha Womack, Bjorn Floberg, Hanna Alstrom; Director: Matthew Vaughn; Screenwriters: Jane Goldman, Matthew Vaughn, based on the comic book "The Secret Service" by Mark Millar and Dave Gibbons; Director of photography: George Richmond; Production designer: Paul Kirby; Composers: Henry Jackman, Matthew Margeson; Costume designer: Arianne Phillips; Editors: Conrad Buff IV, Eddie Hamilton, Jon Harris; Producers: Matthew Vaughn, David Reid, Adam Bohling; Executive producers: Mark Millar, Dave Gibbons, Stephen Marks, Claudia Vaughn, Pierre Lagrange Production companies: Marv, TSG Entertainment; Rating: UK: 15 / US: R; running time 128 minutes.