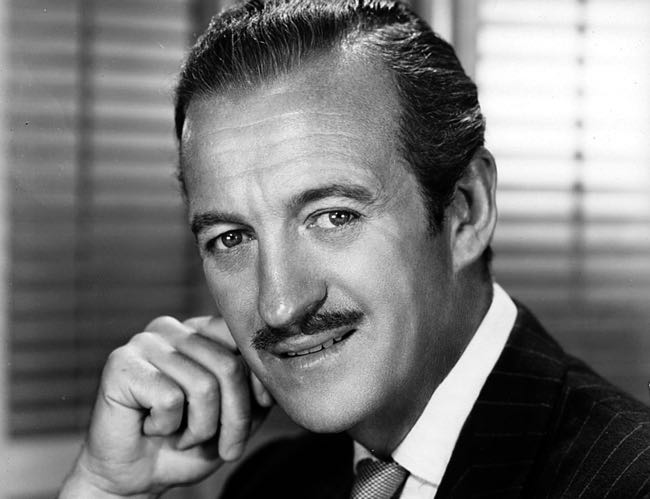 By Ray Bennett
David Niven, who was born 105 years ago today and died aged 73 in 1983, gave Ron Base and me the best quote of all time.
The Oscar-winning British actor was on a book tour to promote his first memoir, the brilliant "The Moon's a Balloon", in 1972. Ron and I, who worked at The Windsor Star across the river, went to a Detroit hotel ballroom for a lunch – a hospital fundraiser – at which Niven was to speak. We were told we could interview him afterwards.
Lunch was great because we sat at a table with actress Constance Towers so we encouraged her to share yarns of her films with John Ford. Niven was a masterful raconteur and he spun hilarious tales from his book.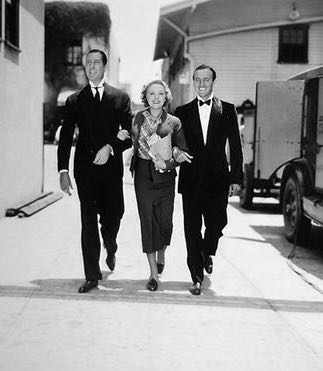 Ron and I repaired backstage to interview him only to be told that he had to leave immediately as he was due in Denver for another speech that evening. He came out to apologise for the mix up and then gave us the best quote ever: "Write anything you like. I'll swear I said it."
Always one of my favourite screen actors, Niven was the definition of suave and debonair from his start in comedies such as "Thank You, Jeeves" (1936), in which he naturally played Bertie Wooster (pictured above with Virginia Field and Arthur Treacher as Jeeves), and war pictures such as "Dawn Patrol" (1938).
He might be best known for his role as Phileas Fogg in "Around the World in Eighty Days", which won five Academy Awards in 1957 including Best Picture. He is perfect and Shirley MacLaine and Robert Newton (pictured below) have their moments although the film is a bloated travelogue stuffed with odd star cameos.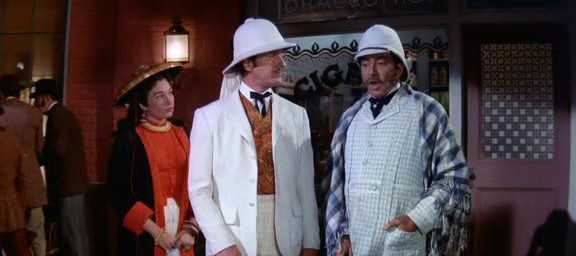 Here are 20 other David Niven movies worth watching:
"The Sea Wolves" (1980) Great fun based on a true story as Gregory Peck, Niven and Roger Moore play former soldiers who are sent on a secret mission in World War II to destroy a Nazi ship based in neutral Goa. Andrew V. McLaglen directs Reginald Rose's entertaining script with a cast that includes Trevor Howard and Patrick Macnee.
"Murder by Death" (1976) Neil Simon's Agatha Christie spoof has some wonderful moments from a cast in which Niven is joined by Eileen Brennan, Truman Capote, James Coco, Peter Falk, Alec Guinness, Peter Sellers and Maggie Smith.
"The Extraordinary Seaman" (1969) Bizarre comedy that I've always been fond of with Niven as the ghost of a drowned World War I sea captain who fetches up with his boat in World War II, helps some American sailors survive and falls for an American woman in the Phillipines. John Frankenheimer ("The Manchurian Candidate") directs Faye Dunaway, Alan Alda, Mickey Rooney and Jack Carter.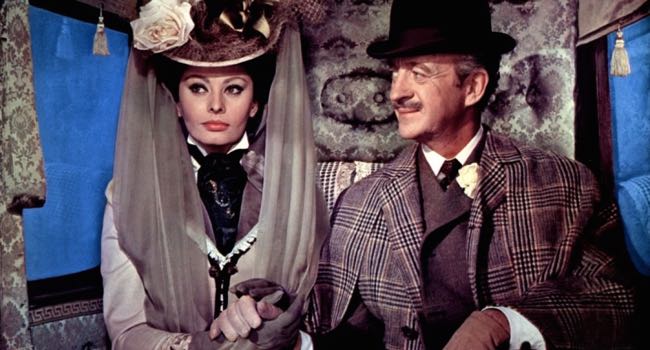 "Lady L" (1965) Ambitious if flawed comedy directed by Peter Ustinov, who adapated a novel by Romain Gary about an ageing woman played by Sophia Loren who recalls the loves of her life. Niven, Paul Newman, Cecil Parker and Philippe Noiret are among them.
"The Bedtime Story" (1964) Comedy Marlon Brando and Niven as conmen who challenge each other to seduce women on the Côte d'Azur such as an heiress played by Shirley Jones. Bosley Crowther in the New York Times said the two actors hit "a comedy peak" and "it is a very funny picture. It was remade in 1988 as "Dirty Rotten Scoundrels" with Steve Martin, Michael Caine and Glenne Headley, and later became a successful stage play.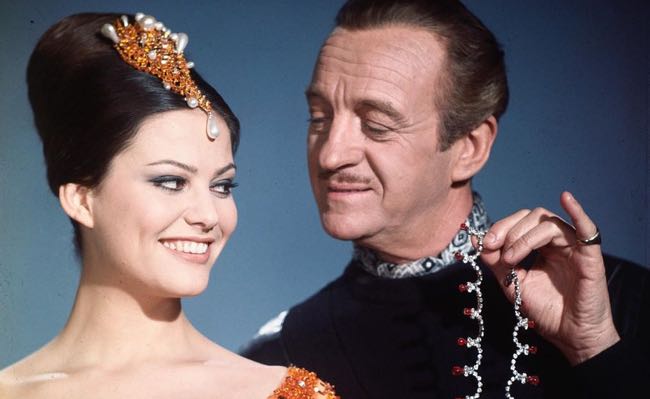 "The Pink Panther" (1963) Niven and Robert Wagner are the jewel thieves in pursuit of the fabulous gem worn by Claudia Cardinale (pictured above) although Peter Sellers steals every scene as Inspector Clouseau. Blake Edwards directs the first of the "Pink Panther" series, which he co-wrote with Maurice Richlin ("Operation Petticoat", "Pillow Talk"). Henry Mancini, of course, wrote the infectious score.
"55 Days at Peking" (1963) Nicholas Ray epic about American soldiers and British diplomats in the Boxer Rebellion in China in 1900. Niven stars with Charlton Heston, Ava Gardner and a very large cast with cinematography by the great Jack Hildyard (Oscar-winner for "The Bridge on the River Kwai") and music by Dimitri Tiomkin (Oscar-winner for "High Noon", "The High and the Mighty" and "The Old Man and the Sea").
"The Best of Enemies" (1961) Smart and cynical comedy about a square-off in the Abyssinian desert in World War II between an Italian captain (Alberto Sordi) and a British major (Niven). Directed by Guy Hamilton ("Goldfinger", "Funeral in Berlin"), it co-stars Michael Wilding and Harry Andrews atop a raft of British and Italian character actors.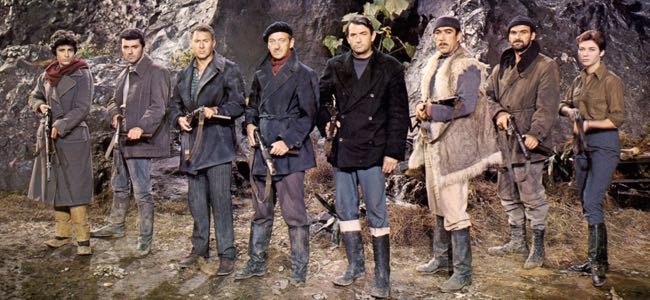 "The Guns of Navarone" (pictured above, 1961) Grand wartime adventure directed by J. Lee Thompson and based on a novel by Alistair MacLean about a group of Allied soldiers who must destroy a giant Nazi cannon so that convoys at sea might remain safe. Niven stars with Gregory Peck, Stanley Baker, Anthony Quayle, James Darren, Irene Papas, Gia Scala, Richard Harris and Anthony Quinn, whom Peck told me was the greatest scene-stealer in the movies.
"Ask Any Girl" (1959) Frothy comedy about brothers who fall for the same woman although one doesn't realise it. Shirley MacLaine stars with Niven and Gig Young ("They Shoot Horses, Don't They") with the late Rod Taylor also in the cast.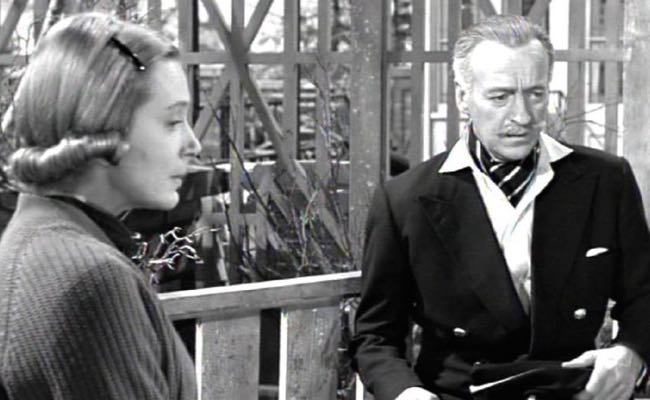 "Separate Tables" (1958) Niven was named best actor at the Academy Awards for his performance as a stiff British Army officer with a secret in Delbert Mann's version of the Terence Rattigan play about a group of off-season residents of a middle-class hotel at the English seaside town of Bournemouth. Deborah Kerr (pictured above), Rita Hayworth, Burt Lancaster and Gladys Cooper co-star with Wendy Hiller, who won the Oscar for best supporting actress.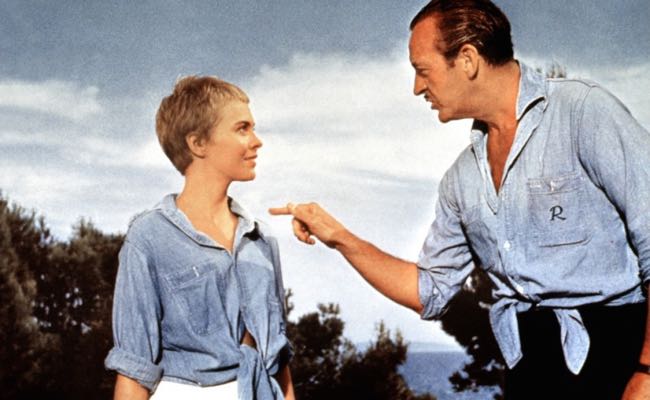 "Bonjour Tristesse" (1958) Saucy Otto Preminger story of an unconventional playboy (Niven) and his fetching daughter, played by Jean Seberg (pictured above). Deborah Kerr and Mylène Demongeot co-star in a film whose reputation has grown over the years.
"My Man Godfrey" (1957) Niven is a butler with a dubious past to an American family dominated by women played by such as June Allyson, Jessie Royce Landis, Eva Gabor and Martha Hyer. Henry Foster ("Harvey") directs.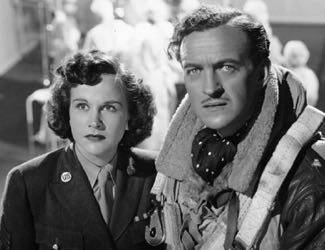 "A Matter of Life and Death" (1946) Highly regarded surrealistic fable written and directed by Michael Powell and Emeric Pressburger about a World War II bomber pilot who falls in love with a radio contact (Kim Hunter, pictured left) after his plane is shot down. Robert Coote and Richard Attenborough co-star.
"The Way Ahead" (1944) Carol Reed ("The Third Man") directs a morale-building drama written by Eric Ambler and Peter Ustinov about conscripts who learn about battle in North Africa. Niven stars with a raft of British character actors including Stanley Holloway ("My Fair Lady"), James Donald ("The Great Escape" and William Hartnell (the first Doctor Who).
"Spitfire" (1942) British actor Leslie Howard ("The Painted Desert", "Gone With the Wind") directs and stars as the airplane designer who created the famous machine flown by "the few" in the Battle of Britain in World War II. Niven, who left Hollywood to return to England for the war, co-stars with Rosamund John.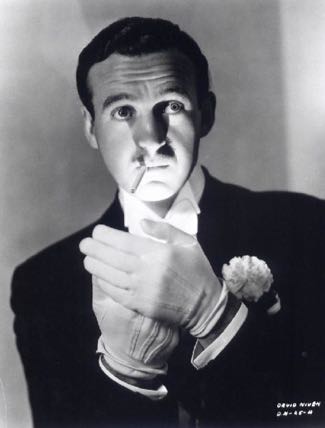 "Raffles" (left, 1939) Niven stars as the dashing art- and jewelry-thief and first-class cricketer A. J. Raffles in a caper directed by Sam Wood ("Goodbye, Mr. Chips") that involves the theft of an Old Master from London's National Gallery. Olivia de Havilland co-stars.
"Bluebeard's Eighth Wife" (1938) Directed by Ernst Lubitsch from a screenplay by Charles Brackett and Billy Wilder adapted from a play by Alfred Savoir. Screwball comedy on the French Riviera with Claudette Colbert and Gary Cooper. Niven co-stars along with the incomparable Edward Everett Horton.
"Dodsworth" (1936) William Wyler's screen version of the Sinclair Lewis novel about a US industrialist (Walter Huston) and his wife (Ruth Chatterton) who drift apart on a European holiday picked up six Oscar nominations.  Niven co-stars along with Paul Lukas, Mary Astor and Maria Ouspenskaya.
"The Charge of the Light Brigade" (below, 1936) The famous tale directed by Michael Curtiz, who gave Niven the title of his second memoir along with other very funny English-language clangers, my favourite of which is when the exasperated director told Errol Flynn (who starred opposite Olivia de Havilland) and Niven: "You think I know fuck nothing, but I know fuck all!"