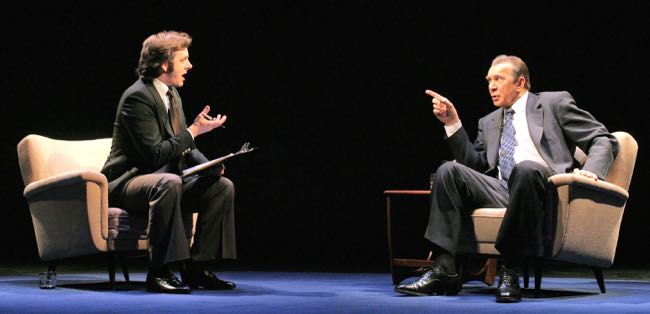 By Ray Bennett
LONDON – President Richard Nixon had a great many enemies, real and imagined, but the one that finally did him in was television, as playwright Peter Morgan shows in his insightful and entertaining new play "Frost/Nixon" at London's Donmar Warehouse.
Lies, newspaper headlines and missing audiotape combined to bring the president down in August 1974 but, for a time, the first president ever to resign office appears to have settled into the anonymous Californian comfort of the pardon he was granted by succeeding President Gerald R. Ford. But a need both for cash and redemption drives Nixon (Frank Langella) to respond to the media courtship of a brash and apparently lightweight British television interviewer named David Frost (Michael Sheen).
Frost had ridden to success on the wave of satirical comedy that surged out of the U.K. in the 1960s. Lacking comedic talent but being glib and confident, he had segued into talk shows in his homeland, Australia and the United States.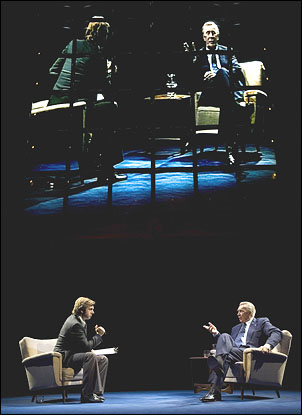 According to playwright Morgan, by 1977 it was all coming apart. Desperate for a major splash, Frost decided to risk everything by contracting with the disgraced U.S. president for a series of confessional interviews.
With legendary Hollywood agent Swifty Lazar (Kerry Shales) acting for Nixon, negotiations resulted in agreement on how many minutes would be devoted to the president's highs and lows, and a fat fee that Frost had great difficulty in raising.
In fact, the play suggests there was no guarantee the four-hour series of interviews would ever air and Frost ends up putting a huge chunk of his own money into it. In Morgan's hands the negotiations and the interview itself play out like a high-stakes poker game that neither man can afford to lose.
Nixon sees the interviews as a way to pick up some needed income, and also to have the final say on a political career he felt had more pluses than minuses. Frost's challenge is to get the ex-president to admit his follies and, if possible, confess.
Both have their advisors who are vital to the outcome. Besides Lazar, Nixon has a tough and wily military man named Jack Brennan (Corey Johnson) while Frost's team includes his old pal and future BBC director-general John Birt (Rufus Wright), and zealous American liberal Jim Reston (Elliot Cowan).
Morgan's great accomplishment is in making the poker game both entertaining and suspenseful even though the result is well known. Director Michael Grandage uses designer Christopher Oram's spare set to keep things moving with the interview chairs placed precisely for dynamic interaction. On the back wall of the stage is a bank of 36 television screens and the images, by video designer Jon Driscoll, come to play an ever-increasing role.
The entire cast is fine, but Sheen is excellent as a bantamweight Frost, light on his feet but under-funded for the game at hand. Langella is even better as a lugubrious Nixon, familiar with power and a street fighter at the poker table. Morgan suggests the two have more in common than they realize and their encounters make for superb theater.
You'd have thought the president would have learned about the astonishing ability of television images to bare souls following his loss to John F. Kennedy in the televised debates many years earlier, but no. When Frost lays down his hidden aces, Nixon folds, and the bank of screens above reveals the sweaty horror of someone who's always known he was holding a dead man's hand.
Venue: Donmar Warehouse, London; Aug. 22 2006, running through Oct. 2; Cast: Frank Langella; Michael Sheen; Elliot Cowan; Corey Johnson; Rufus Wright; Lydia Leonard; Amerjit Deu; Kerry Shales; Vincent Marzello; Kate Roscoe; Playwright: Peter Morgan; Director Michael Grandage; Designer: Christopher Oram; Lighting designer: Neil Austin; Composer and sound designer: Adam Cork; Video designer: Jon Driscoll; Presented by the Donmar Warehouse in association with Matthew Byam Shaw with the support of the Peter Wolff Theatre Trust.
This review appeared in The Hollywood Reporter.