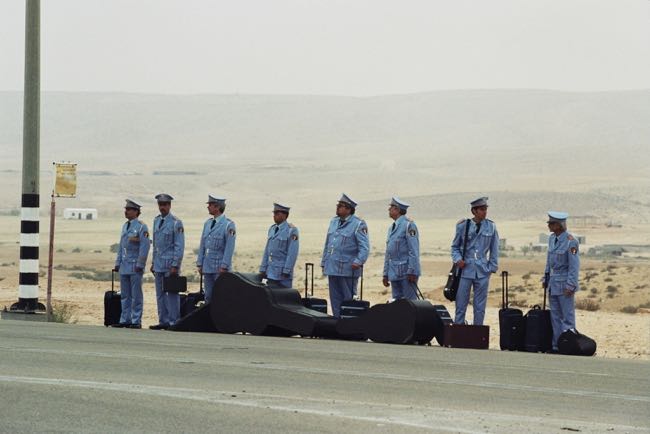 By Ray Bennett
The best film so far at this year's Festival de Cannes, by a country mile, is Eran Kolirin's little gem, "The Band's Visit", and I'm so glad I stumbled upon it by accident.
A mix-up led me to the wrong screening but as soon as this delightful movie started, I knew I could not leave. It's a shame and a mystery that it's not In Competition.
It tells a simple tale of a group of dignified Egyptian musicians on a trip to Israel who end up in the wrong town but encounter a night of magic. Sasson Gabai and Ronit Elkabetz (pictured below) star in a picture that is smart and tender, and filled with small moments of high comedy.
Duane Byrge's review in The Hollywood Reporter says it all:
The Israelis don't exactly put out the red carpet for an Egyptian police band in this radiant and wise comedy about a benign miscommunication between the two countries.
Set smack dab in the outer sands of Israel, "The Band's Visit" (Bikur Hatizmoret) shows what you can do with virtually nothing for a set and no big boxoffice elements — you can make a terrific film about people.
Spry and laced with understated wisdom, "The Band's Visit" could be a winner on the U.S. select-site circuit. Best, this glorious road show also posits larger themes, not only about the relations between the countries but of mankind. And it does so with such deferential grace and good humor that the grandness of the themes never get in the way of the entertaining scenario.
A "little" film with a great reach, it met a crescendo of applause in its Un Certain Regard screening. Underscored with droll comedy and counterpointed with unexpected revelations, this film is an oasis of creativity in the often barren bigness of a festival.