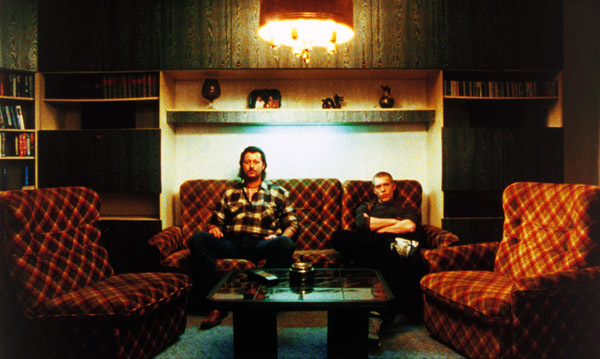 By Ray Bennett
CANNES – Ulrich Seidl's "Import /Export" is a tawdry little film ostensibly about the cultural clashes that result from the proximity of former Soviet states, such as the Ukraine, to western nations such as Austria. There is a film to be made on the topic, but this isn't it.
With an aimless script filmed inadequately, the picture is unlikely to make it much farther than its inexplicable inclusion In Competition here at Cannes.
As the title suggests, there are twin stories in the film with a Ukrainian nurse who seeks non-skilled employment in Austria while a pair of witless Austrian yobs end up in the Ukraine where they try to sell an outdated gumball machine.
If Sheriff Bell was upset with the state of Texas in the new Coen Bros. film, he should see the lazy decadence in parts of Europe as depicted by director Seidl. The film's blurb says he used real nursing home patients and sex workers in the scenes that dominate the film and if that's true then the film is guilty of gross exploitation.
The nurse (Ekateryna Rak) gets a job as a cleaner in a nursing home although nothing much happens except that the declining state of the bewildered patients is edited for laughs. The two Austrians unload the gumball machine and the older of the two (Michael Thomas) gives the younger man (Paul Hofmann) a lesson in what the need for money will make people do. This involves the sexual humiliation of a young woman in which the actor and the director are complicit.
If the picture had any shock value perhaps a case could be made for it but it doesn't; it's just vile and tedious.
Venue: Festival de Cannes; Cast: Ekateryna Rak, Paul Hofmann, Michael Thomas, Maria Hofstatter, Georg Friedrich, Natalija Epureanu, Erich Finsches; Director: Ulrich Seidl; Writers: Ulrich Seidl, Veronika Franz; Directors of photography: Edward Lachman, Wolfgang Thaler; Production designers: Andreas Donhauser, Renate Martin; Costume designer: Silvia Pernegger; Editor: Christof Schertenleib; Producers: Ulrich Seidl, Lucki Stipetic Production: Ulrich Seidl Film Production, Coproduction Office; Not rated; running time, 135 minutes.
This review appeared in The Hollywood Reporter.