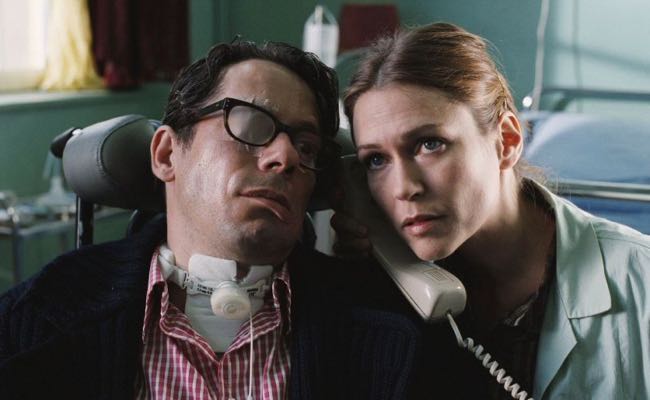 By Ray Bennett
Julian Schnabel not only directed the splendid Festival de Cannes In Competition film "The Diving Bell and the Butterfly" but he also assembled the marvelous soundtrack music.
The movie stars Mathieu Almaric (pictured with Emmanuelle Saigner) as French magazine editor Jean-Dominique Baupy, who was paralyzed by a stroke but still managed to write his life story.
Paul Cantelon wrote and performed the delightful piano title theme and the picture is filled with atmospheric music from Bach's Concerto in F-minor Largo, performed by Hae Won Chang, to the great "Ramshackle Day Parade" by Joe Strummer and the Mescaleros from their 2003 "Streetcore" album.
Charles Trenet's evergreen "La Mer," which he wrote with Albert Lasry, begins and ends the film and that all-too-familiar refrain, which Robin Williams warbled over the credits of "Finding Nemo," is stuck in our minds once again.
Trenet first recorded "La Mer" in 1946 and when Jack Lawrence wrote some English lyrics it was called "Beyond the Sea" and became Bobby Darin's big number. Lawrence also wrote the lyrics for the Ink Spots' "If I Didn't Care," Frank Sinatra's "All or Nothing at All" and Rosemary Clooney's favorite song, "Tenderly."
Schnabel says he's a big Tom Waits fan and two of the artist's tracks register in powerful scenes in "The Diving Bell and the Butterfly" – "All the World is Green" from Waits' 2002 album "Blood Money" and "Green Grass" from "Real Gone" in 2004.
There is music from previous movies on the soundtrack such as Nino Rota's theme for the 1950 film "Napoli Milionaria," Robert Harris's "Main Title (Love Theme From Lolita)" from the 1962 Stanley Kubrick film, and Jean Constantin's theme for Truffaut's 1959 picture "The 400 Blows."
Other tracks include U2's "Ultra Violet (Light My Way)" from their 1991 album "Achtung Baby," "Pale Blue Eyes" from the Velvet Underground's self-titled 1969 album, and "Chains of Love" from the Dirtbombs' 2001 album "Ultraglide."
There also is a track that features one of the film's stars, Emmanuelle Seigner, with Ultra Orange, titled "Don't Kiss Me Goodbye." All in all, it's great stuff. Here's my review of "The Diving Bell and the Butterfly" in The Hollywood Reporter:
CANNES – Director Julian Schnabel and screenwriter Ronald Harwood have performed a small miracle in adapting for the screen Jean-Dominique Bauby's autobiography "The Diving Bell and the Butterfly."
Not, of course, as much as the one it took for the former "Elle" editor to write the book when he was paralyzed from head to toe and could communicate only by blinking his left eye. But their film does justice to the enormous courage and determination of the man and the caring patience of those who helped him.
The movie takes a very different approach to the award-winning 2004 Spanish film "The Sea Inside," in which Javier Bardem played a suicidal quadriplegic, but it boasts an equally fine lead performance, by Mathieu Amalric, and matches that film's broad appeal.
A vicious and charismatic magazine editor, Bauby is stricken as 43 with the cerebro-vascular incident that first plunges him into a coma and then leaves him with what is called "locked-in syndrome". His brain works perfectly but his body does not, save his left eye. It is from that eye's point of view that the film is told almost entirely and cinematographer Janusz Kaminsky does marvels to suggest the suffocating horror of Bauby's predicament and the wide variety of images that bring him joy and hope.
A brief period of self-pity is overcome by the painstaking attention of his therapists, Henriette (Marie-Jose Croze) and Marie (Platz Lopez Garmendia), who develop the pattern whereby he blinks in order to form words and then sentences.
Celine (Emmanuelle Seigner), the mother his three children, whom he had abandoned shortly before he has his stroke, also nurses him devotedly. Among many scenes of tender mercy, she translates when Bauby's new lover calls to speak to him only to say that she cannot bear to see him in his current state. Celine must translate his blinked reply: "Each day, I wait for you."
There also are heartbreaking scenes between Bauby and his aged father, played with great compassion by Max von Sydow. Father and son are friends and in flashbacks and a phone call made difficult by Bauby's condition and his dad's forgetfulness, their affection is conveyed beautifully.
There is much humour in the film as the stricken man never loses his wry sense of what fate brings. He realises that two essentials in his makeup are not paralysed: his imagination and his memory. He uses both to escape from the deep-sea diving bell that pictures trapped in so that he might soar like a butterfly.
Guilt plagues him over his inattention to his children and such things as failing to return a phone call to a man named Roussin (Niels Arestrup), to whom he gave his seat on a plane that was hijacked. The man spent four years as a hostage but he visits Bauby not to chide him for his negligence but to tell how he survived his own locked-in hell.
It's a theme that Schnabel develops throughout the film and renders with remarkable subtlety. He is aided greatly by a fine cast, especially Almaric, Seigner and von Sydow and by Paul Cantelon's delicate piano score. The soundtrack also features great music by such artists as Tom Waits, Nino Rota and Lou Reed. It begins and ends with the song "La Mer" and that much-heard melody becomes haunting all over again.