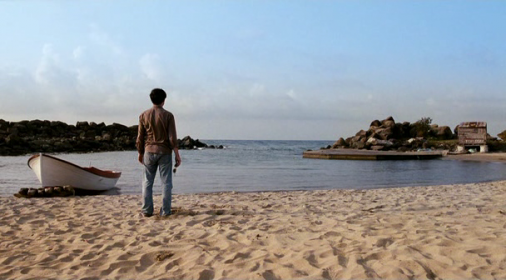 By Ray Bennett
CANNES – Director Fatih Akin continues his insightful exploration of the things that divide and bridge different cultures and generations in his absorbing In Competition film "The Edge of Heaven."
Like his 2004 Berlin Golden Bear winner "Head-On," the film deals with Turkish folk living in Germany but this time he brings his story back to Istanbul.
Love was his topic in the earlier film, and now Akin turns his attention to death. It may not be a wise thing to label the major chapters announcing the deaths of key characters, but he tells their stories with flair and compassion.
Audiences that responded to "Head-On" will be pleased with "Heaven," and festival and art house prospects look good.
The director, who also wrote the script, achieves a keen-eyed view of the Turkish expatriates in this film as he sustains his remarkable ability to make them universal.
It starts in Germany with the Turkish immigrant Ali (Tunnel Kurtiz), a crusty retired widower whose son Nejat (Baki Davrak) is a successful academic. Uncouth but charismatic, Ali still seeks pleasures of the flesh, which is how he meets Yeter (Nursel Kose), a severely beautiful Turkish woman who works in a brothel. Taken with her charms and pleased to be able to speak his native tongue, Ali proposes that he become her sole customer and asks her to move in with him.
Having been threatened by Muslim men who tell her she must give up her way of life, Yeter accepts Ali's offer. Near is tolerantly amused by this turn of events but contentment is brief as there is darkness in his father's character that leads to a fatal confrontation.
Meanwhile, Yeter's daughter has gone missing in Istanbul and Nejat tries to find her. On a visit to that city, he falls in love with a German bookshop that is up for sale and, as he's a professor of the language, he buys it. So now, he's a very German Turk back in Turkey.
The film then moves to introduce Yeter's daughter Ayten (Nurgel Yesilgay) who is involved with an underground group i Turkey. When she winds up with a gun in her possession following a street protest, she hides the gun and flees to Germany to seek asylum. There, she meets Lotte (Patrycia Ziolkowska) and they become lovers to the disapproval of Lotte's mother, Susanne (Hanna Pchygulla).
When Ayten's appeal is rejected, she is returned to Turkey and imprisoned for offences against the state. Lotte becomes a German ex-patriot in Turkey and the very human dilemma is viewed from another angle.
Attracted by the German books, Lotte goes to the bookstore and meets Najet, who offers her a room. As she has been warned never to mention Aynet's name, the two never learn that they are seeking the same person. When Lotte visits her lover in jail, Aynet asks her to find the hidden gun and fate takes another turn.
Akin weaves their stories with clarity event as it becomes apparent that he has time-shifted certain scenes, and he makes observant sense about the fragility of human connections. Rainer Klausmann's cinematography captures the contrasting cities of Hamburg and Istanbul vividly.
The acting is fine throughout with Kose and Schygulla especially effective as mothers who see themselves all too clearly in their daughters. It is only late in the film that the German professors sees his father in himself and the final scenes speak profoundly of acceptance and forgiveness.