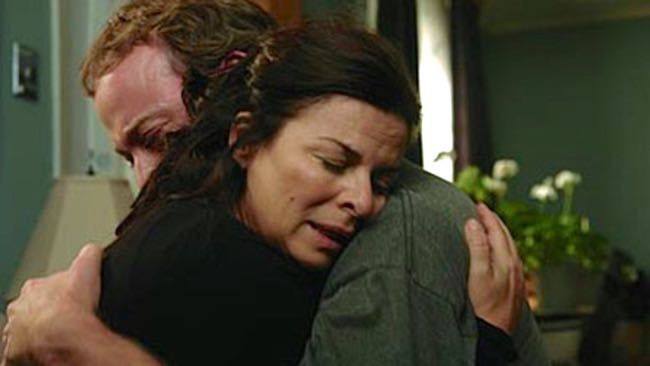 By Ray Bennett
LOCARNO, Switzerland — In "Summit Circle" ("Contre toute esperance"), Quebec director Bernard Emond continues his trilogy on faith, hope and charity with another moving drama about good people trying to find their way in a world of despair.
Following his exploration of faith in "The Novena" in 2005, Emond tells a compassionate but unsentimental story of a loving couple who struggle to maintain hope in the face of devastating illness.
He draws exceptional performances from a cast led by Guylaine Tremblay and Guy Jodoin (pictured) as the couple, and the film, here in Competition, can expect to join the earlier film in winning wide applause and prizes.
Structured as police procedural with lots of flashbacks, it begins with a distraught and bloodied woman arrested after she empties a rifle into the walls and windows of a richman's home.
When the woman's husband is found shot dead by the same rifle at their apartment, Lt. Allard (Rene Daniel Dubois) attempts to piece together what happened. He is not helped by the fact that the woman, Rejeanne (Tremblay) is so traumatised that she is unable to speak.
Emond tells the story through the silent woman's memories while the policeman digs for information from friends and neighbours. Childhood weethearts, switchboard operator Rejeanne and her truck driver husband Gilles (Jodoin) have made a happy life together and have just moved into a lovely suburbon home when he suffers a stroke.
Rejeanne is laid off from the call centre where she has worked for 20 years. The firm's chief executive, whose compensation that year is $13 million, explains that it's due to market forces. As Gilles's health deteriotates, Rejeanne takes whatever work she can get but they must give up their dream home. With support from her husband's best friend, Claude (Gildor Roy), she fights to sustain home as things get worse.
Tremblay gives a measured and deeply felt performance as the loving and dignified wife while Jodoin carries off the difficult task of a man who becomes increasingly debilitated.
Jean-Claude Labrecque's cinematography is warm and elegant while Robert Marcel Lepage's score offers shrewd accompaniment.
Edmond conveys life's verities without rancor and scenes that contrast the wealthy man's good fortune with the desperation of his dismissed employees are all the more powerful for being subtle.
The deliberate pace never flags and such small moments as the when the stricken man pauses to enjoy the sound of Canada geese flying south or as the woman struggles to remain poised in the face of adversity add depth to a thoughtful and illuminating film.
This review appeared in The Hollywood Reporter.