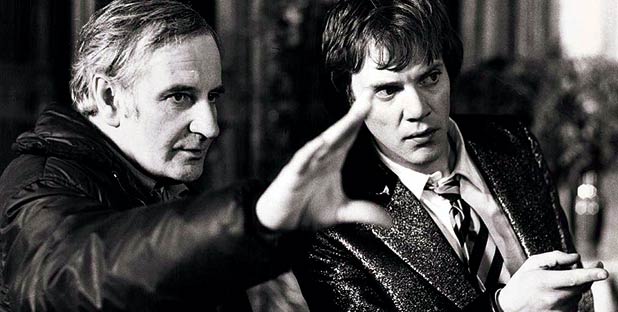 By Ray Bennett
CANNES – Malcolm McDowell offers a reminder of the tremendous charisma he has onscreen in this film of his one-man stage show, "Never Apologize," about the late British filmmaker Lindsay Anderson (pictured).
The film is almost entirely McDowell telling tall tales and riveting anecdotes about the director with whom he made such classic pictures as the Palme d'Or winner "If . . ." (1968) and "O Lucky Man" (1972).
Directed by Mike Kaplan, who produced Anderson's final feature, "The Whales of August" (1987), the film will be treasured by audiences for its vivid insights into the art and imagination of one of the U.K.'s most influential directors. Most of all, it's simply great fun as McDowell never runs out of delicious stories to relate.
There's not a dry minute in the actor's telling of his lifelong relationship with a man who in his time was known and adored by practically everyone in British stage and film circles. This was in spite of holding fierce opinions and being free with a lacerating tongue, as the stories reveal.
McDowell developed the stage production originally for the Edinburgh Arts Festival. It was later presented at London's National Theatre. He and Kaplan devised it from their own rich memories and the Anderson archives at Stirling University in Scotland. As captivating as it was onstage, the film benefits from McDowell's screen presence and the skill of editors Eric Foster and Kate Johnson.
Many famous personalities show up as McDowell relates Anderson's story, including Bette Davis, Lillian Gish, Richard Harris, Rachel Roberts and Alan Bates. There also is American director John Ford, whom Anderson worshipped and came to know.
The title of the piece, "Never Apologize," comes from a line of dialogue that John Wayne repeats several times in Ford's classic Western "She Wore a Yellow Ribbon." McDowell tells of the British director's visit to see the dying Ford, and the picture ends with Anderson singing "Red River Valley" from Ford's "The Grapes of Wrath" over the final credits.
But earlier, McDowell has dramatically and often hilariously conjured up images from the sets of his own films including the preposterously awful "Caligula" costarring the unflappable John Gielgud. For anyone who loves movies, this is wonderful stuff.