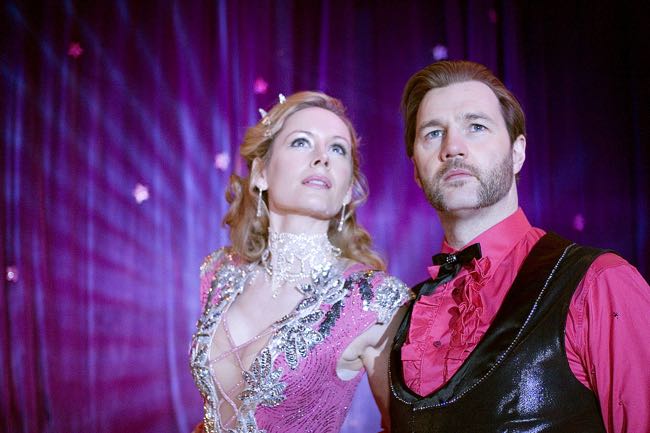 By Ray Bennett
LONDON – The BBC has taken the U.S. title of its flamboyant musical crime miniseries "Viva Blackpool!" for a 90-minute special follow-up to a show it originally called just "Blackpool."
David Morrissey returns as the charismatic if thuggish entrepreneur Ripley Holden, whose dream it was in the six-parter to build a Las Vegas-like hotel-casino in the northeastern seaside town that is Britain's closest thing to Atlantic City.
In the special, Holden has ditched his gambling ambitions and now is a minister in the Church of Christ the Economist, preaching and performing weddings and funerals at a garish Chapel of Love. His dream now is to open a chain of such chapels across the U.K.
Only daughter Shyanne (Georgia Taylor), with a child of her own, and the sad-sack employees from the casino remain from the miniseries. Holden and the rest of the cast still break into song at the drop of a hat in writer Peter Bowker's love-letter to all that's kitsch about American popular culture.
Holden, who lives in a luxury caravan in the car park next to his chapel, remains unable to avoid the seedier side of life, which involves a plot to steal the original soccer World Cup. Megan Dodds (pictured with Morrissey) costars as a peppery con artist who has Holden wrapped around her little finger, and Annette Crosbie is a little old lady who keeps her late son's ashes in the long-lost trophy, not knowing its value.
Although good fun, the show lacks the magic provided in the original by performers such as David Tennant and Sarah Parish. Morrissey and Dodds make a lively pair, but the clever mix of reality and fantasy that made the miniseries so successful is missing.
"Viva BlackpoolV" airs in the U.K. on BBC1 at 9:10 p.m. on June 10.