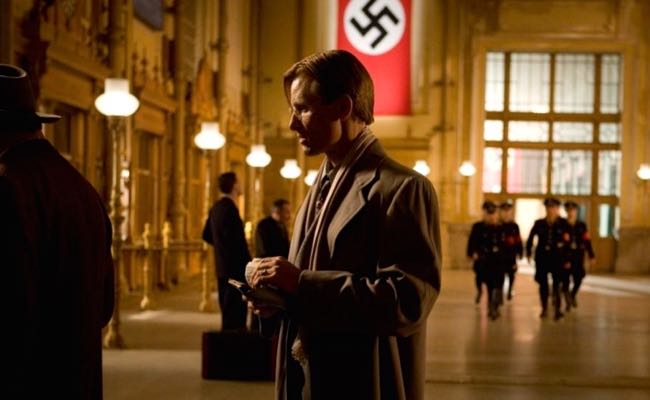 By Ray Bennett
RIO DE JANEIRO – Brazilian director Vicente Amorim's drama "Good," based on a play by C.P. Taylor, is set in Nazi Germany and tells with escalating tension the story of a presumably decent man whose bland acquiescence to Nazi terror makes him a horrified accessory.
Viggo Mortensen is outstanding as a head-in-the-clouds lecturer who allows a novel he wrote exploring euthanasia to be exploited in support of Hitler's demented theories about a master race. Using a credible English accent along with the mostly British cast, Mortensen conveys the scholar's self-absorption and willingness to be blinded to events all around him that point to the Holocaust.
Paced deliberately in a way that reinforces the tragedy of evil flourishing when good men do nothing, "Good" may find box office returns slow to build but the film's aim is true and patient audiences will be well rewarded.
Perhaps the original title, "A Good Man," would have been better employed rather than the ineffectual "Good," for that's what Professor John Halder (Mortensen) appears to be. An earnest, intense teacher, he loves his obsessive-compulsive wife and their two children, and he looks after his addled mother.
His best friend is a Jewish psychoanalyst named Maurice (Jason Isaacs, also executive producer) and together they treat the Nazi grip on government as an aberration that will soon pass.
Things begin to change when Halder is called before a charming but sinister government officer (Mark Strong in a typically sinuous cameo) and asked to write a paper advancing the notion that the lives of chronically sick patients should be terminated.
He dashes off something but is soon encouraged to accept that an honorary membership in Hitler's SS will help his ambitions for promotion at his university. He also succumbs to the temptations of a beautiful student (Jodie Whittaker) although he waits until she has graduated before leaving his wife, who has become impossible to live with, to marry her.
The film tracks Halder as Germany convulses in Hitler's madness while the professor somehow fails to see what is going on around him. It's a harsh tale and not one that aims to forgive men like Halder. It might help to understand them a little better, though.
Venue: Rio de Janeiro International Film Festival, Out of Competition; Cast: Viggo Mortensen, Jason Isaacs, Jodie Whitaker, Mark Strong; Director: Vicente Amorim; Screenwriter: John Wrathall; Director of photography: Andrew Dunn; Music: Simon Lacey; Editor: John Wilson; Producer: Miriam Segal; Production: Good Film, Miromar Entertainment; Sales: Imagem Filmes; No rating; running time, 96 minutes.