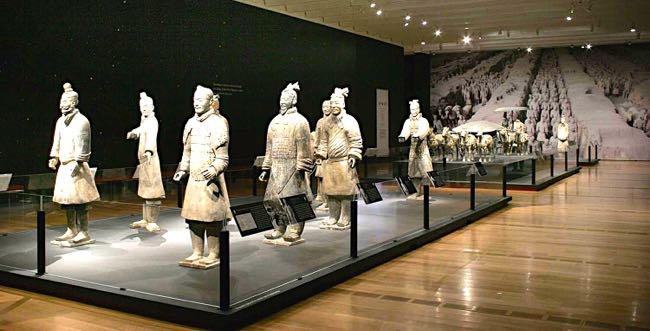 By Ray Bennett
The exhibition of China's 2,000-year-old terracotta warriors at the British Museum is everything it's cracked up to be.
Some 100,000 tickets were sold in advance of the six-month display of a small group of the immense army created to guard the tomb of the first emperor of China, and it's well worth a visit.
Lion Television, which produced a clever docudrama titled "First Emperor: The Man Who Made China" for Channel 4 and the Discovery Channel, hosted a small gathering at the museum one morning last week ahead of the crowds.
Other groups were there too with film director Alan Parker among the curious. Like me, he also was enthralled by an unusually close view of the British Museum's beautiful dome. The exhibition is staged on a platform built over the reading room so the ceiling has never seemed so close.
The fine detail of the life-sized fired clay figures, however, is extraordinary and many will leave the show thinking of a trip to China to see the emperor's tomb.
Lion's film is available on DVD and here's my review from The Hollywood Reporter: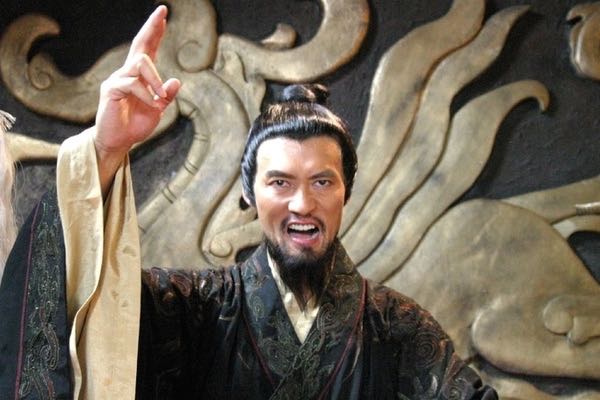 By Ray Bennett
LONDON – If only all history were taught as vividly as "The First Emperor: The Man Who Made China," a two-hour television program that combines high-level documentary techniques with engaging drama to tell the story of the monster who created China more than 2,000 years ago.
Qin Shi Huangdi, as he called himself, was among the most ruthless and single-minded despots of all time but in his vision of himself as a divine ultimate ruler he managed to bequeath on a tumultuous people the landscape of a nation that has lasted for more than two millennia and achieved greatness.
The discovery in the 1970s of what is known as the Terracotta Army – life-size statues of extraordinary detail that were to be Qin's guardians in what was no doubt destined to be a heated afterlife – revealed the enormity of his ego and the underground mausoleum he created.
Made emperor at aged 13, Qin came to embody the ruling philosophy of Legalism, a ferocious and unrelenting exploitation of the population toward the goals of peace and harmony, and the greater glory of Qin. A courageous warrior, Qin led his armies in conquering all six neighboring countries to create one nation that he named for himself, Qin, or Chin.
Qin slaughtered friends and enemies with equal fervor and spent one million lives building the Great Wall of China to protect his empire from marauding outsiders. Insiders were totally at his mercy and he ultimately tried to ban all freedom of thought and expression.
His dedication to warfare, however, resulted in the finest weaponry with swords of the highest quality that survive to this day. In a lesson for today's Washington armchair warriors, each blade carried the name of the prime minister, who had to take personal responsibility for its excellence.
It is in such detail that "First Emperor" delights as it follows Jeffrey Riegel, Professor of Classical Chinese Language at the University of California, Berkeley, and Wang Tao, of the School of Oriental & African Studies at the University of London, as they explore and explain the legend.
New discoveries are made all the time at the immense mausoleum just outside the Chinese city of Xian and the documentary marks the first time a western TV crew has been allowed to shoot there. The result, shot in high-definition (HDTV) is extraordinary but not entirely surprising from the U.K.'s Lion Television, whose recent documentary on Lawrence of Arabia was also first class.
As the scholars reveal the remarkable legacy of a monstrous individual, dramatic scenes show how life may have been in that time with actors playing the principal characters.
Writer and director Nic Young employs a colloquial approach to their ancient dialogue in colorful scenes that are at first disconcerting but come to be entirely believable. He is helped by some spirited acting, especially by James Pax as the emperor who soars to despotic heights and then descends into deadly madness.
A co-production of Discovery Channel and Lion Television; Cast: James Pax; Wang Ji; Hi Ching; Vincent Wong; Tony Tang; Narrator: Samuel West; Writer and director: Nic Young; Producer: Lucy Van Beek; Executive producers: Richard Bradley, Bill Locke; Drama producer: Lamy Li; Cinematographer: Brian McDairmant; Art director: Senlin Yu; Director of production: Shahana Meer; Editor: Simon Greenwood; Music: Ilan Eshkeri.
Here's more on the DVD