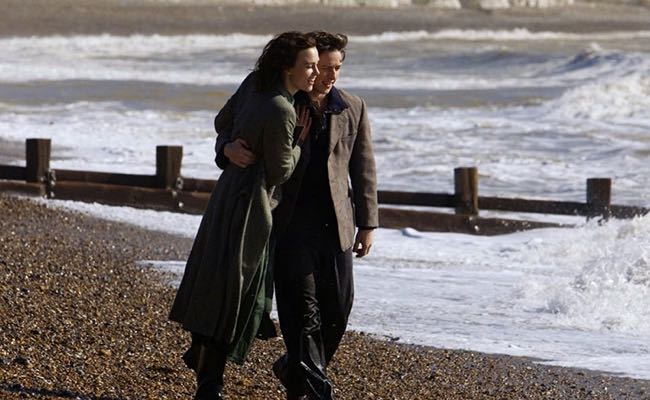 By Ray Bennett
VENICE – "Atonement," Ian McEwan's best-selling novel of love thwarted by juvenile fantasy, ranks among the best novel adaptations of recent times.
With compelling, charismatic performances by Keira Knightley and James McAvoy (pictured)  as the lovers and a stunning contribution from Romola Garai (photo below) as their remorseful nemesis, the film goes directly to "English Patient" territory and might also expect rapturous audiences and major awards.
It was the opening film in competition at the Venice International Film Festival.
Like "The English Patient," which won nine Oscars in 1997, "Atonement" deals with lovers parted by pitiless fate and promising to come back to each other in a time of war. It captures impeccably three periods of English life — before, during and after World War II — in its parallel stories of aching romance and deepest regret.
Director Joe Wright and screenwriter Christopher Hampton keep the structure of McEwan's novel so that the story's revelations are well hidden though foreshadowed and revisited cinematically in very clever ways. The first section deals with mid-1930s life in the Tallis family, minor-league aristocrats who bask in lazy wealth at their bucolic pile in the countryside. Father is seldom at home, but Mother (Harriet Walter) maintains strict upper-middle-class standards, tolerant of Cecilia (Knightley), with her college degree, and indulgent toward 13-year-old Briony (Saoirse Ronan), who often disappears into her own fantasies.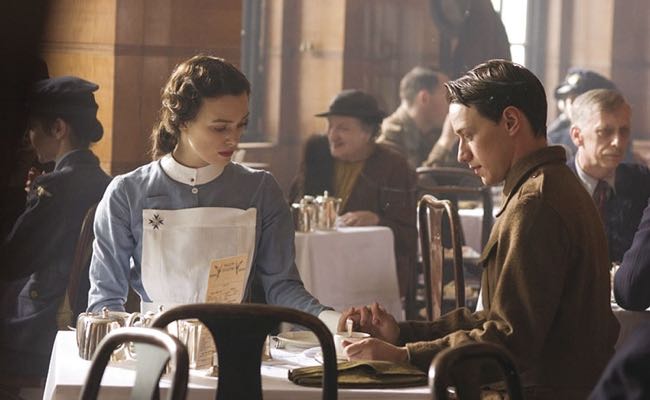 It's a family weekend, and first-born Leon Tallis (Patrick Kennedy) has brought his friend Paul (Benedict Cumberbatch), a wealthy chocolate manufacturer, to dinner. Also invited is the son of the family housekeeper (Brenda Blethyn), a young man named Robbie Turner (McAvoy), whose Cambridge education has been paid for by Tallis senior.
It is when Cecilia and Robbie discover and act on the passionate love that underpins their friendship that everything begins to unravel. Young Briony, who once had a crush on the handsome young man, witnesses two of their encounters. Wide-eyed and impressionable, she sees the agitation of lovers hot with anticipation and concludes it's harmful aggression. Lovemaking in her eyes becomes assault.
A note that should never have been sent confirms her direst imagination, and when she surprises cousin Lola (Juno Temple) coupling in the woods and the man runs off, she instantly concludes it was Robbie. In a fury of righteous ignorance, she makes public her accusation, and he is taken away in handcuffs.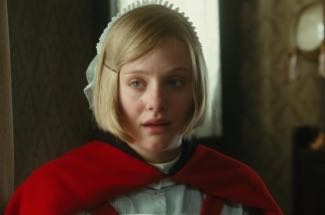 Like the book, the film jumps four years to find the devastated young man now a soldier lost in France and fleeing with the rest of the British army toward the English Channel. Director Wright, cinematographer Seamus McGarvey, production designer Jacqueline Durran and editor Paul Tothill create astonishing sequences that depict the bungling of warfare, the randomness of death and the horror that results. Dario Marianelli's evocative score, with typewriter keys used as percussion, adds greatly to the film's emotional power.
The British army's remarkable retreat from Dunkirk has taken on a rosy hue over the decades, but "Atonement" reveals it as the hell it really was. A hell matched in England when the survivors show up at the hospital where the now 18-year-old Briony (Garai) is working as a nurse.
Tending to the brutally wounded and holding the hands of dying men serves only to amplify the plunging remorse that the young woman feels for destroying her sister's great love. The film's title derives from her wish to atone for her behavior and bring the lovers back together.
Garai shows extraordinary poise in these scenes, saying very little, as the director allows her formidable expressive powers to convey everything. Ronan is good, too, as the obsessed young Briony, and Vanessa Redgrave completes the trio with some typically concise and seemingly effortless heavy lifting in the film's shattering closing moments.
Cast: Keira Knightley; James McAvoy; Romola Garai; Brenda Blethyn; Vanessa Redgrave; Saoirse Ronan; Patrick Kennedy; Benedict Cumberbatch; Juno Temple; Peter Wight; Harriet Walter; Michelle Duncan; Gina McKee; Daniel Mays; Nonso Anozie; Felix von Simson; Director: Joe Wright; Screenwriter: Christopher Hampton; Based on the novel by: Ian McEwan; Director of photography: Seamus McGarvey; Production designer: Sarah Greenwood; Music: Dario Marianelli; Costume designer: Jacqueline Durran; Editor: Paul Tothill; Producers: Tim Bevan, Eric Fellner, Paul Webster; Executive producers: Lisa Chasin, Richard Eyre, Robert Fox, Debra Hayward.