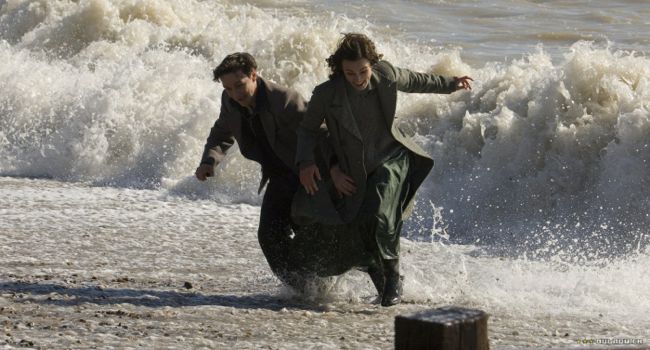 By Ray Bennett
VENICE – Composer Dario Marianelli has created a wonderfully inventive score for Joe Wright's new film "Atonement," which features the tapping of typewriter keys as percussion.
It's a very effective device that plays off the title and it contributes much to the emotional power of the film, which opens the Venice International Film Festival today.
Marianelli is one of several from the "Pride & Prejudice" team that Wright re-assembled for his screen version of the Ian McEwan novel. The composer picked up a Classical Brit award and an Academy Award nomination for his Austen score.
He's also worked with directors Bille August, Michael Winterbottom, Michael Caton-Jones and Terry Gilliam, and did the music for Neil Jordan's upcoming revenge thriller "The Brave One" starring Jodie Foster.
"Atonement", which co-stars Keira Knightley and James McAvoy (pictured) spans several decades in its story of lovers torn apart cruelly with a long section set during Britain's valiant World War II retreat from Dunkirk.
The soundtrack album, on Universal Music Classics and Jazz, features songs from the period including "Miss You" performed by Flanagan and Allen, plus "The White Cliffs of Dover," "Keep the Home Fires Burning" and "Bless 'em All" sung by Dunkirk soldiers in the film. A key scene about writing a love letter benefits from "O soave fanciulla, o dolce viso" from "La Boheme."
The English Chamber Orchestra, conducted by Benjamin Wallfisch, plays Marianelli's score, which was coordinated by Air Edel's Maggie Rodford and recorded at Air Lyndhurst. Pianist Jean-Yves Thibaudet and harmonica player Brendan Power are the soloists. There's a also clip in the film from Marcel Carne's 1938 "Le quai des brumes" with music by Maurice Jaubert.
Subbing for the French countryside in the film are locations in Lincolnshire, Norfolk and Cambridgeshire. The Dunkirk action, captured in one steadicam shot, was done on Redcar beach in England's northeast while the poppy scene was shot in Cheltenham, Gloucestershire.
The privately owned Stokesay Court in Shropshire was used for all the exteriors for the Tallis home in the story. With the film destined to be a hit, expect tourism to rise accordingly.