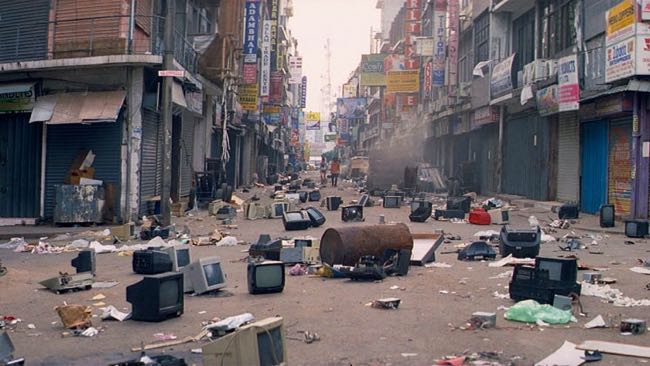 By Ray Bennett
VENICE – Striking images and the suggestion that life is a series of random events that might be repeated make "Between Two World", Vimukthi Jayasundara's tale of life in Sri Lanka, intriguing.
With no narrative arc, the film follows a young man, Rajith (Thusitha Laknath) who falls from the sky into the sea, clambers onto the shore and survives dangerous encounters in a city filled with rioting people and then in the countryside where unseen authorities shoot on sight.
Cinematographer Channa Deshapriya and production designer Lal Harendranath contribute to remarkably enigmatic sequences that might prove winning at festivals and could reach sympathetic international audiences as a cry for help for the young people of strife-torn Sri Lanka.
The urban scenes are realistic and terrifying with groups of men with clubs descending on anyone found alone, constant gunfire and explosions, and streets strewn with the wreckage from general mayhem.
People Rajith encounters stay with him for a while but then disappear without explanation and are not heard from again. In the jungle-like countryside, he sees incidents that he then learns happened a long time ago and commits acts of violence that prove never to have happened.
He finds a woman, Kanthi (Kaushalaya Fernando) who is apparently his sister-in-law and when she notices he has a damaged eye she treats it with milk from her breast although she hasn't given birth. A little boy tends to a wounded bird but then climbs a tree and drops it into a large knothole in the trunk.
When a village's well is found to be poisoned, all the young men who have been hiding from the guns of the authorities, emerge from the forest to bale the water away. The young man joins in and their movements become a dance and a chant followed by a celebration that ends when armed men on horseback swoop down on them.
What all of it adds up to is left to the viewer, but there's no question that while some bits are simply puzzling there are many arresting episodes and the film echoes as a plaintive call for attention to the ongoing plight of the young people of Sri Lanka.
Venue: Venice International Film Festival Competition; Cast: Thusitha Laknath, Kaushalaya Fernando, Lu Hiuang; Director, writer: Vimukthi Jayasundara; Director of photography: Channa  Deshapriya; Production designer: Lal Harendranath; Music: Lackshman Joseph De Saram; Costume designer: Kanchana Thalpawila; Editor: Gisele Rapp-Meichler; Producers: Michel Klein, Philippe Avril, Michel Reilhac, Chandana Aluthge, Anura Silva; Production: Les Films Hatari, Unlimited, Arte France Cinema, Film Council Prods. Sri Lanka; Sales: Artscope; Not rated; running time, 85 mins.
This review appeared in The Hollywood Reporter.