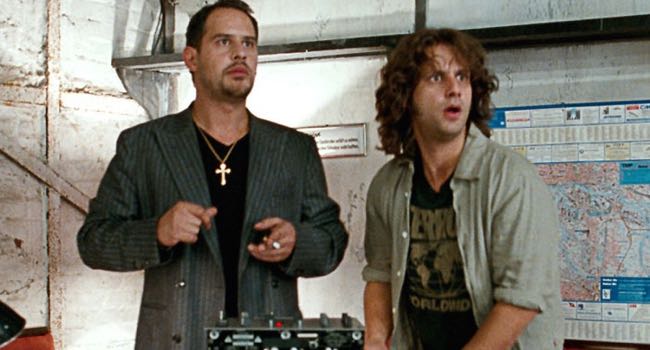 By Ray Bennett
VENICE – Filled with boisterous good spirits, Fatih Akim's "Soul Kitchen" tells of a young Greek-German man's attempts to make a success of a funky restaurant despite a series of mishaps.
The film won the Special Jury Prize at the Venice International Film Festival and it can expect more rewards on the festival circuit and a welcome from art-house audiences everywhere. It's a delightful change of pace for director and co-writer Akim, whose "Head On" and "The Edge of Heaven" dealt with very serious stuff.
Co-writer Adam Bousdoukos (pictured, right, with Moritz Bleibtreu) plays energetic and likeable opportunist Zinos Kazantsakis, who runs a popular restaurant called Soul Kitchen in a neglected area of Hambourg. He prepares stodgy fare such as frozen pizza, fish fingers, hamburgers and macaroni and cheese; the service is abrupt and the music is loud but the customers are happy.
But then a tax collector takes away his sound system in lieu of back taxes, his girlfriend Nadine (Pheline Roggan) jets off to a new job in China, and his no-account brother Illias (Moritz Bleibtreu) is let out of prison on parole.
Intending to join Nadine in Shanghai, Zinos hires a new chef, Shayn (Birol Unel) after seeing him get fired from a classy restaurant because he refused to serve warm gazpacho.
Shayn, however, is a culinary purist and he declines to serve the dross that is the mainstay of the Soul Kitchen. He promises Zinos that he will make four dishes that his customers will love.
Almost overnight, the place is empty as the regulars flee from Shayn's cooking, and the noise of a raggedy rock band that Zinos has allowed to play in place of his confiscated sound system.
On top of that, Zinos throws his back out while renovating his kitchen to please health inspectors and an old pal turned real estate speculator, Neumann (Wotan Wilke Mohring), starts hounding him to sell the property so he can flatten it for development.
The film follows Zinos in his attempts to save his restaurant, solve his back pain, win back his girlfriend and keep his brother out of jail. It's all done with flair and a great deal of fun. The personable Bousdoukos actually owned a Hamburg restaurant for several years and he is right at home in the lead role.
In a fine ensemble with many well-drawn smaller characters, Bleibtreu ("Run Lola Run", "The Baader-Meinhof Complex") as the hapless brother, Unel ("Head On") as the fussy chef and Bederke, as a waitress, all stand out.
The pace is brisk, it has sharp ideas, and a great soundtrack with eclectic music. Akim and cinematographer Rainer Klausmann make "Soul Kitchen" a place for audiences to savor.
Venue: Venice International Film Festival, Competition; Cast: Adam Bousdoukos, Moritz Bleibtreu, Birol Unel, Anna Bederke; Director, producer: Fatih Akim; Writers: Fatih Akim; Adam Bousdoukos; Director of photography: Rainer Klausmann; Production designer: Tamo Kunz; Music supervisor: Pia Hoffman; Costume designer: Katrin Aschendorf; Editor: Andrew Bird; Producer: Klaus Maeck; Production: Corazon International; Sales: Match Factory; Not rated; running time, 99 mins.
This review appeared in The Hollywood Reporter. Here's more about the soundtrack