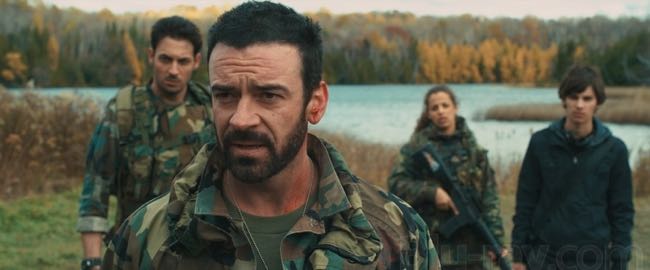 By Ray Bennett
VENICE – George A. Romero's latest zombie fest, "Survival of the Dead," is a polished, fast-moving and entertaining picture whose mainstream success will depend on the mass audience tolerance of its tendency to become an abattoir of extreme carnage.
Zombie aficionados will feast on the inventive and often funny ways that the genre king – with the help of special effects make-up artist Francois Dagenais and visual effects supervisor Colin Davies – contrives to show heads exploding and bodies being blown apart.
True to the form with savvy cultural points, clever wit and a nice twist on what might happen to the newly deceased, "Survival of the Dead" should make a tidy box office killing.
Romero keeps his script simple and direct. The world is in crisis with 53 million people dying each year but refusing to stay dead. The deadheads, as they're now called, feed on live humans who then become deadheads and so on.
On Plum Island off the coast of Delaware, two Irish families, the O'Flynns and the Muldoons, are continuing their lifelong feud by disagreeing on how zombies should be treated. Rascally O'Flynn (Kenneth Welsh) is all for blowing them to pieces, no matter if they were once members of the family. Stern Muldoon (Richard Fitzpatrick) believes they should be chained up and held to await the development of a cure.
As the film opens, the feud has exploded and Muldoon puts O'Flynn onto a boat to return to the mainland. There, meanwhile, a small band of soldiers led by Sarge (Alan Van Sprang) has turned outlaw, robbing others to stay supplied with food and ammunition and reducing deadheads to dead bodies whenever they encounter them.
They are seeking a relative safe haven and through a quick series of events they end up going to Plum Island with the exiled and vengeful O'Flynn in tow, little knowing that besides having deadheads to worry about they are now heading into a violent turf war.
Made in Canada with a Canadian cast, the film is expert in all areas with Sprang a plausible leader and Welsh and Fitzpatrick old hands at the two faces of Irish charm. The mayhem includes heads responding explosively to the effects of fire extinguishers, flares and variously blades besides the usual assault weapons.
It's surprisingly good fun.
Venue: Venice International Film Festival, In Competition; Cast: Alan Van Sprang, Kenneth Welsh, Kathleen Munroe, Devon Bostick, Richard Fitzpatrick, Athena Karkanis, Stefano Di Matteo; Director, writer, executive producer: George A. Romero; Director of photography: Adam Swica; Production designer: Arv Greywal; Music: Robert Carli; Costume designer: Alex Kavanagh; Costume designer: Michael Doherty; Producer: Paula Devonshire; Executive producers: Peter Grunwald, Dan Fireman, Art Spigel, Ara Katz, Patrice Theroux, D.J. Carson, Michael Doherty; Production: E1 Entertainmen, Artfire Films and Romero-Grunwald Productions present a Devonshire production; Not rated; running time, 90 mins.
This review appeared in The Hollywood Reporter.