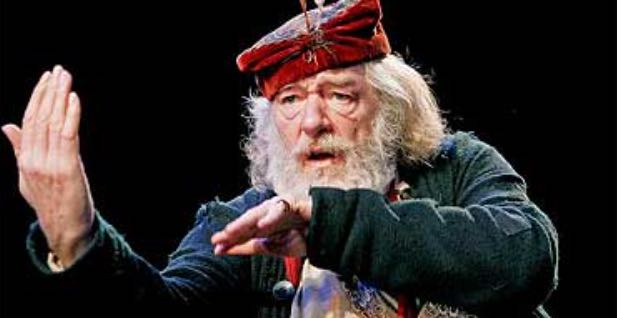 By Ray Bennett
LONDON – Nicholas Hytner's immaculate National Theatre production of William Shakespeare's "Henry IV, Part 1" is so vibrant and enthralling that it cries out to finally be made as a movie. Michael Gambon as Falstaff (above) and Matthew Macfadyen as Prince Hal (below) lead a splendid cast.
One of Shakespeare's best-constructed works, it has been filmed only for television – in 1979 as part of an anthology – and used as source material for Orson Welles's excellent 1965 feature "Chimes at Midnight".
Hytner directs the play with dash and vigour and drives it with great bursts of humour, riveting monologues and exciting fight sequences. Wonderfully entertainng, it is both visually thrilling and powerfully moving.
The National has staged it in conjunction with the more sombrely dramatic "Henry IV, Part 2", and the two plays make up six hours of the most persuasive argument that Shakespeare is as relevant today as ever.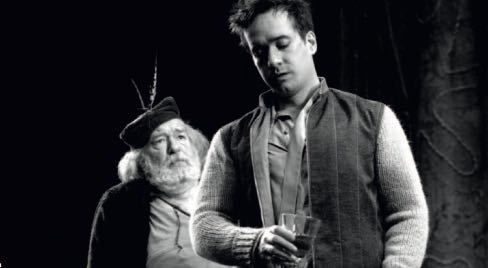 Having dispatched with Richard III, Henry IV (David Bradley, below) is determined to rule as a compassionate king but he must deal first with the warring factions that have helped put him on the throne.
Among these is the volatile Harry Percy, known as Hostpur (David Harewood), who is prepared to lead a rebellion from the north. The king's son, Henry, the Prince of Wales (Matthew MacFadyen, top picture centre with Adrian Scarborough and Michael Gambon), also complicates the king's life. He later will become the valiant Henry V but at the moment he leads a dissolute life in the company of the fat and corrupt gourmand Sir John Falstaff (Michael Gambon).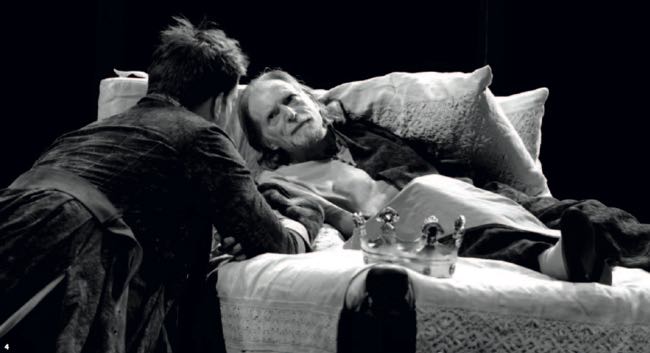 Over the course of the two plays, Prince Hal, as Falstaff alone calls him, will throw off his wastrel ways and emerge as a ruthless leader. Shakespeare tracks the course of Hal's growth brilliantly through his fierce rivalry with Hotspur and the transfer of influence as a father figure from Falstaff to his real father, Henry IV.
Hytner employs Mark Thompson's superbly spare set and Neil Aistin's sharply specific lighting to terrific cinematic effect, filling the frame as would a filmmaker.
Terry King's fight direction is so accomplished and the actors so fit and eager that the onstage action is wholly convincing in its rough and tumble, and at times times it appears to be with deadly intent.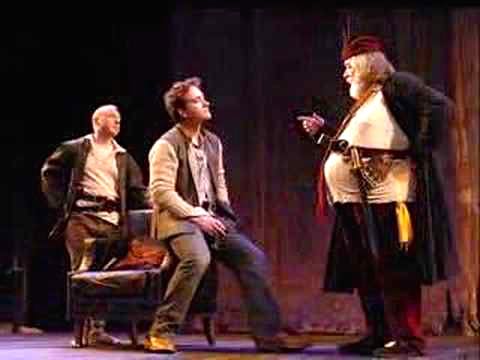 The large cast is uniformly fine with Macfadyen, as Hal, adept at both the fiery wit to match Gambon's Falstaff and in the emergence of a man with a powerful backbone. Harewood commands the stage as Hotspur and makes the king's early wish that his son were more like fully understandable.
Bradley (pictured above with MacFadyen) embodies the nobility and fragility of a king who confesses that uneasy lies the head of he who wears the crown. In "Part 2" especially, Bradley's long speeches are spellbinding, and Gambon delivers a wise and insightful portrayal of the cowardly Falstaff, crackling in his comedy and deeply moving in his ultimate rejection.
Anyone who thinks Shakespeare is boring should see these two shows.
Venue: National Theatre, runs through Aug. 3; Cast: Michael Gambon, Matthew Macfadyen, David Bradley, David Harewood, John Wood, Adrian Scarborough, Samuel Roukin, Naomi Frederick, Susan Brown, Eve Myles; Playwright: William Shakespeare; Director: Nicholas Hytner; Set designer: Mark Thompson, Lighting designer: Neil Austin; Music, soundscore: Max Ringham, Ben Ringham Andrew Rutland; Fight director: Terry King; Sound designer: Paul Groothius.