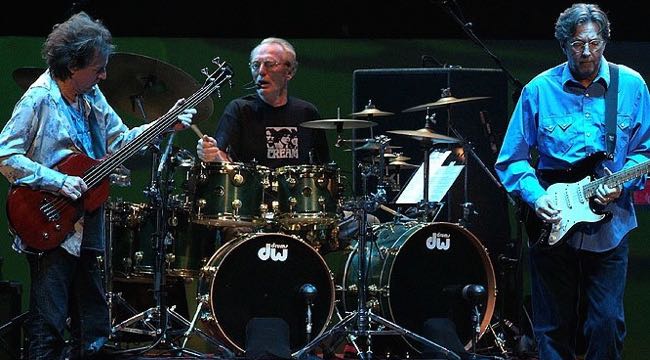 By Ray Bennett
LONDON  A little more than 36 years after Cream's last appearance, the rock world's first supergroup returned to a rapturous welcome on the same stage at the Royal Albert Hall.
Like most of the audience, drummer Ginger Baker, bassist Jack Bruce and lead guitarist Eric Clapton were all grey hair, loose shirts and sneakers. The music, too, while still blues-based and often soaring, had an air of refinement, performed by musicians who are masters of their craft but now lack the rowdy adventure of their youth.
"Thanks for waiting all these years," Clapton told the audience. "We'll do everything we know, although we didn't go on very long."
Little more than two years, in fact, but they sold 35 million albums and influenced every band that ever aspired to fill a stadium. Kicking off Monday with "I'm So Glad," it was soon evident that while they had one of the great reputations for internecine warfare, the threesome had actually rehearsed.
"Spoonful" and "Outside Woman Blues," and 15 more numbers tended to support Bruce's oft-stated belief that their songs were only there to "hang the music on" and that Cream are really about improvised solos.
Bruce, who has had a liver transplant, appeared the most battered of the trio but also the most invigorated. His bass playing was tight and focused and for a singer whose younger voice often went flat when playing live, he stayed in key and lent full-throated power to the vocals. Bruce took up his harmonica on "Rollin' and Tumblin'" and his vocals shone especially on "Born Under a Bad Sign" and "Politician."
Baker, whose limbs are not the most agile these days, managed the percussion like a piston-engine with poetry, driving the fast numbers and snapping the slower strides with panache. He even kept his "Toad" solo to a manageable and engaging five minutes or so.
Clapton, whose solo career has kept him at the top of his game, can still occupy spaces with his guitar that most players can only imagine. With seemingly effortless grace his solos informed such numbers as "Sweet Wine," "Stormy Monday," "Crossroads" and "White Room."
Over two hours, the captivated audience was on its feet for every song with bursts of applause for each solo and sustained appreciation for the closing "Sunshine of Your Love." Perhaps only the august atmosphere of the gorgeous Royal Albert Hall prevented dancing in the aisles.
Although perhaps it was just that nobody on or off stage appeared to be stoned. For those who saw Cream in the '60s it was a little bit like the T.S. Elliott poem about arriving back where you started and knowing the place for the first time. What do you know? Cream really were great.
This review appeared in The Hollywood Reporter.