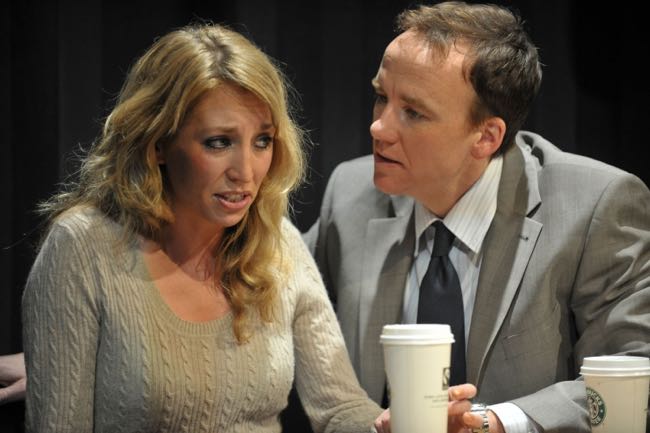 By Ray Bennett
LONDON – Anyone who thinks there's a huge gulf in the sense of humor of American and British audiences should have been at London's Almeida Theatre where the first night audience for Gina Gionfriddo's off-Broadway play "Becky Shaw" was in stitches.
The laughter and applause was so sustained after one lacerating line delivered by David Wilson Barnes, as an acerbic money manager, that Anna Madeley, as his adoptive sister and secret love, had to pause to let it play out.
The play is a firecracker that takes common assumptions about family, love and the redemption to be found in kindness, and turns them upside down. It originated at the Humana Festival of New American Plays in Louisville, KY, and won rave reviews when it ran off-Broadway at the Second Stage Theatre.
Original director Peter DuBois and star Barnes ("Love and Other Drugs", "The Company of Men") are at the Almeida with an otherwise British cast, and with Gionfriddo, who has writer and producer credits on various "Law and Order" TV strands, they show that smart and acidic comedy works on both sides of the pond.
Barnes (pictured top with Daisy Haggard) has a gift for stillness and the ability to deliver straight-faced stiletto comments that bring to mind Kevin Spacey, and he appears similarly immune to any concern that he will be liked or not. He plays Max, a buttoned-down financial expert who was adopted at 10 by the parents of Suzanna (Madeley) and who has emerged as the only functional member of the family.
Suzanna seeks refuge in the gooey edges of the self-help industry that Max despises and ends up married to would-be writer Andrew (Vincent Montuel), a softhearted do-gooder who cries if exposed to pornography. Together they deal with Suzanna's tough-as-nails widowed mother Susan (Haydn Gwynne) who has multiple sclerosis and a spendthrift toy-boy.
Max's affection for Suzanna is a bit more than brotherly love, however, and the story appears to be about them until Gionfriddo introduces the title character, played by Daisy Haggard (pictured below with Madeley and Montuel). Becky Shaw is a walking example of all that Max hates in life but Suzanna goes along with Andrew's suggestion that she would make a splendid blind date.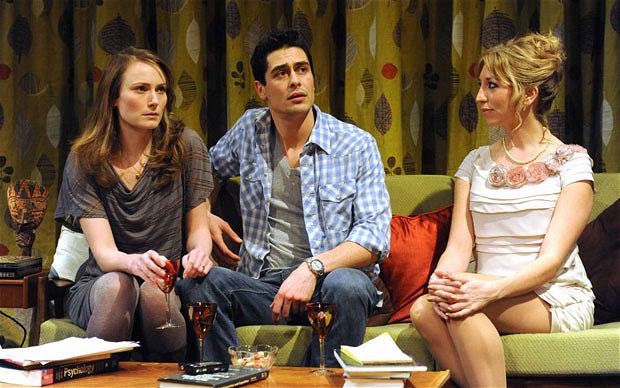 Max is horrified at his first sight of Becky: "Wow. You're like a birthday cake," he exclaims. It becomes apparent that the young woman is short of a few candles with tales of woe that move Max not at all. Still, to keep the peace, he goes on the date only for the couple to be mugged at gunpoint.
Max is sanguine about life in the big city, but Becky claims to be traumatized and her neediness leads to scenes of great hilarity as Max attempts to be rid off her while trying to keep Suzanna's marriage intact and solving his adoptive mother's money problems.
DuBois uses designer Jonathan Fensom's clever rotating set design to keep events moving swiftly and one of the great pleasures of the play is that the ground beneath the characters gradually changes too. That's true even of the mother although Gwynne never lets down her guard. Madeley and Montuel show some steel inside their married couple's fragile exterior and Haggard makes Becky more than ditsy with abrupt changes of tone.
Best of all, Barnes delivers Max's scabrous remarks with an extraordinary lightness of touch. Under his sharp and savage wit, Max has a vulnerability that not only Suzanna but also Becky manages to tap into. Max is not a man to hang out with, but he's more than welcome every time he steps on stage.
Venue: Almeida Theatre, runs through March 5; Cast: David Wilson Barnes, Haydn Gwynne, Daisy Haggard, Anna Madeley, Vincent Montuel; Playwright: Gina Gionfriddo; Director: Peter DuBois; Set & costume designer: Jonathan Fensom; Lighting designer: Tim Mitchell; Sound designer: John Leonard.
This review appeared in The Hollywood Reporter.