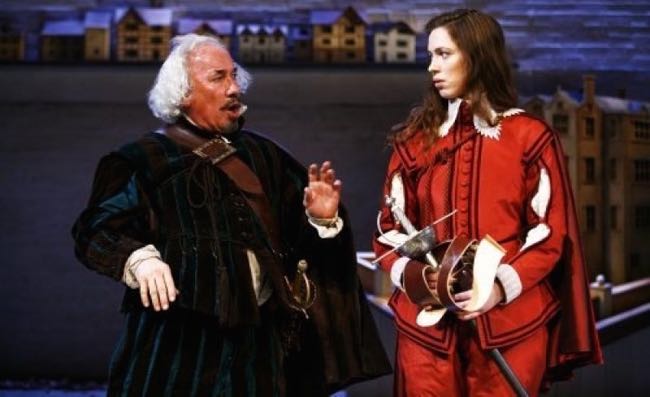 By Ray Bennett
LONDON – British stage legend Peter Hall celebrates his 80th birthday by directing his movie star daughter Rebecca Hall in a lyrical and musical production of Shakespeare's gender-bending comedy Twelfth Night that shows his touch is as deft as ever.
Anthony Ward's sumptuous design sets the scene with a golden canopy that curves above the stage and alights down gently upon it with just scattered cushions, some light screens and a row of miniature houses at the back to suggest a seaside town in some jolly place.
Clad in brilliantly colored period costumes and accompanied by Mick Sands' sprightly music for cello, mandola and flutes, the players engage one other like sure-footed dancers and the play's insightful wit is given full measure.
As Orsino, Marton Csokas manages well the familiar and daunting opening lines, "If music be the food of love, play on," and soon there in a bright red man's costume is Rebecca Hall ("Vicky Cristina Barcelona", "The Town") as Viola, safe from a shipwreck but fearful that twin brother Sebastian has been lost at sea.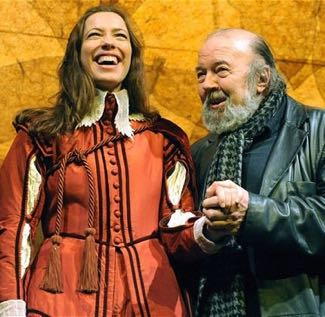 Hall (pictured top with Simon Callow and left with Peter Hall), in her debut at the National Theatre, captures with confidence Viola's twin emotions as she enters Orsino's court, being both confident in her ability to remain incognito but also afraid of betraying that she is not a eunuch named Cesario. Later, when Viola's disguise frustrates her true feelings, the tall and slim actress portrays her desire to display her femininity with modern grit and simplicity.
As she falls for the prince, Orsino pines only for the lovely Olivia (Amanda Drew) and director Hall's remarkably keen eye for fine detail is revealed in a scene in which Orsino lies back with his head on the kneeling and disguised Olivia's legs as he proclaims his love. The action is elsewhere but like a close-up in a movie, the eye goes to Olivia's elegant fingers as she is unable to resist caressing Orsino's forehead.
The prince sends Cesario to woo her on his behalf, whereupon Olivia promptly falls in love with the young man who is really a woman. Drew plays Olivia as a haughty beauty quite undone by the strength of her feelings for the one she thinks is a mere boy and when the truth comes out she appears to be amused as well as shocked by the possible permutations.
Meanwhile, Shakespeare has much frivolity to offer as Sir Anthony Aguecheek (Charles Edwards) arrives also to woo Olivia and conspires with the drunken Sir Toby Belch (Simon Callow) to thwart similar aspirations held by Olivia's pious steward Malvolio (Simon Paisley Day).
Callow (Four Weddings and a Funeral) is an accomplished scene-stealer and his Sir Toby is suitably loud and full of bluster but it is Edwards who steals a march with a performance that is hilarious and touching as the dimwitted Aguecheek. His manner of determined self-interest let down by limited intellect and bad timing is a constant delight, and yet the vulnerability of his quiet aside, "I was adored once," is very sad.
Finty Williams catches the eye too as Olivia's brazen and flirtatious maid Maria and Paisley Day adds a chilling bite of nastiness as the pompous and tormented Malvolio. And David Ryall threads a skein of wisdom throughout the proceedings as the fool Feste, observing human folly and frailty with tolerance and good humor.
"Twelfth Night" was written around 1600 and Peter Hall first directed it at the Oxford Playhouse in 1954, but in this joyful production it seems fresh as a daisy.
Venue: National Theatre, runs through March 2; Cast: Rebecca Hall, Simon Callow, David Ryall, Amanda Drew, Charles Edwards, Finty Williams, Simon Paisley Day; Playwright: William Shakespeare; Director: Peter Hall; Set and costume designer: Anthony Ward; Lighting designer: Peter Mumford; Sound designer: Gregory Clarke; Music: Mick Sands.
This review appeared in The Hollywood Reporter.