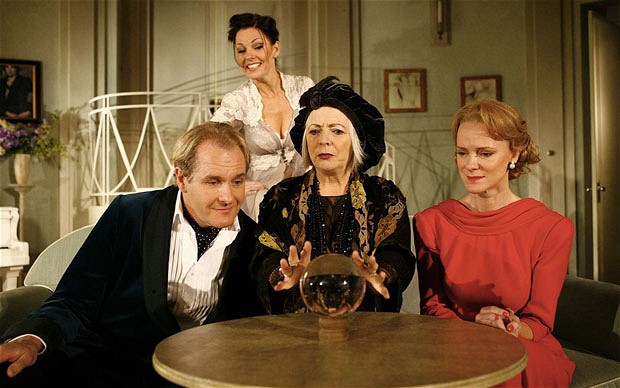 By Ray Bennett
LONDON – Noel Coward's spirited drawing room comedy "Blithe Spirit" is as ticklish and ephemeral as champagne bubbles but Thea Sharrock's new production in the West End lets out most of the fizz and allows in all the play's misogyny.
It tells of a debonair writer whose first wife returns from the dead to haunt his current marriage but much of the humor derives from mockery of women, whether they are alive or dead, young and uncultured or elderly and unconventional.
Legend has it that the play was a little number that Coward dashed off in five days in 1941 when Britain faced its darkest days of World War II. It made such an attractive wartime diversion, however, that it became his most successful play.
Rex Harrison was perfect casting when David Lean, the playwright's close friend and co-director (In Which We Serve), filmed it in 1945 with Margaret Rutherford as Madame Arcati, a colorful and eccentric medium, a role she originated on stage.
British veteran Alison Steadman (pictured centre with Robert Bathurst and Hemione Norris with Ruthie Henshall behind them) takes the role in the new production and plays Madame Arcati very much as an English village busybody who makes many weird sounds and movements as she conjures visitors from the spirit world. Robert Bathurst plays Condomine with the right air of jaded sophistication and Hermione Norris (from TV's Spooks) makes the second wife, Ruth, both brittle and vulnerable.
As the ghostly first wife Elvira, Ruthie Henshall, who usually does musicals, appears to be in some kind of contest to see how long she can maintain her fixed grin. She pauses now and then to let her voice tumble to a deep base in the mistaken belief that it's how women speak when they wish to be alluring.
Jodie Taibi proves unexpectedly acrobatic as Edith, an uncoordinated maid, and Bo Poraji and Charlotte Thornton make up the numbers as friends of Charles and Ruth.
Hildegard Bechthler's period set design is bright and filled with hidden surprises when ghosts become mischievous poltergeists at the end of the play. It helps make the production watchable and Sharrock keeps everyone occupied moving about between elegant furniture, a grand piano and a staircase.
The comedy depends on the antics of Madame Arcati and the trouble Charles gets into when he speaks to Elvira, whom only he can see, and his words are taken by Ruth as if he's talking to her. It all tends to get a bit mean as Charles enjoys Elvira's playfulness and offers little sympathy for Ruth's distress.
The playwright's snobbery is on display throughout but his instincts were right since the lines the earned the biggest laughs on first night came after lines that sneered at down-market English seaside resorts Folkestone and Budleigh Salterton.
Coward makes it clear that Charles would be quite content if both women lacked physicality and existed only as spirits, which is really quite dispiriting.
Venue: Apollo Theatre, runs through June 18; Cast: Alison Steadman, Robert Bathurst, Hermione Norris, Ruthie Henshall, Jodie Taibi, Bo Poraj, Charlotte Thornton; Playwright: Noel Coward; Director: Thea Sharrock; Set designer: Hildegard Bechtler; Lighting designer: Gregory Clarke; Sound designer: Gregory Clarke.
This review appeared in The Hollywood Reporter.