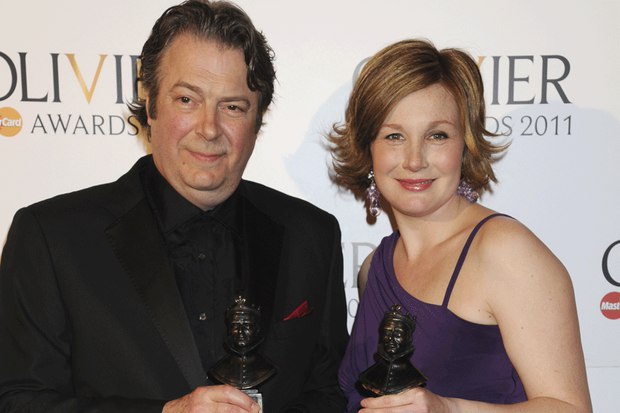 By Ray Bennett
LONDON – "Clybourne Park", a comedy by Bruce Norris that deals with racism in Chicago over 50 years, was named best new play and "Legally Blonde – The Musical," based on the movie, won as best new musical Sunday at the 35th annual Laurence Olivier Awards.
Roger Alam won as best actor for his performance as Falstaff in "Henry IV Parts 1 and 2" at Shakespeare's Globe while Nancy Carroll (pictured above with Alam) was named best actress and Adrian Scarborough won as best actor in a supporting role for the National Theatre's production of Terence Rattigan's "After the Dance", which was named best revival.
Sheridan Smith (pictured below) won as best actress in a musical for "Legally Blonde" and that show's Jill Halfpenny won the award for best supporting performance in a musical.
Broadway legend Stephen Sondheim received a Special Laurence Olivier Award for outstanding contribution to theatre to celebrate his 80th birthday. His work continued to garner awards as his 1986 show "Into the Woods" at the Regent's Park Open Air Theatre won as best musical revival and David Thaxton was named best actor in a musical for "Passion" (1994) at the Donmar Warehouse.
Angela Lansbury, who starred on Broadway in Sondheim's "A Little Night Music" in 1980 and "Sweeney Todd" last year, joined British theatre mogul Cameron Mackintosh (pictured with Sondheim and Lansbury) to present the award to Sondheim to a prolonged standing ovation.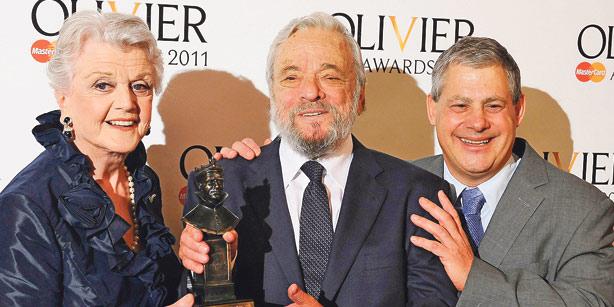 Clearly moved, the still spry American said, "I want to talk about the contribution British theatre has made to me," and he listed a string of productions starting with "A Funny Thing Happened On the Way To the Forum" through "Into the Woods", "Assassins" and "Sweeney Todd". "I am so grateful," he said.
Sondheim and Mackintosh sat on stage as Lansbury sang the nostalgic number "Liaisons" from "A Little Night Music", and the evening ended with a massed choir of theatre students who sang "Our Time" from "Merrily We Roll Along".
Sondheim told reporters afterwards that he treasured what he called "the fresh eye" of British directors: "Having your work re-imagined is what makes theatre immortal."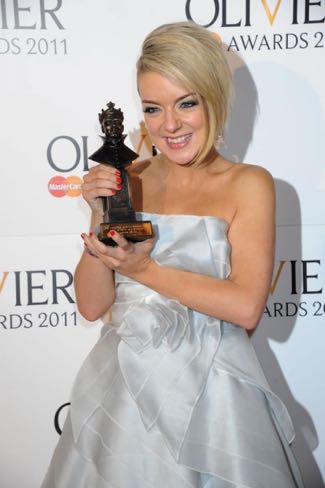 Nancy Carroll accepted her award in an advanced stage of pregnancy with a due date in 12 days.  She said, "We celebrated my daughter's third birthday this afternoon. If I don't go into labour in the next 24 hours, I'll be amazed."
Roger Alam's best actor prize came against stiff competition from Derek Jacobi in the title role of "King Lear" at the Donmar, Rory Kinnear as "Hamlet" at the National, Mark Rylance for "La Bête" at the Comedy Theatre and David Suchet for a revival at the Apollo Theatre of Arthur Miller's "All My Sons".
Alam said that he had performed in a production of Shakespeare only once in the last 20 years: "Patrick Stewart told me that Falstaff is the middle-aged actor's 'Hamlet', so if you're going to play the Globe, it's the perfect role."
As Sheridan Smith accepted the prize for best actress in a musical, she said, "I won't keep you very long because we all want to get to the after party and get hammered."
Rock star Brian May accepted the BBC Radio 2 audience award for the long running hit "We Will Rock You", which features the music of Queen, and he said, "It's great to be standing here with this award 10 years after getting the shittiest reviews ever."
The Royal Court Theatre, which staged "Clybourne Park" before its West End transfer, also saw wins for Michelle Terry as best supporting actress for "Tribes" and Leon Baugh as best theatre choreographer for "Sucker Punch".
The awards were handed out in a three-hour ceremony at the Theatre Royal Drury Lane, a change from previous years when the event was in the form of a banquet. Sponsored by MasterCard, the show featured many performances from the nominated musicals and a medley by Barry Manilow, whose musical "Copacabana" had a two-year run in London in the 1990s.
Presenters included several screen actors who are now on the West End stage including Matthew Fox ("Lost"), Elizabeth Moss ("Mad Men"), Benedict Cumberbatch (TV's "Sherlock"), Jonny Lee Miller ("Eli Stone"), and Patrick Stewart ("The X-Men").
A complete list of 2011 Laurence Olivier Awards winners follows:
BEST ACTRESS
Nancy Carroll for After the Dance at the Lyttelton
BEST ACTOR
Roger Allam for Henry IV Part 1 & Part 2 at Shakespeare's Globe Theatre
BEST ACTRESS IN A SUPPORTING ROLE
Michelle Terry for Tribes at the Jerwood Theatre Downstairs at the Royal Court
BEST ACTOR IN A SUPPORTING ROLE
Adrian Scarborough for After the Dance at the Lyttelton
MASTERCARD BEST NEW PLAY
Clybourne Park by Bruce Norris at the Jerwood Theatre Downstairs at the Royal Court
BEST MUSICAL REVIVAL
Into the Woods at the Regent's Park Open Air Theatre
BEST NEW MUSICAL
Legally Blonde: The Musical book by Heather Hach, music and lyrics by Laurence O'Keefe and Nell Benjamin at the Savoy
BEST ENTERTAINMENT
The Railway Children by E Nesbit, adapted by Mike Kenny at the Waterloo Station Theatre
BEST ACTRESS IN A MUSICAL
Sheridan Smith for Legally Blonde: The Musical at the Savoy
BEST ACTOR IN A MUSICAL
David Thaxton for Passion at the Donmar Warehouse
BEST PERFORMANCE IN A SUPPORTING ROLE IN A MUSICAL
Jill Halfpenny for Legally Blonde: The Musical at the Savoy
BEST DIRECTOR
Howard Davies for The White Guard at the Lyttelton
BEST REVIVAL
After the Dance directed by Thea Sharrock at the Lyttelton
BEST THEATRE CHOREOGRAPHER
Leon Baugh for Sucker Punch at the Jerwood Theatre Downstairs at the Royal Court
BEST LIGHTING DESIGN
The White Guard designed by Neil Austin at the Lyttelton
XL VIDEO AWARD FOR BEST SET DESIGN
The White Guard designed by Bunny Christie at the Lyttelton
BEST COSTUME DESIGN
After the Dance designed by Hildegard Bechtler at the Lyttelton
BEST SOUND DESIGN
King Lear designed by Adam Cork at the Donmar Warehouse
BBC RADIO 2 OLIVIER AUDIENCE AWARD
We Will Rock You at the Dominion Theatre
OUTSTANDING ACHIEVEMENT IN AN AFFILIATE THEATRE
Lyric Hammersmith for Blasted
BEST NEW OPERA PRODUCTION
OperaUpClose and Soho Theatre's La Bohème at the Soho Theatre
OUTSTANDING ACHIEVEMENT IN OPERA
Christian Gerhaher for his performance in the Royal Opera's Tannhäuser at the Royal Opera House
BEST NEW DANCE PRODUCTION
Babel (Words) by Eastman vzw and Theatre Royal de la Monnaie at Sadler's Wells, choreographed by Sidi Larbi Cherkaoui and Damien Jalet
OUTSTANDING ACHIEVEMENT IN DANCE
Antony Gormley for his set design of Babel (Words) by Eastman vzw and Theatre Royal de la Monnaie at Sadler's Wells