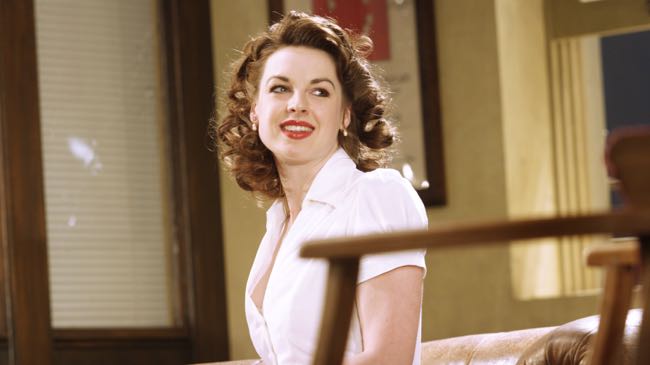 By Ray Bennett
LONDON – American playwright Clifford Odets's 1938 play "Rocket to the Moon" raises more questions than it answers but a captivating performance by Jessica Raine (pictured top), as a young woman who is catnip for every man she meets, saves the day in the National Theatre's revival.
The story appears initially to be about Ben Stark (Joseph Millson), an earnest but dull dentist who tries to survive in depressed economic times, and his disappointed but demanding wife Belle (Keeley Hawes, pictured below with Millson).
Her father, Mr. Prince (Nicholas Woodeson) is loaded but she won't speak to him because of the way he treated her mother. He likes Ben, though, and has offered to finance a move from his office in a rundown office building to a better part of town but the dentist won't move. That's where the questions begin, and they continue when Cleo (Raine) shows up.
She wears her white uniform like a cocktail dress with no stockings and too much makeup, and it looks as if the play will be all about whether or not Ben will ride a rocket to the moon with an affair with the girl.
That is part of it, but Ben is not the only one who finds Cleo irresistible. One man, unimpressed by her intellect, calls her a moth, but in fact she's the flame and it turns out that Odets' real interest is in how this brilliant but naive young woman might survive surrounded by male pests.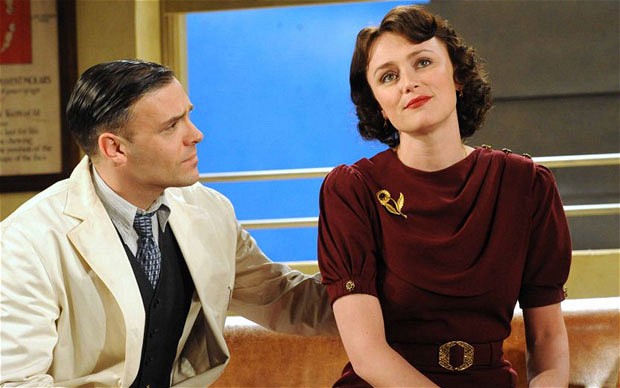 All the action takes place in the dental office where the depression and the heat of summer means there are very few patients. Ben indulges another dentist, Phil Cooper (Peter Sullivan) who owes three months' rent, and knocks along with a foot doctor from down the hall, Frenchy (Sebastian Armesto) and a theatrical impresario, Willy Wax, who has an office on another floor.
Cleo likes to let her imagination run away with her with claims that she's from a wealthy family and has visited Europe and California, and she has big ambitions to be a dancer and actress. Ben at first is intrigued by her sprightly gumption but like Frenchy – who tells her, "You pushed that jingling body in front of me" – he falls for her shimmering youth and inviting looks and personality.
It's a mystery why Odets chose dentistry as Ben's profession as the play makes little of it, and why Ben chooses to stay in a shabby building with no air conditioning stuck behind a big hotel remains unexplained.
It's more important that he's a man trapped with a bitter wife, who is now barren after losing a child, and an empty marriage, which is an affront to his rich father-in-law, who says he leads a life where every day is Monday. Odets has a good way with clever lines and when Cleo fibs about her life, Ben reassures her, "we all tell fables so we can have a little pride."
Millson plumbs Ben's unhappiness persuasively and Hawes adds some vulnerability to what could be a brittle role as the wife. Sullivan cuts a forlorn figure as a man so broke he sells his own blood and Woodeson makes Mr. Prince – "I am the American King Lear" – a forgivably noisy image of capitalistic brio.
Raine captures with finesse the poses of a would-be star and with endearing openness shows how Cleo's innate decency proves unsinkable and fulfils the play's ultimate spirit of optimism.
Venue: National Theatre, runs through June 21; Cast: Jessica Raine, Joseph Millson, Nicholas Woodeson, Keeley Hawes, Peter Sullivan, Sebastian Armesto, Tim Steed; Playwright: Clifford Odets; Director: Angus Jackson; Set designer: Anthony Ward; Lighting designer: Mark Henderson; Sound designer: John Leonard; Music: Murray Gold.
This review appeared in The Hollywood Reporter.