By Ray Bennett
LONDON – One of the most acclaimed Broadway revues of the 1930s – "The Band Wagon" by George S. Kaufman, Arthur Schwartz and Howard Dietz – is on show in concert for the first time in Europe, presented by the Lost Musicals company, which stages neglected or forgotten works by American artists.
Eight elegantly dressed performers sing, act and dance a little to piano accompaniment on a bare stage in five weekend performances through April 17 in the small Lilian Baylis Studio at London's Sadler's Wells theater. The effect is nostalgic, charming and entertaining.
The original show starred Fred Astaire and his sister Adele (pictured below left) and ran for 200 performances on Broadway in 1931-32. Some of its songs were used in the Hollywood features "Dancing in the Dark," with William Powell and Betsy Drake in 1949, and "The Band Wagon," with Fred Astaire and Cyd Charisse in 1953.
The latter, a splashy and much loved Technicolor film by Vincent Minnelli is best known for an original song by composer Schwartz and lyricist Dietz titled "That's Entertainment!" along with several of their songs from other sources, none of which were in the original revue.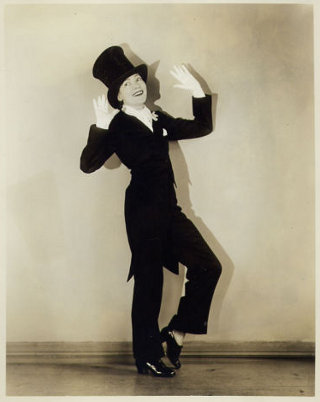 The Broadway show had some gems, however, including "Dancing in the Dark," which is played in the Astaire film as an instrumental while Astaire and Charisse dance in Central Park. In the Lost Musicals show, Robert Finlayson sings the song while Barnaby Thompson and Clare Rickard perform an athletic and elegant pas de deux.
The Minnelli film dumped all the sketches that celebrated playwright and screenwriter Kaufman, ("The Man Who Came To Dinner," "A Night at the Opera") wrote and went with an original screenplay by Betty Comden and Adolph Green, but they were an essential part of the 1931 production.
Slick talk, surprise endings and cockeyed satire marked Kaufman and Dietz's sketches but it's no surprise they were already dated by the time the film was made in 1953. For a European audience, they smack of smart American wisecracks and a Broadway sensibility, and so do some of the songs.
The opening sequence sends up the audiences that flocked to revues at the time and thought themselves sophisticated. Elizabeth Counsell sits on the piano for a torch song, "Can't help moanin' 'bout that man of mine", while Clare Rickard sings and dances to the energetically pointless, "If You Haven't Got Rhythm … then you haven't got rhythm." Vivienne Martin laments that "I never kissed a man before … before I knew his name; I never had a taste for wine … because it can't compare with gin."
There's a sketch than lampoons the Old South with the Family Claghorn about to discover something outrageous about their about-to-be-married daughter: She's a virgin! In one that mocks drawing-room murder mysteries, a police inspector identifies the perpetrator by comparing the width of his buttocks to the impression made on the seat of a chair. Another one teases Americans of the day who prefer to say "bathroom" rather than "toilet".
It's mildly amusing stuff and well performed, especially by Martin and James Vaughan as the inspector and the patriarch of the Claghorns. The entire company is professional and accomplished, with the songs such as "Sweet Music," "High and Low" and "New Sun in the Sky", all used in the "Band Wagon" film, performed brightly. Even without sets and an orchestra, the show evokes something of what Broadway was like 80 years ago.
Venue: Lilian Baylis Studio, Sadler's Wells; Cast: Vivienne Martin, Elizabeth Counsell, James Vaughan, Barnaby Thompson, Clare Rickard, Robert Finlayson, Laura Armstrong, Callum Train; Sketches: George S. Kaufman, Howard Dietz; Music: Arthur Schwarz; Lyrics: Howard Dietz; Director: Ian Marshall Fisher; Music director: Jason Carr; Choreographer: Nick Winston.
This review appeared in The Hollywood Reporter.