By Ray Bennett
A long time ago in Windsor, Ontario, Canada, the local taverns began to sprout loud and offensive machines that, for a price, offered electronic darts. As a player of real darts, I took immediate offence and expressed my disdain in a piece in The Windsor Star.
Here's that story from Dec. 2 1972, edited slightly. Not sure which staff photographer took the picture, Jack Dalgleish or Cec Southward.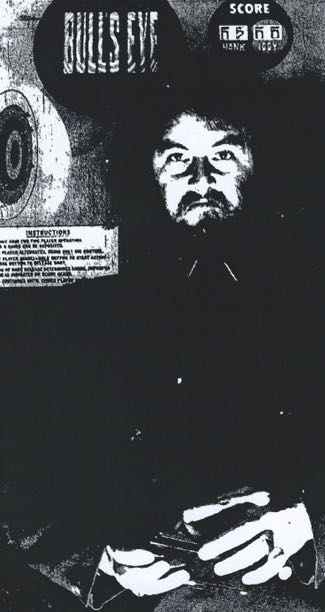 WINDSOR – My dad played darts but he would hang up his feathered flights and pack away the old cork board in disgust if he could see what is happening in taverns all over Windsor today.
Automated darts machines of gaudy plastic hang on the walls of more and more bars, clacking monotonously as misguided drinkers push buttons and watch electronic impulses move along predestined paths.
Ontario's Liquor Control Board apparently feels that tavern drinkers aren't to be trusted with real darts. Hot-blooded Canadians, presumably, are unable to resist the temptation of embedding them in people's heads.
Instead, they are given harmless boxes with little buttons and cute names so that you can be Hank and I can be Iggy and we can sit quietly at our table and play surrogate darts and so long as I don't get mad and clunk you over the head with the box everything is all right.
Darts is a game of purity and skill to be played in pub corners where people interrup only to get by the toilet. It is a noble sport that demands a true eye, a steady hand and a cool head if you aim to win the prize in the Friday night tournament.
Darts is a re-affirmation of individuality. Plymouth pilgrims played the game on the Mayflower in 1620 and today 6 million Britons – more than participate in any other sporting pastime – play darts regularly and honorably with no national or international contolling body.
In the Legion halls of Windsor, safe from the clamour of the cracked-bell of progress, there are many men and women whose chalk-dustry fingers weight their darts regularly and mark the count-down from 301. Leagues flourish in the Legions with weekly tournaments and mixed battles to spot the elusive doubles and bulls.
My dad could score a bull with his eyes closed. He could take a dart and you'd say double-6 and that's where his dart would go. He'd tack the three of spades from a deck of cars to the board and put a dart in each spade. (And on the board at home, we boys would stick up girlie pictures from Blighty and, to improve our eye, try to hit the erogenous zones.)
Now, you sit at the bar and watch customers troop steadily to the machine on the wall and deposit their quarters. Automated darts requires all the intense concentration required to switch TV channles and the excitement generated is roughly equivalent to watching a parking meter cllick into violation.
You recall the nights at the old Elephant & Castle. The wizened regulars with their cloth caps and white scarves playing dominoes quietly in one corner. The soft whoosh of shove ha'pennies in another. The cold pork pies, the pints of bitter and the crisp thud of darts into cork. You look at the plastic machine on the wall and weep.
My dad would have a thrown bottle at the thing.