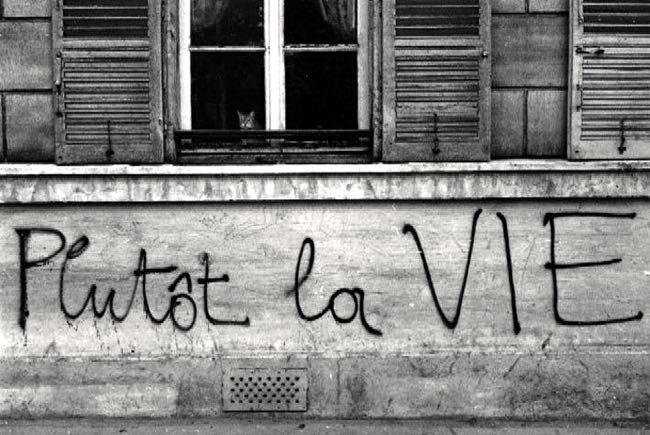 By Ray Bennett
LONDON – Gregory Peck and I were born on April 5 and when he turned 80 he sent me a card from Paris on which he wrote, "This French graffiti describes perfectly how it feels to be 80 all of a sudden. Best regards, Greg Peck." I feel the same way as I reach my three-score and ten today.
I had interviewed Peck a few times and in 1996, on his 80th, I sent him a birthday card to thank him for his movies and his generosity to me personally in interviews. I had admired him for so many movies from "Twelve O'Clock High" to "Roman Holiday" to "The Guns of Navarone" and, of course, as Atticus Finch in "To Kill a Mockingbird" (below). I shared the liberal views that he spoke up for bravely and he put his money where his mouth was on controversial issues.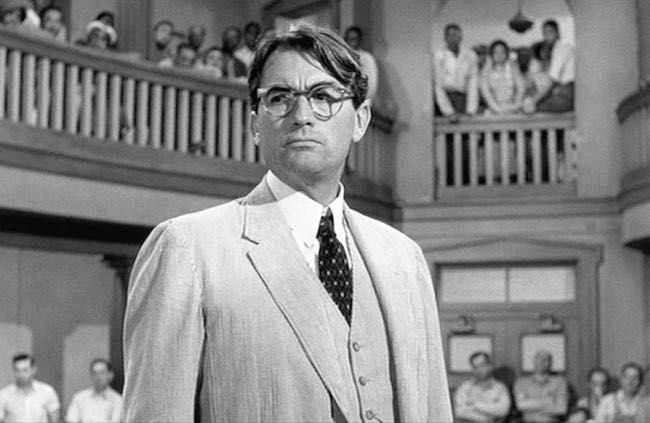 Aside from Samantha, lovely daughter of my dearly-departed childhood and lifelong friend Christopher Walter, the only people I'd met who were born on my birthday were Bette Davis and Peck, who thanked me for my card and wrote: "Another April 5 guy was Spencer Tracy." Great company.
After a profile of him that I wrote for a magazine called Orbit Video in the late 1980s, Peck sent a letter to my Tennessee home to say, "The interview is excellent. It's a relief to me when a writer does not try to fit me into a pidgeon hole. I don't much care how people label me but unless they take into account some diversity of interests, some modicum of sublety, and a sometimes sardonic view of human mendacity and moral cowardice, they are nowhere near the mark."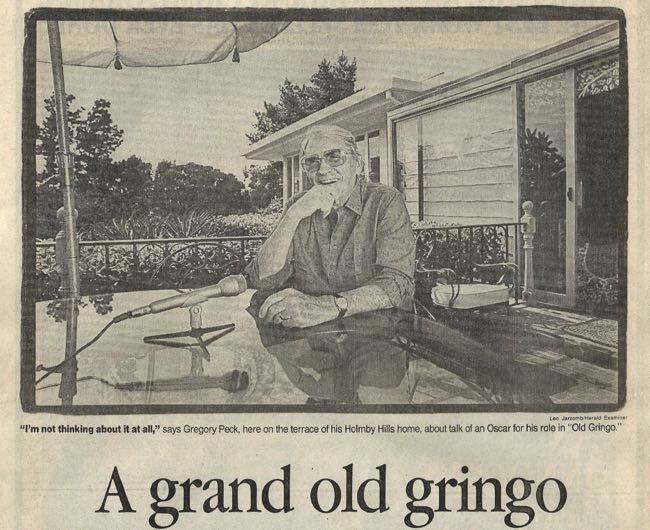 Twice we met at Peck's elegant home on North Carolwood Drive in the Holmby Hills next to Beverly Hills in California. He never used a press agent and relied on whoever handled PR for whatever project he worked on. You'd drive up to the gate of his estate, be admitted and park on crunchy gravel in front of the magnificent building. The PR man would be waiting outside. He'd knock on the door and Peck would answer, then the PR man had to leave.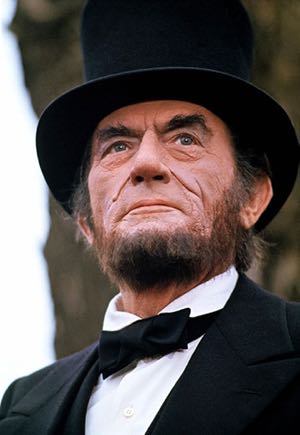 Once, we chatted leisurely in his large and comfortable living room surrounded by Abraham Lincoln memorabilia as he told me how pleased he was to be able to portray the U.S. President in a cameo role in the 1982 miniseries "The Blue and the Gray" (left). He called Lincoln "the greatest American of all time" and spoke at length about him so well that I published his remarks under his byline in TV Guide Canada (see here).
The other time, we sat out on the sweeping terrace that looked down over his extensive, manicured property with its pool and tennis court, and far beyond a wooded area where he said he had a log cabin.
That was to talk about the Jane Fonda movie in which he took over the title role of "Old Gringo" (below), after Burt Lancaster failed a medical, for a story in the Los Angeles Herald Examiner.
The picture took a pasting from critics and when I asked him about it, Peck, who said he'd found the famously steely Fonda to be "extremely vulnerable", said, "Don't ask me that question. I did see it at different lengths and I was encouraged to speak my mind, which I would have anyway. But anything I say would be second-guessing so I'm backing the picture the way it is."
Over the course of our interviews, Peck, who died on June 12, 2003, was always engaged, relaxed and articulate with a great memory and a very wry sense of humour. We spoke at length about films and movie stars, history and current affairs. He was reluctant, though, to talk about his failures on the grounds that if no-one went to see them then they wouldn't recall them anyway. He chuckled and said, "Ruth Gordon is an old friend of mine and she says, "Gregory, never discuss your failures. Why remind people?"