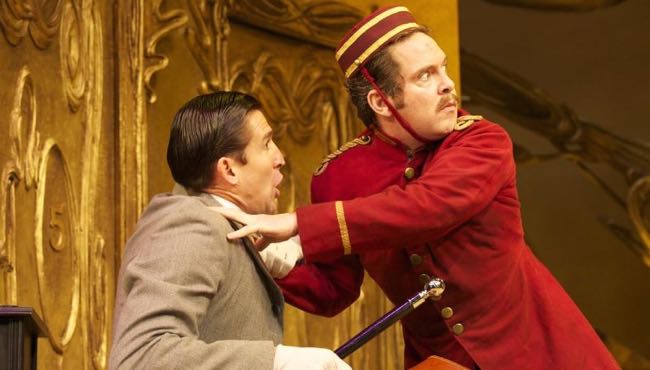 By Ray Bennett
LONDON – The best way to perform farce is to be perfectly serious and in the Old Vic's revival of the Georges Feydeau French classic "A Flea In Her Ear", Tom Hollander plays two roles with such perfect gravity that they are hilarious.
Translated in 1966 by John Mortimer, the late English novelist and playwright who created "Rumpole of the Bailey" and scripted the 1981 TV miniseries "Brideshead Revisited", it's a scandalous romp about a Parisian society wife at the turn of the 20th century who gets the notion that her husband is having an affair.
As Raymonde Chandebise (Lisa Dillon) tells best friend Lucienne Homenides de Histangua (Fiona Glascott), it's one thing for her to enjoy an extra-marital dalliance, but for her husband to do is "is going too far".
Hollander plays her husband, Victor Emmanuel, a prim and pompous insurance man, whom she plots to catch red-handed by sending an anonymous invitation from an admirer for a rendezvous at a well-known hotel of ill repute called Le Coq D'Or. She gets Lucienne to write it but it falls inevitably into the wrong hands, not least those of Lucienne's volatile Spanish husband, Carlos (John Marquez, pictured, left, with Hollander).
As a consequence, both couples and assorted other roués and their paramours end up at the garish hotel in a frantic round of musical beds and doors with multiple misunderstandings. To further complicate matters, the hotel porter, a sad-sack drinker named Poche, is Victor Emmanuel's double. In both roles, not only must Hollander join the others in mad dashes about the stage, but also disappear offstage frequently for extraordinarily quick costume changes.
The diminutive actor ("Pirates of the Caribbean", "Pride and Prejudice") is a gifted physical comedian and he succeeds in not only making the two characters quite distinct but also as the farce develops in showing they have some traits in common. Hollander is responsible for most of the laughs as director Richard Eyre makes Feydeau's clockwork plotting race along with exquisite timing.
Some of the comedy derives from character traits that are non-PC these days, such as the speech impediment of earnestly randy young Camille Chandebise, who has a cleft palate, and Carlos, whose English is minefield of tongue-tied Spanish. But Freddie Fox, as Camille, and John Marquez, as Carlos, play them with such sympathy and innocence that it becomes impossible not to laugh.
Dillon and Glascott give the conspirators appropriate flourish and feigned outrage and Rebecca Night catches the eye as a pretty and knowing hotel maid amongst a cast of talented performers who know the best jokes are told with a straight face.
Venue: The Old Vic, runs through March 5; Cast: Tom Hollander, Lisa Dillon, Tim McMullan, Fiona Glascott, Oliver Cotton, John Marquez, Freddie Fox, Rebecca Night; Playwright: Georges Feydeau, translated by John Mortimer; Director: Richard Eyre; Set designer: Rob Howell; Costume designer: Sue Blane; Lighting designer: Mark Henderson; Music: Stephen Warbeck; Sound designer: Gregory Clarke.
This review appeared in The Hollywood Reporter.